From plastic pollution to planet friendly practices
From plastic pollution to planet friendly practices
OYW delegate Lalita Purbhoo Junggee from Mauritius is founder of Sakili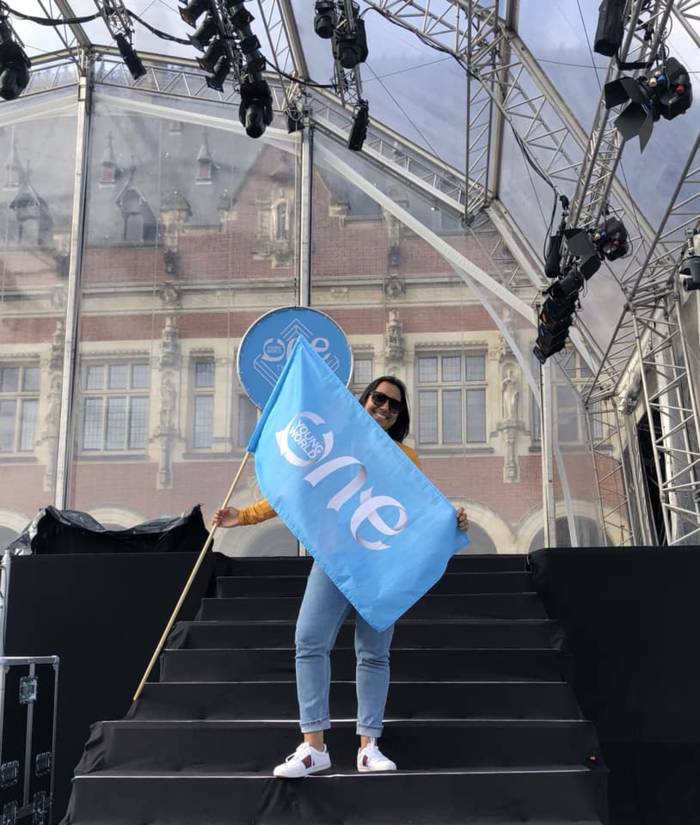 2018 One Young World OFID delegate Lalita Purbhoo Junggee from Mauritius is founder of the plastics re-cycling company Sakili
I was born and raised on an island, surrounded by the ocean and mountains. Growing up, I was lucky to have the opportunity to explore nature regularly with family and friends. We camped everywhere – we hiked, swam, dived, climbed, explored and learned. But, as I grew up, I witnessed the environment change. My favorite diving spots and camping sites were being destroyed by plastic pollution.
In 2016, I took a chance and set out to save the environment I loved. I made it into my job – my business – and started collecting advertising waste (used billboards, banners and flags) and textile waste. I gave it a second life by turning it into unique heavy-duty bags. This is the core of Sakili, my up-cycle brand that is now available in four countries in Southern African, including Mauritius.
Sakili is a social enterprise and manufacturing company. As well as up-cycled bags, it makes eco-friendly hygiene products. Mauritius produces over 300,000 square meters of billboards and banners annually. When advertising campaigns are finished, the materials are discarded. Since launching in April 2017, Sakili has rescued over 62,000 square meters of billboards, manufacturing 13,000 bags and creating jobs for 11 people. Today, Sakili is a sustainable brand, and its mission is to promote zero-waste production and alternatives to plastic products in Mauritius and across the African continent.
Sakili encourages other businesses to consider the environmental impact of their operations. It aims to 'normalize' sustainability in business. Sakili is the first company in Mauritius to invite other organizations to join its cause, enabling others to improve their carbon footprint. By donating their trash to Sakili, organizations receive a certificate that reduces their carbon footprint tax.
Sakili is creating a culture of sustainability in Mauritius and setting new eco trends. It's a powerful message to everyone – and particularly young people. Our bags carry high impact messaging such as: There is no planet B and This used to be a billboard. We are aiming to reach at least 100,000 young people through our bags by 2020.
I am proud that Sakili is helping to build a generation of environmentally-mindful citizens.
Lalita Purbhoo Junggee was one of the OFID-sponsored delegates to attend 2018 One Young World Summit in The Hague, Netherlands.
Related Stories
OFID sponsored delegate Sofia Dominguez tells her story