"We lost everything we had in the sea"
"We lost everything we had in the sea"
Haidar Al-Fahham from Iraq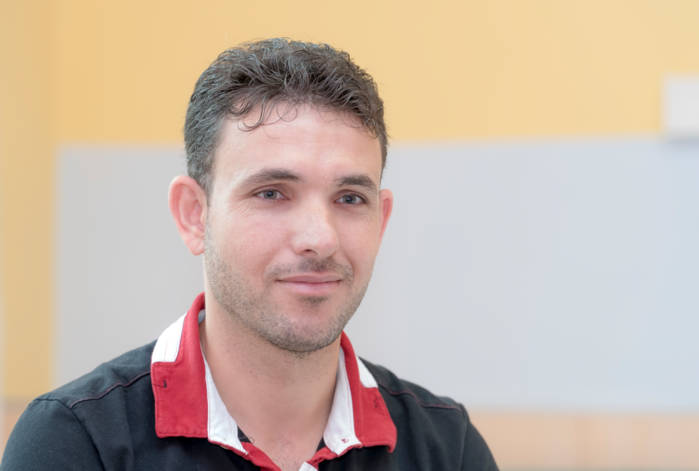 Haidar Al-Fahham from Iraq. Photo: OFID/A.Jeddi
Haidar Al-Fahham, aged 29, has been living in Vienna since November 2015 in the facilities of Wieder Wohnen. He is looking forward to learning German as fast as possible in order to realize his dream of becoming a carpenter.
"I experienced many difficulties on my journey to Europe. I travelled from Iraq to Turkey by plane. But my journey from Turkey to Europe was a tragedy.
"It was November when I left from Turkey by boat with hundreds of other people who were trying to reach Europe. We faced horrible things at sea: the rising and falling waves and the cold weather. During the whole journey, death was moments away from us. Only Allah, the almighty, saved us.
"We lost everything we had in the sea: our phones, our clothes–simply everything. "At the end of the journey, we were swimming for hours in the cold water until a rescue boat came and brought us to the Greek island of Samos.
"We stayed on Samos for five days. During this time, we slept in the open air guarded by policemen. When we left Samos, we were separated. Some went by bus and others by boats. We had to wait in long queues for about 12 hours at the Serbian border. We didn't know the travel route until we arrived in Germany. From there, I took the train to Austria. Upon my arrival I immediately applied for asylum.
"I'd heard so many nice things about Austria and its people. Indeed, what I thought to be good here in Austria has proven to be even better. Austrians are indeed great people.
"We suffered a lot in the beginning. With only 40 euros per month, life is not easy. What affected me the most is the fact that I was not able to communicate with my family. "We have faced many difficulties; but we knew that we have to be patient. As refugees, we are aware that we ourselves are responsible for making our lives easy or difficult.
"I am always trying to make friends here in Austria. Of course, language represents a big barrier. However, I regularly meet with some Austrians in the football park, and we have some sort of relationships that haven't yet developed into proper friendships. But, I'm hopeful they will do so in the future."
Wieder Wohnen is a non-profit organization and the biggest provider of housing and support for homeless people in Vienna. Since 2015, Wieder Wohnen has also been providing accommodation for refugees. To date, over 600 refugees have found shelter in its facilities. Alongside housing, the refugees also receive a wide range of services such as German language courses and other projects which support their social integration. In June 2016, OFID extended a donation to Wieder Wohnen for the purchase of essential equipment to improve the everyday lives of its residents.
OFID's support to Wieder Wohnen and other local NGOs involved in delivering essential services to refugees is in line with its 40th Anniversary dedication to highlighting the plight of people fleeing war and persecution. It is also an expression of solidarity with OFID's host city Vienna, which continues to shoulder a disproportionate share of the burden.
OFID has regularly reached out to refugees since its inception in 1976. It is especially proud of its longstanding cooperation with organizations such as the UN Relief and Works Agency for Palestinian Refugees in the Near East (UNRWA), the United Nations High Commissioner for Refugees (UNHCR), and the Red Cross, all of which provide assistance, care and shelter to refugees.