"We had a home"
Walid from Syria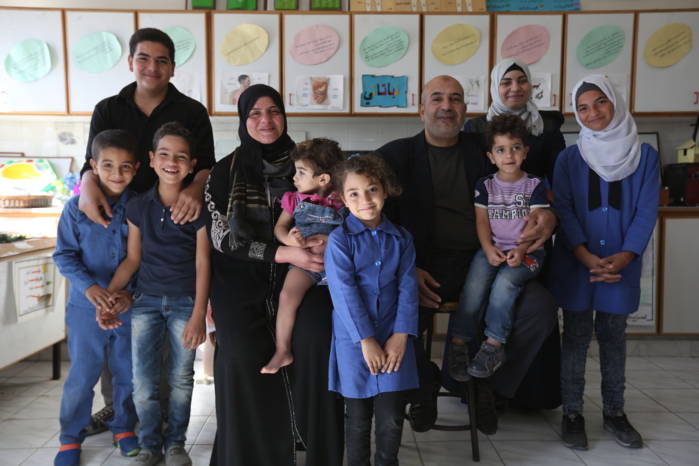 Walid and his family. Photo: OFID/Michael Zananiri and Yousef Ha
In recognition of the immense challenges faced by refugees, OFID dedicated 2016, the year of its fortieth anniversary, to highlighting their plight. Against the background that over half of the world's refugees are children, OFID together with the Child of Play Initiative, launched the Equal Dreams campaign to address the challenges of being a refugee from a child's perspective.
In October 2016, an OFID team and artists from Child of Play traveled to Amman, Jordan, for a series of creative workshops in the Madrasati -supported Al Arqam school. Like many schools in the country, Al Arqam has accommodated an influx of Syrian children, who now account for almost half of the student body.
During the workshops, children at Al Arqam school were asked to describe their dreams and aspirations. The majority of them dreamed about a "home".
The OFID team also interviewed some of the children and their parents. One of those parents was Abu Walid. Abu Walid and his family had to flee their hometown in Syria in 2012. They left everything behind. Jordan is now their new home, where they are trying to settle and hope for a better life.
This is Abu Walid's story in his own words:
"Our happiness has been stolen. I have to be realistic and I have to accept the fact of being a refugee. But the most tragic thing for a father or a mother is to have the feeling that you are not respected by your children.
I sometimes cry when my son asks me to give him money for school transport and I reply that he should walk. Or when he tells me that he needs a new pair of shoes. Due to our limited financial resources, we cannot afford public transportation.
My son was talented but he didn't have the chance to go to school. He is soon going to be 17 years old and I thank Allah that he can at least read and write. I am sad for my children. How is it possible to still have illiterate children and we are about to reach 2017? It is a catastrophe. I have a great fear in my heart that my children will not be able to continue their education.
Securing food has become more important than anything else. It is not easy for me as a father to tell my son that there is nothing cooked for him when he comes back from school. In the past, we've always had plenty to eat. We used to have makdous (eggplants with garlic, nuts and spices), labina (special cheese from yoghurt) and a lot more. Now, we don't have any of these things.
We had a middle class standard of living. Now, we are far below the middle class level and I don't see a chance of improving. I cannot provide transport or pocket money to my children because I have to ensure the rent of our home. I have the feeling that I am destroying my children with my own hands.
As a father, my dearest wish for my children is that they have a real home where they feel content and happy. This is our real suffering. Everything I had in my home earlier was mine. Now, my children know that the little we have is not our own. I dream of going back home. We left everything behind and just locked the door. We didn't take anything with us, not even clothes. We took only a couple of photos as a reminder of how it used to be.
We had a home. Now, we only have the memories of our home.
I have never imagined death. I have never imagined I would leave my home. I have never thought I would leave my country in such a way. It is a tragedy. We lost everything we had. So, I am not surprised that my children drew a house as their biggest dream. They dream of having a home again."
Related Stories
"[…] and it is proving to be the home again for both our Jordanian and Syrian children."