"Books empower us"
Yumna from Syria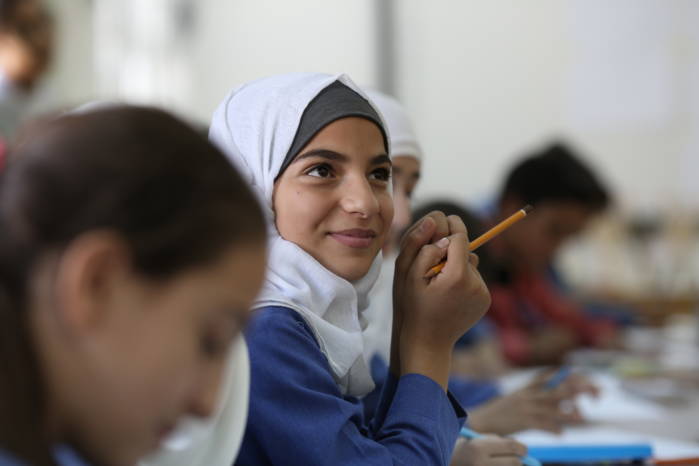 Yumna from Syria
In October 2016, an OFID team and artists from Child of Play traveled to Amman, Jordan, for a series of creative workshops in the Madrasati-supported Al Arqam school. Like many schools in the country, Al Arqam has accommodated an influx of Syrian children, who now account for almost half of the student body.
At the workshops, children at the Al Arqam school were asked to describe their dreams and aspirations. The majority of them dreamed about a "home". The OFID team also interviewed some of the children and their parents. Eleven year-old Yumna was one of the children who shared her dreams with us. Here, she explains them in her own words:
"I wish to have my own library so that I can choose what I want to read and do whatever I like in it. I wish to be only with my family. My family means to me stability and safety. I could not live without them. Their love and tenderness means a lot to me.
I love books. They empower us and give us knowledge. I like reading about civilizations and scientists. How they have started from scratch and what their accomplishments are. There is so much to learn from the past.
I wish to be a chemist one day and teach my generation. As a Muslim girl, I dream of travelling abroad to the western world and giving them a true picture of Islam.
The creative workshops that were held at my school gave me a push forward. They helped me focus on the present and the future. They also helped me not to look back.
If we don't do anything for ourselves, we will never know ourselves and what we are capable of. All human beings have capabilities and they should know them. We should always strive to become even better. We should compare ourselves to those who are better. We are the foundation of the society. We [the children] are the future."
Yumna and her family had to flee their hometown in Damascus, Syria, in 2012. They left everything behind. In Jordan, they have found a new home and hope for a safe and better life.
In recognition of the immense challenges faced by refugees, OFID dedicated 2016, the year of its 40th anniversary, to highlighting their plight. Given that over half of the world's refugees are children, OFID, together with the Child of Play Initiative, launched the Equal Dreams campaign to address the challenges of being a refugee from a child's perspective.
Related Stories
"[…] and it is proving to be the home again for both our Jordanian and Syrian children."