"The challenge for the refugees is to get back to normal"
"The challenge for the refugees is to get back to normal"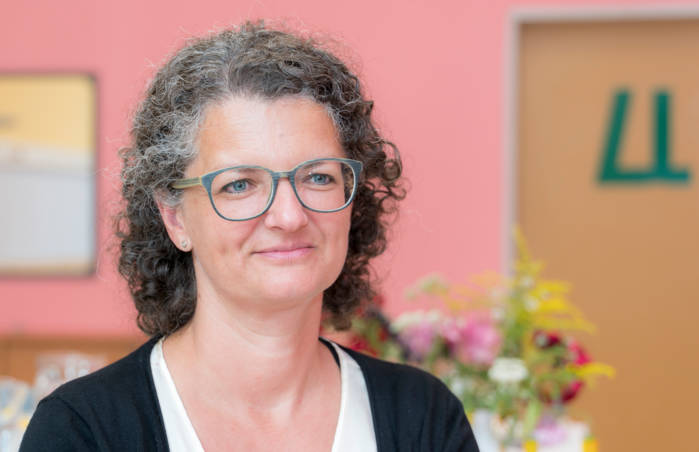 Monika Wintersberger-Montorio, Wieder Wohnen Director
"Over the past decades, Wieder Wohnen has grown in the area of care for the homeless, and we can look back at homeless shelters dating back more than 100 years. This experience is making us strong.
"At the beginning of 2015, we started offering aid to refugees. We had observed that refugees, especially families, were moving to homeless shelters because they were not able to live independently when they arrived in Vienna. So we expanded our work to include them.
"Our greatest challenge in the beginning was the inexperience in refugee aid. We had to learn everything very quickly, and at the same time we had to be there for these people who urgently needed us.
"Thankfully, we have received a lot of support from institutions, such as the Samariterbund, which have a lot of experience in refugee care. These institutions showed us how to adapt to a very special kind of situation. In addition, we've worked closely with the people on site from the hospital, who have also been a great support.
"The enthusiasm for the people was there from the beginning. It was certainly possible to consolidate our know-how, as all employees here are trained. The Viennese authorities offer trainings as refugee assistants, and all of the employees are attending these courses so that we have the knowledge it takes to work with this group.
"In October 2015, we started to build structures so that the refugee aid could become a separate, well-structured, systematic area within our organization. This has been particularly successful thanks to the help of the volunteers. "Now, we have some 80 people working in the entire refugee area. Here, at the Geriatriezentrum, we have around 50 staff. The number of volunteers is always changing. However, we no longer need as many volunteers as we did at the beginning, because the residents took over a lot of the volunteer work. We have no volunteers giving out food because the people cook by themselves. We do not need anyone to help us keep order here, as the asylum seekers do this themselves.
"The volunteers are helping with the distribution of clothes and other vital items. But more importantly, they try to be there for the refugees and help them with whatever they need. They accompany them to the doctor's or if they have an official appointment. And most importantly, we have volunteers who do German language courses.
"We have created safe accommodation for the people here. In the beginning, people were sleeping on the floor. Buses after buses were arriving and it was complete chaos. Now everything is well organized. The employees and the residents know the procedures. We can now concentrate on each and every individual who arrives and see what he or she needs. We also have to consider which cultures get along well together? This is very important because we do not have single rooms but large rooms with a number of beds. So, different people lie and sleep in the same room. But meanwhile, we have also succeeded in building so much knowledge, so this is going also very well.
"However, I think that there are big challenges awaiting Vienna. The 40 euros pocket money that the asylum seekers receive each month is not enough to live a normal life during the status determination procedure which can last for months.
"The challenge for the refugees is to get back to normal. People are living here. So many children have arrived. They are going to school. They are the friends of other children who have a home and a normal life. How can we achieve this normality? And for how long can we have these pavilions here at the Geriatriezentrum? These are the issues that we still have to look at.
"Achieving a level of normality for these people and especially for the children is a big issue. Because, as soon as they have received the asylum status, these people will look back at the experiences they had during this time."
Wieder Wohnen is a non-profit organization and the biggest provider of housing and support for homeless people in Vienna. Since 2015, Wieder Wohnen has also been providing accommodation and assistance for refugees. Currently, over 600 refugees have found shelter in its facilities. Alongside housing, refugees also receive a wide range of services such as German language courses and other projects which support their social integration. In June 2016, OFID extended a donation to Wieder Wohnen for the purchase of essential equipment to improve the everyday lives of its residents.
OFID's support to Wieder Wohnen and other local NGOs involved in delivering essential services to refugees is in line with its 40th Anniversary dedication to highlighting the plight of people fleeing war and persecution. It is also an expression of solidarity with OFID's host city Vienna, which continues to shoulder a disproportionate share of the burden.
OFID has regularly reached out to refugees since its inception in 1976. It is especially proud of its longstanding cooperation with organizations such as the UN Relief and Works Agency for Palestinian Refugees in the Near East (UNRWA), the United Nations High Commissioner for Refugees (UNHCR), and the Red Cross, all of which provide assistance, care and shelter to refugees.
Related Stories
Anna Wilhelm from Wieder Wohnen
Haidar Al-Fahham from Iraq