"You learn to accept and respect"
"You learn to accept and respect"
Anna Wilhelm from Wieder Wohnen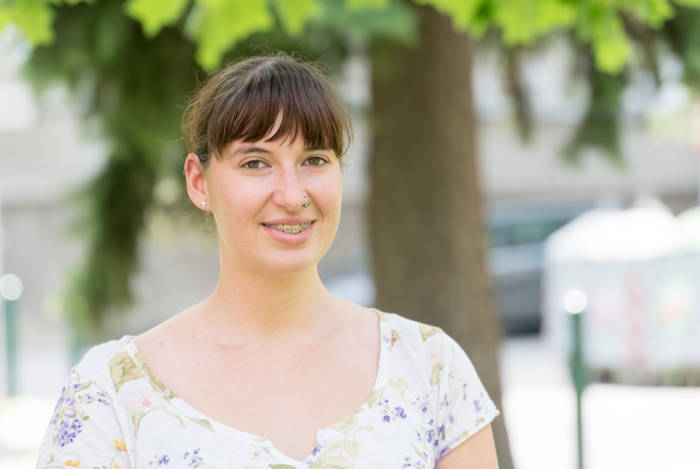 Anna Wilhelm @OFID/A.Jeddi
"I had closely followed the news about the dramatic situation of the refugees arriving in Europe. I was also well aware of the thousands of refugees arriving at Vienna's Westbahnhof train station. I wanted to do something. I wanted to help. But I didn't know how to approach them.
"One day, I found out that Wieder Wohnen had started to provide shelter to hundreds of refugees arriving in Vienna and that it was urgently looking for volunteers. I thought to myself 'You've been wanting to help for such a long time. Just get in your car and go there to see what you can do.' And that's exactly what I did.
"At the beginning, I had planned to help out for a couple of hours only; to sort clothing or assist in any other field where help was required. I had no idea what was awaiting me. I just wanted to help.
"It was an extraordinary experience. Although, the volunteers were all strangers, it worked out so well. There was a dynamic that you could only understand if you were there.
"The next day, representatives from Wieder Wohnen asked me if I would like to join their team, because they needed people who could cope with a lot of stress.
"At the beginning, my main task was to create and maintain a Facebook page informing the public which items were urgently needed and how they could donate. Since then, I have taken on responsibility for coordinating both the donations and the volunteers.
"My work is influencing my life a lot. If you want to do this kind of work then you also have to be interested in getting to know the people. You cannot have a fear of contact. But this kind of work also helps to overcome certain prejudices.
"I've met so many nice people here. Some of them are really very close to my heart. I think it made me more cosmopolitan. I've got to know new cultures and new views. You learn to accept and respect. You do not discuss, but you understand."
Anna Wilhelm is 24 years old and originally from Lower Austria. She started out as a volunteer and is now the donations and volunteer coordinator at Wieder Wohnen.
Wieder Wohnen is a non-profit organization and the biggest provider of housing and support for homeless people in Vienna. Since 2015, Wieder Wohnen has also been providing accommodation and assistance for refugees. Currently, over 600 refugees have found shelter in its facilities. Alongside housing, refugees also receive a wide range of services such as German language courses and other projects which support their social integration. In June 2016, OFID extended a donation to Wieder Wohnen for the purchase of essential equipment to improve the everyday lives of its residents.
OFID's support to Wieder Wohnen and other local NGOs involved in delivering essential services to refugees is in line with its 40th Anniversary dedication to highlighting the plight of people fleeing war and persecution. It is also an expression of solidarity with OFID's host city Vienna, which continues to shoulder a disproportionate share of the burden.
OFID has regularly reached out to refugees since its inception in 1976. It is especially proud of its longstanding cooperation with organizations such as the UN Relief and Works Agency for Palestinian Refugees in the Near East (UNRWA), the United Nations High Commissioner for Refugees (UNHCR), and the Red Cross, all of which provide assistance, care and shelter to refugees.