OFID symposium on petroleum industry and universal energy access concludes
OFID symposium on petroleum industry and universal energy access concludes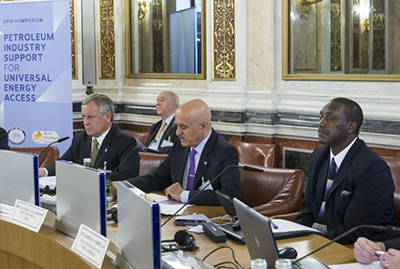 (from left) WPC President Dr József Toth, OFID Director-General Mr Suleiman J Al-Herbishand Dr Kandeh Yumkella, Special Representative of the UN Secretary-General and CEO of the SE4ALL initiative
(from left) WPC President Dr József Toth, OFID Director-General Mr Suleiman J Al-Herbish and Dr Kandeh Yumkella, Special Representative of the UN Secretary-General and CEO of the SE4ALL initiative.
Vienna, Austria, November 5, 2014. A joint symposium organized by OFID and the World Petroleum Council (WPC), and held at OFID's headquarters in Vienna, has concluded.The event, which was opened by OFID Director-General Mr Suleiman J Al-Herbish and WPC President Dr József Toth, aimed at rallying the petroleum industry's corporate social responsibility (CSR) resources to garner support for universal energy access. Dr Kandeh Yumkella, Special Representative of the UN Secretary-General and CEO of the Sustainable Energy for All (SE4ALL) initiative, was a keynote speaker at the event.
A main outcome of the symposium was an agreement on the importance of building closer synergies and cooperation between the petroleum industry—through their CSR programs—and development institutions, as well as the private sector to achieve universal energy access.
The event, which was held November 3-4, was attended by representatives from international organizations, development agencies and energy institutions, including international and national oil companies.
In his opening remarks, Mr Al-Herbish explained how the petroleum industry, parallel to its core activities in host countries, had adopted CSR programs to help address socio-economic challenges. These programs included creating jobs, supporting various social programs, investing in basic infrastructure and services and environmental protection measures.
Despite these efforts, the industry's activities in energy poverty eradication were limited, he noted. "The petroleum industry needs to search for the best ways to contribute to addressing energy poverty in host communities," said Al-Herbish. "The industry's vast pool of resources and expertise puts it in an ideal position to contribute to achieving this worthwhile goal."
Dr Toth, in his opening statement, said that his organization was ready to provide the necessary support to help improve energy access in deprived communities. This would be done by using the wide network of the WPC.
In his remarks, Dr Yumkella reiterated the importance of knowledge-sharing among host communities of the petroleum industry. "Through knowledge-sharing, the petroleum industry will develop local economies beyond CSR," said Yumkella. Doing so would help create jobs, provide energy for social infrastructure, such as hospitals, and foster capacity building in the area of energy, he noted.
On the sidelines of the event, a reception was held to launch the book Energy: The Key for Sustainable Development. The book features selected statements by the Director-General on the topic of energy poverty alleviation, which were delivered at various conferences and meetings.
Both the SE4ALL secretariat and WPC are among OFID's closest partners in addressing energy-related issues, especially in universal energy access.
OFID was chosen in 2011 to be a member of a high-level group formed by the United Nations Secretary-General Ban Ki Moon to put together a framework for the SE4ALL initiative. Mr Al-Herbish is a member of the Advisory Board of the initiative and is responsible for supervising its implemen¬tation. OFID is also a member of the Energy Access Sub Committee for the SE4All.
OFID has participated at various WPC events. For example, at the WPC Congress in Doha in 2011, OFID expressed its readiness to host a major meeting by involving the petroleum industry and development institutions to address the issue of universal energy access.
The invitation to the petroleum industry was reiterated by OFID at this year's WPC Congress in Moscow, which resulted in the first major petroleum industry symposium hosted by OFID.