At a time of unprecedented global challenges the OPEC Fund brought the world to Vienna this week to find solutions and mobilize joint action. Director-General Dr. Abdulhamid Alkhalifa launched the inaugural OPEC Fund Development Forum saying:
"We expect this forum to contribute to the three challenges of climate change, universal access to clean and affordable energy, and food security. I trust we can find smart solutions that address multiple challenges simultaneously."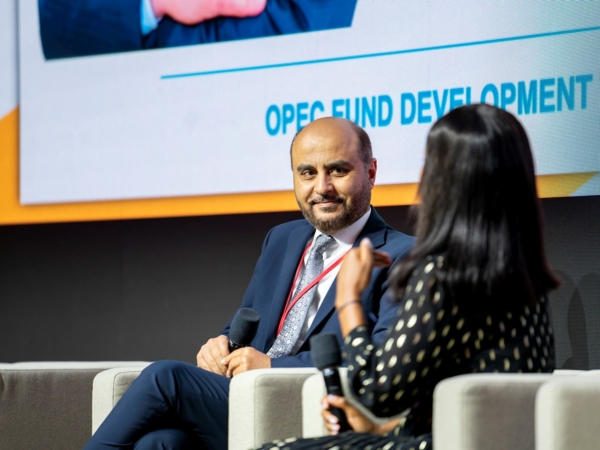 Under the theme "Driving Resilience & Equity" the event brought together ministers from OPEC Fund member and partner countries, heads of the Arab Coordination Group institutions, senior officials of multilateral development banks and UN agencies as well as private sector representatives.
They engaged in three panels dedicated to the topics "Climate Challenges vs Energy Needs - Development Perspectives", "Innovations that Enable a Smart Energy Future", and "Turning Public Ambition into Effective Action", followed by a conversation on "South-South Co-ownership in Development Progress".
In this closing session the OPEC Fund announced the establishment of a new Climate Finance and Energy Innovation Hub in partnership with SEforALL, a clean energy advocacy, and the UN Capital Development Fund. OPEC Fund Senior Director Shaimaa Al-Sheiby said: "This initiative will identify gaps in green finance and private sector investments and help convert these into potential projects with innovative financing approaches." The hub is set to be launched at the UN climate conference COP27 in November in Egypt with the OPEC Fund earmarking US$100 million for SEforALL clean cooking projects in Africa.
SEforALL CEO Damilola Ogunbiyi added: "The hub is targeting three key areas: energy security, energy access and climate action as well." More than 1.4 billion people still do not have access to clean cooking solutions, which are crucial for the achievement of Sustainable Development Goal 7 – Affordable and Clean Energy.
Highlighting the tension for many nations to secure access to energy as an indispensable driver of development and addressing urgent climate challenges, Malawi's Minister of Water & Sanitation Abida Mia said: "Climate change has brought about new and unprecedented challenges, including extreme weather events. So what we need are partnerships to leverage on the competitive advantages that global players have."
Hela Cheikhourou, Regional Vice President of the International Finance Corporation (IFC), echoed the call for action: "We are on course to be at more than double the global target of 1.5 degrees Celsius maximum global warming that everybody agreed on in the Paris Climate Agreement. What that means is that unless we change course, 20 percent of global GDP is at risk."
Avoiding such a cataclysmic scenario for the global economy and environment can only be achieved by joining all forces. The participants at the OPEC Fund Development Forum demonstrated their commitments by signing cooperation agreements, for instance between the International Renewable Energy Agency and the OPEC Fund. The Republic of Kosovo and the OPEC Fund signed a private sector cooperation agreement, while the Asian Development Bank (ADB) and the OPEC Fund launched a joint trust fund.
ADB Vice President Ahmed Saeed explained: "The trust fund will focus on renewable energy, but also on energy access, which has been an important priority for the OPEC Fund globally and for ADB in the Asia-Pacific region. It is going to allow us to work earlier upstream on pipeline development and to carry through in terms of seeing projects realized, as well as in terms of assessing their impact."
The three panels at the OPEC Fund Development Forum were introduced by the Minister of Finance of the Kingdom of Saudi Arabia, Mohammed Al-Jadaan, the President of the Islamic Development Bank, Dr. Muhammad Suleiman Al Jasser, and Egypt's Minister of International Cooperation Rania Al-Mashat.
Panelists at the event included Ibrahim Ameer, Minister of Finance of the Maldives, Herukan Murati, Minister of Finance of the Republic of Kosovo, Ahunna Eziakonwa, UNDP Assistant Secretary General, Francesco La Camera, CEO of IRENA, Leila Farah Mokaddem, African Development Bank (AfDB) Director-General for South Africa, Eugene Zhukov, ADB Director-General for Central and West Asia, Sabine Gaber, Member of the Board of the Austrian Development Bank, and Clive Turton, Chief Investment Officer of the power and water company ACWA Power.
Taking stock OPEC Fund Director-General Dr. Alkhalifa concluded: "One clear takeaway from our event was the need for urgent, targeted and joint action in areas such as climate change, energy access and food supply. We are very encouraged by the success and positive momentum generated at our Forum which provides the energy to move forward swiftly and forcefully."
The date of the 2023 OPEC Fund Development Forum will be announced shortly.