OFID signs loan agreement with Vietnam for road rehabilitation project
OFID signs loan agreement with Vietnam for road rehabilitation project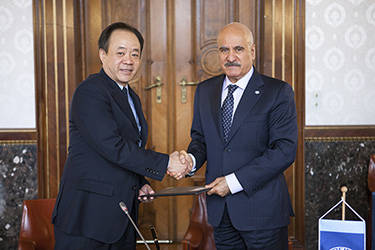 HE Nguyen Thiep, Ambassador of Vietnam to Austria, andOFID Director-General Mr. Suleiman J. Al-Herbish.
On April 10, 2013, OFID signed a US$34.2 million loan agreement with Vietnam to help finance a rural road rehabilitation project. The agreement was signed by OFID Director-General Mr. Suleiman J. Al-Herbish and HE Nguyen Thiep, Ambassador of the Socialist Republic of Vietnam to Austria.
The project, which will also be funded by the Government of Vietnam, will construct all-weather roads to help alleviate transportation constraints and ease isolation in the rural, impoverished provinces of Ninh Binh, Quang Tri, and Quang Nam. At least 532,000 people are expected to benefit from the expected reduction in tranport costs, improved access to social services and facilitation of the movement of agricultural produce and inputs.
OFID and Vietnam have been partners in development since 1978, having supported projects aimed at helping strengthen the country's agriculture, transportation, health, energy, national development banks and education sectors. Vietnam has also benefited from regional grants for HIV/AIDS prevention and treatment programs, as well as agricultural research and technology exchange schemes. National grants have also been extended that provided emergency aid; helped fund a cancer control program and a rehabilitation center for the disabled; and, supported a rural water supply and sanitation project.