OFID signs grant agreement with UNIDO to support fisheries sector in LAC
OFID signs grant agreement with UNIDO to support fisheries sector in LAC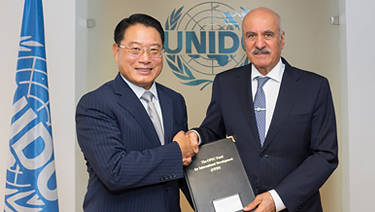 UNIDO Director-General Li Yong and OFID Director-General Suleiman J Al-Herbish.
Vienna, Austria, August 25, 2015. The OPEC Fund for International Development (OFID) has signed a grant agreement with the United Nations Industrial Development Organization (UNIDO) in support of a project aimed at improving the productivity and competitiveness of the shrimp value chain in the Latin America and Caribbean (LAC) region.
The US$300,000 grant agreement, which is co-financing a project worth close to US$900,000, was signed in Vienna by OFID Director-General, Suleiman J Al-Herbish and UNIDO Director General LI Yong.
Al-Herbish noted that the project would support the sustainable development of the fisheries sector in the LAC region by promoting more "efficient, environmentally-friendly and socially equitable fish farming and processing practices." He also said that the project would help reduce poverty by creating employment and income generation opportunities, as well as boost food security.
Director General Li pointed out how the shrimp farming sector represented an important source of income in the LAC region. "However, in most of these countries there is a need to enhance the productivity and competitiveness of the sector and its compliance with international quality and environmental standards."
Aquaculture, especially shrimp farming, has been a vital source of economic growth in developing countries. Shrimp farming represents 15 per cent of the total value of the fishery products internationally traded in 2011.
UNIDO's new project will benefit actors in various segments of the shrimp value chain in all participating countries, particularly among small shrimp farmers, shrimp cultivating companies and input and feed providers, processors, transporters and marketers. It will also help foster public-private partnerships and improve the linkages of local businesses to national, regional and global markets.
OFID's grant will specifically cover activities in Colombia, Cuba, Dominican Republic and Nicaragua.