"When the streets have light, there is more confidence"
"When the streets have light, there is more confidence"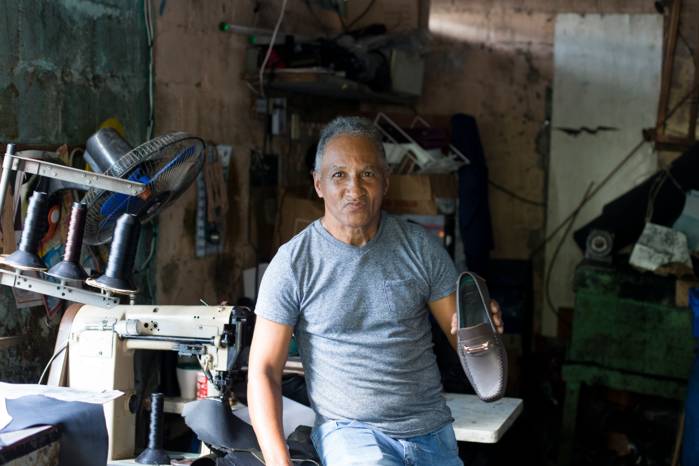 Jhonny Lopez is a shoemaker, whose Lopez Victoria brand is popular among neighbors in the Juan Pablo Duarte barrio in Santo Domingo, the capital of the Dominican Republic.
In his tiny shop of 30 square meters, Jhonny works 10 hours a day to make between 50 and 100 pairs of shoes per month. Two sewing machines, many boxes and materials including leather crowd the space.
"Electricity is my source of life," says Jhonny, who has lived nearly all of his 55 years in the barrio. He is one of hundreds of small businessmen who have become 'formal' electricity customers.
"Before the rehabilitation of the electricity network, the blackouts lasted as long as 12 hours every day," explains Jhonny. "There are still power failures, but now I can work more hours without bothering my neighbors with the noise and pollution from my generator.
"Now my electricity costs have fallen because it is more expensive running a generator compared with the tariffs of [a] formal service," he says. "I am learning how to save on electricity usage."
For Jhonny, however, and for many of his neighbors, the most important thing is that the streets now have light during the night. "There is more confidence in being able to return safely to our homes without fear of robberies when walking in the darkness," he says.
In Jhonny's barrio, as in dozens of other parts of the capital, the theft of electricity grew through illegal connections. Obsolete infrastructure caused frequent blackouts, fires and large losses for the state, which owns the power utilities.
Jhonny is one of 620,000 Dominicans who have benefited from the Electricity Distribution Rehabilitation and the Loss Reduction Program co-financed by the International Bank of Reconstruction and Development (IBRD), the Inter-American Development Bank (IDB), the Dominican government and OFID's Energy for the Poor initiative.