UN Secretary-General highlights OFID's EPI at SE4ALL press conference
UN Secretary-General highlights OFID's EPI at SE4ALL press conference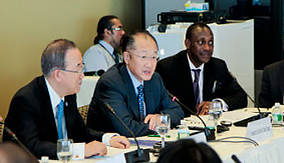 UN photo: Secretary-General Ban Ki-moon (left), World BankPresident Jim Yong Kim and Kandeh Yumkella, Chief Executive for SE4ALL,at the meeting of the Sustainable Energy for All High-Level Advisory Board
UN photo: Secretary-General Ban Ki-moon (left), World Bank President Jim Yong Kim and Kandeh Yumkella, Chief Executive for SE4ALL, at the meeting of the Sustainable Energy for All High-Level Advisory Board
November 27, 2013. OFID's Energy for the Poor Initiative (EPI) was highlighted in a press release relating to a joint announcement made by UN Secretary-General Ban Ki-moon and World Bank Group President Jim Yong Kim after a meeting of the Advisory Board of the UN Sustainable Energy for All initiative (SE4ALL) that took place in New York.
Ban Ki-moon and Jim Yong Kim, who co-chaired the meeting, outlined plans to mobilize financing towards reaching the goals set out in the SE4ALL initiative. The initiative, launched by the UN Secretary-General in 2011, seeks to achieve universal access to modern energy services, double the improvement rate of energy efficiency and double the share of renewable energy in the global energy mix.
OFID Director-General Suleiman J Al-Herbish also took part in the meeting in his capacity as Board member, which includes distinguished global leaders from business, finance, governments, and civil society.
In a press conference, Ban Ki-moon said that he was impressed by the "growing momentum in support of SE4ALL," and highlighted several examples, which included OFID's commitment of US$1 billion to help alleviate energy poverty, which was announced at the RIO+20. See webcast of Ban Ki-moon's announcement
"Now we need others to follow and build on these commitments," asserted the Secretary-General.
According to the annex of the SE4ALL press release, through its EPI-related programs and projects, OFID has provided, since January 2012, financing of almost $1 billion for 32 energy access projects, 10 of which involved renewable energy-based electricity generation and distribution.
The SE4ALL press release noted that energy assessments had been launched in 42 countries, which account for 361 million people without access to electricity. At least 12 of these assessments would be completed by April 2014, and would serve as the basis for energy investment prospectuses developed for each country.
The SE4ALL Advisory Board has established a Finance Committee to lead efforts to seek investor financing for them.
"Energy powers growth and opportunity," said the UN Secretary-General. "We count on all actors to lead by example in scaling up and accelerating action that will provide clean, efficient and sustainable energy for all. Today's many announcements are a testament to the resolve of partners to chart a path forward."