OFID supports UNHCR relief operations in Bangladesh
OFID supports UNHCR relief operations in Bangladesh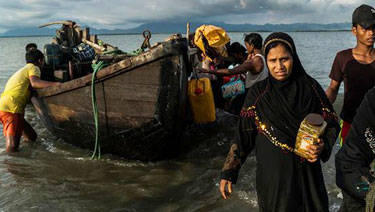 Photo: UNHCR
Vienna, Austria, October 20, 2017. The OPEC Fund for International Development (OFID) has approved an emergency assistance grant to the United Nations High Commissioner for Refugees (UNHCR) to help fund ongoing humanitarian operations in Bangladesh, where an estimated 20,000 Rohingyas per day are seeking refuge after outbreaks of violence in Rakhine State in Myanmar.
These outbreaks have triggered one of the most massive and swiftest refugee crises in the world today, with nearly one half million people fleeing to safety, primarily in Cox?s Bazar District in Bangladesh. There, they have joined 33,000 Rohingyas registered as refugees in the camps in Kutupalong and Nayapar, as well as over 274,000 others, mainly in so-called makeshift camps.
A large number of the refugees comprise women and children, many of whom have become separated from their families. UNHCR has declared this a refugee crisis and has launched an appeal, coordinating and working closely with the government of Bangladesh and agency partners to help meet refugees? most basic needs, including supplementary feeding program, shelter, water, sanitation and healthcare, as well as camp and site preparation and management, among other activities.