OFID supports Sierra Leone's transportation sector
OFID supports Sierra Leone's transportation sector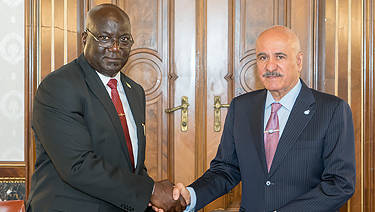 Sierra Leonean Ambassador HE Jongopie Siaka Stevens (left) and OFID Director-General Al-Herbish.
June 14, 2016, Vienna, Austria. OFID Director-General Suleiman J Al-Herbish and HE Jongopie Siaka Stevens, Ambassador of the Republic of Sierra Leone to Germany, signed a US$20m loan agreement for the Rehabilitation of Bo-Bandajuma Road project. The 46 km road is part of the Trans-African Highway and provides key links to neighboring countries. The newly-repaired stretch will help reduce travel costs and time, and provide 244,000 inhabitants of the area access to social services.
At the signature ceremony, Mr Al-Herbish explained that OFID was celebrating its 40th anniversary and pointed out that the institution's relationship with Sierra Leone began the same year of OFID's inception in 1976. The DG also said OFID looked forward to continuing its fruitful cooperation with the country.
In response, Ambassador Stevens thanked OFID for its longstanding assistance and underlined the importance of upgrading the Bo-Bandajuma road as it would provide year-round, all-weather access in a region where the high cost of transporting goods was a "serious deterrent to economic development."
In addition to supporting Sierra Leone's transportation sector, OFID has helped fund projects in the water supply and sanitation, energy and education sectors and provided balance of payments support, with public sector approvals amounting to over US$136m. Sierra Leone has also benefitted from regional and national OFID grants in the areas of education, agriculture, energy and health.