OFID participates in COP-21
OFID participates in COP-21
Director-General Al-Herbish speaks at high-level plenary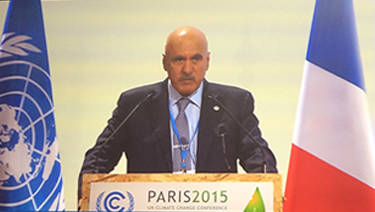 OFID Director-General Al-Herbish spoke about OFID's efforts in helping alleviate energy poverty.
December 10, 2015, Vienna, Austria. OFID Director-General Suleiman J Al-Herbish headed a delegation to participate in the Energy and Africa Days of the United Nations Conference on Climate Change (COP-21) being held in Paris, France. During a high-level plenary session on December 8, Al-Herbish delivered a statement where he outlined OFID's commitment to placing energy at the core of its strategic framework, thus making the institution a "key partner" in the UN-led Sustainable Energy for All (SE4ALL) initiative.
With 150 heads of state and government at its opening ceremony, and attended by more than 40,000 delegates, COP-21 is the supreme decision-making body of the United Nations Framework Convention on Climate Change (UNFCCC). At the outcome of the conference, it is expected that a new international agreement on climate change will be adopted after a solid year of negotiations among delegates of the 195 States Parties to the UNFCCC.
In his statement, Al-Herbish spoke of OFID's wholehearted support of a "fair and equitable agreement" that would ensure climate-resilient development for the world's most vulnerable populations. "We at OFID hope that the agreement accelerates their access to basic services—such as modern energy— and does not constrain their economic and social growth by unsuitable climate responses."
The Director-General also talked about OFID scaling up its support of projects that would provide lower carbon-producing energy sources to populations lacking electricity. He explained that since OFID's Ministerial Declaration announcement at the Rio+20 Summit in 2012, the institution had provided US$1b for energy access projects. Of these, over 40% were based on the use of renewables, he said.
Al-Herbish noted how OFID's commitment to fighting energy poverty had been demonstrated only the day before when, on behalf of OFID, he signed a US$70m loan agreement for the Second Rural Electrification Project that would provide reliable energy to over 720 villages in Morocco.
The loan agreement was signed by Ali Fassi Fihri, Director-General of l'Office National de l'Electricité et de l'Eau Potable of Morocco. The accompanying guarantee agreement was signed by HE Hakima El Haite, Moroccan Minister of Environment, Ministry of Energy, Mines, Water and Environment.
Other events
Al-Herbish and delegation also attended the launch of an initiative of Total SA, the "Coalition for Universal Energy Access" of which OFID is part. The OFID delegation also held meetings with representatives of Total to discuss means of future cooperation.
At the "Earth to Paris" event during Energy Day, the delegation also attended the launch of the United Nations Foundation's Energy Access Practitioner Network's 2015 Energy Access Investment Directory and investment portal, which OFID helped sponsor.
OFID's delegation also met with representatives of other partners such as the United Nations Environment Program, SE4ALL and SNV Netherlands Development Organization to discuss progress of ongoing projects and future cooperation.
OFID has provided grant funding to SNV in support of biogas and renewable energy schemes being carried out in Burkina Faso, Kenya, Nepal, Tanzania, Zambia and Zimbabwe.