OFID hosts art auction: raises over €60,000 for refugee integration program of the Austrian Red Cross
OFID hosts art auction: raises over €60,000 for refugee integration program of the Austrian Red Cross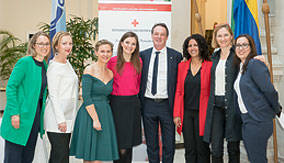 From left: Anna Mustapic, Consultant; Andrea Jungmann, CEO Sotheby's Austria, Hungary and Poland; Katharina Karlik, Consultant; Silvia Mateyka, OFID Communication Dept; Michael Opriesnig, Vice Secretary General of Austrian Red Cross; Reem Aljarbou, Acting Director, OFID Communication Dept; Fanny Tamussino, Red Cross and Lilian Al-Bazaz, OFID Communication Dept.
Vienna, Austria. On April 25, the OPEC fund for International Development (OFID), in cooperation with Sotheby's, hosted a benefit art auction in support of the Austrian Red Cross program: "Learning aid for refugee children and German courses for adults," raising over €60,000. OFID has supported a number of initiatives aimed at promoting the integration of refugees in its host city of Vienna, and last year centered its 40 year anniversary celebrations around the plight of the refugees.
OFID welcomed over 150 guests, who bid on artwork generously donated by famous Austrian artists such as Peter Kogler, Markus Prachensky, Herbert Brandl and Hermann Nitsch, six renowned Syrian artists, among others. Andrea Jungmann, Managing Director of Sotheby's Austria, Hungary and Poland chaired the auction.
Opening the event was Michael Opriesnig, Vice Secretary General of Austrian Red Cross, who spoke about its refugee education program and the importance of providing educational opportunities, particularly for young people, as it helped them integrate into their communities, provide job opportunities and reduce poverty. This also enabled children to integrate more easily into Austrian schools, he explained. Opriesnig concluded by thanking OFID, Sotheby's, the artists and everyone else who played a vital role in supporting the program.
This is the second year OFID has hosted an auction for a refugee integration program of the Red Cross. Commenting on OFID's partnership with the organization, OFID Director General Suleiman J Al-Herbish said: "Our commitment and support of local initiatives that are helping integrate those who are fleeing from war and violence is crucial in these times. For this reason, cooperation with partners such as the Austrian Red Cross, is essential."
A highlight of the evening was the bidding on a work of Daniel Richter, which fetched the highest price of €6,500. In all, over €60,000 was raised, the full proceeds of which will go to the Austrian Red Cross.
The partnership between OFID and the global Red Cross/Red Crescent Organization dates back over 30 year, comprising more than 75 grants to various Red Cross entities in support of activities ranging from humanitarian aid to technical assistance for water and sanitation projects, among others.