OFID extends first-ever private sector funding to Tajikistan
OFID extends first-ever private sector funding to Tajikistan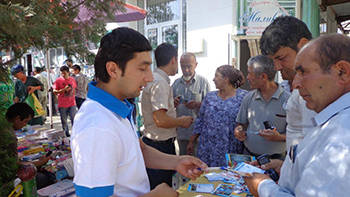 Photo: IMON
Photo: IMON
November 20, 2014. OFID has extended a US$5m line of credit to IMON International – the largest microfinance organization in Tajikistan. The funds will enable IMON to expand its activities in providing financial services to vulnerable groups in Tajikistan.
IMON's activities address the demand for short, medium to long-term financing across all sectors of the Tajikistan economy. This demand comes from existing businesses wishing to expand and upgrade as well as new businesses, the pace of which is determined by the availability of term finance.
OFID's funding will assist in employment generation and contribute to general economic growth in the country. It also expected to help strengthen Tajikistan's financial and banking sector.
IMON serves nearly 70,000 clients, some residing in remote areas in the country. Since its establishment, the organization focuses on entrepreneurs working in small wholesale and retail trade and services, as well as owners of small production facilities.