OFID DG Al-Herbish heads high level mission to Qatar, UAE, Saudi Arabia and Egypt
OFID DG Al-Herbish heads high level mission to Qatar, UAE, Saudi Arabia and Egypt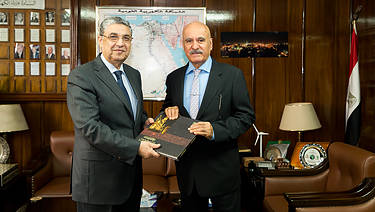 OFID Director-General Al-Herbish and HE Dr Mohamed Shaker, Minister of Electricity and Renewable Energy and Chairman of the Executive Office of the Arab Ministerial Council of Electricity, Egypt.
Vienna, Austria, November 27, 2015. The Director-General of the OPEC Fund for International Development (OFID) Suleiman J Al-Herbish has concluded his extensive high level mission. Countries visited included Qatar, United Arab Emirates (UAE), Saudi Arabia and Egypt.
Link to article published in Al Jazirah (in Arabic) covering Al-Herbish's mission to the Middle East.
The mission kicked off in Doha, Qatar, where the Director-General delivered a speech at Plenary Session 3 "Delivering on the clean energy agenda: prospects and the role for policy at the 6th Asian Ministerial Energy Roundtable (AMER6) in Doha, Qatar.
Dubai, UAE
The delegation then traveled to Dubai, UAE, where on November 11 Al-Herbish delivered a speech at the "Water-food-energy-nexus" seminar at the headquarters of the International Center for Biosaline and Agriculture (ICBA). OFID has extended over US$2.5m in grant funding to ICBA, which helped fund the establishment of its regional research center in the UAE and co-funded agricultural research programs. Photo left: Al-Herbish (center) delivers his speech. On the left is Dr Ismahane Elouafi, ICBA Director General and HE Eng. Mariam Mohammad Saeed Hare, Assistant Undersecretary at the Water Resources and Nature Conservation Affairs Department of the UAE Ministry of Environment and Water.
The following day, Al-Herbish met with HE Obaid Humaid Al Tayer (pictured), Minister of State for Financial Affairs, UAE, to discuss a number of current issues, including preparations for OFID's 40th Anniversary in 2016 and the institution's ongoing efforts in energy poverty eradication. Al-Herbish also briefed the Minister on OFID's Corporate Plan 2016-2025 which, with its focus on the Energy-Water-Food Nexus, is in line with the new Sustainable Development Goals (SDGs).
Riyadh, Saudi Arabia