OFID and ICMPD launch cooperation on refugee protection
OFID and ICMPD launch cooperation on refugee protection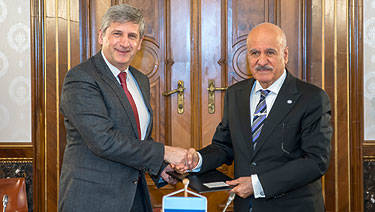 OFID Director-General Al-Herbish (right) and ICMPD Director-General Dr Spindelegger.
March 6, 2018, Vienna, Austria. The Director-General of OFID (The OPEC Fund for International Development) Suleiman J Al-Herbish has signed a grant agreement with the International Center for Migration Policy Development (ICMPD) in support of a study on refugee protection and development. Dr Michael Spindelegger, ICMPD Director-General and former Austrian Vice-Chancellor, co-signed the agreement.
At the signing ceremony, which also marked the first formal cooperation of the two organizations, Al-Herbish said: "While this is the first grant extended by OFID to the ICMPD, since its establishment in 1976 OFID has been very responsive to the plight of victims of all kinds of disasters and conflicts around the world, and attempted to alleviate their suffering through the provision of humanitarian aid."
Al-Herbish also spoke of OFID's solidarity with its host country Austria, having secured longstanding partnerships with nearly 30 Austrian-based government and non-governmental organizations including the Austrian Development Agency, Care Austria, Hilfswerk and the Institute of Cooperation and Development.
Dr Spindelegger thanked Al-Herbish for OFID's support, stating that the project would help improve understanding of refugee-related protection issues. "This grant will allow us to do far more," he said. Dr Spindelegger also congratulated the Director-General on his leadership of OFID and his contribution "to fighting poverty and bettering the lives of many people across the world."
With a focus on the Middle East, the study entitled 'Assessing the Development Displacement Nexus in Regional Protection Policies' will provide a comprehensive assessment of policy options to address development and displacement in the region. OFID's grant was for US$100,000.