Officer stories: Up close with the OPEC Fund's Luis Aguilar
Officer stories: Up close with the OPEC Fund's Luis Aguilar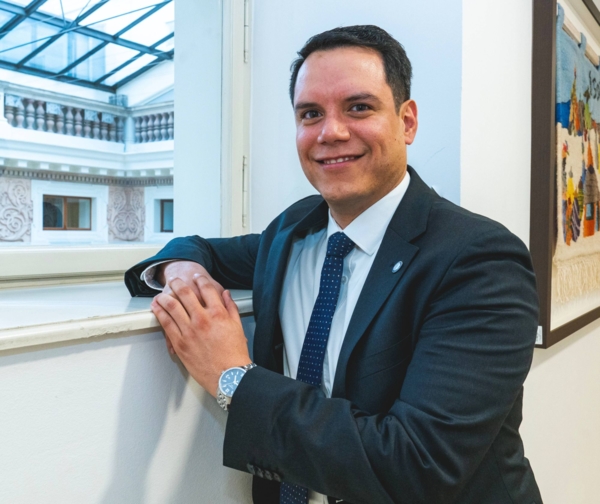 As published in the 02/2020 issue of the OPEC Fund Quarterly.
"I've been Nicaragua's Country Officer since joining the OPEC Fund in March 2017. I've been to the country several times, but my first mission was just two months after joining. My first impression was very positive. I met with local government authorities and I was pleased to see the excellent working relationship between the OPEC Fund and Nicaragua – the partnership has been in place since 1979. It's rewarding to see the impact our projects have on the ground. We're helping people to change their lives and to make a future for generations to come.
The OPEC Fund's projects in Nicaragua support the country's national development plans. In the energy sector for example, we have supported the National Program for Sustainable Electrification and Renewable Energy (PNESER) since it was launched in 2010. The Program's objectives are to support efforts to reduce poverty through the expansion and improvement of electricity services. It also promotes the use of renewables to both effect a change in Nicaragua's energy composition and contribute to climate change mitigation. The generation mix in Nicaragua is changing. Nowadays around 60 percent of electricity generation comes from renewable sources. The country has a great potential and the government is trying to invest more in renewable solutions, especially for rural communities that are difficult to reach.
During my last mission to Nicaragua, I met an 'outgoing' 10 year-old boy who approached me and said, half-joking, half-serious: "Hey, you took my job away". I was shocked and asked him to explain. He told me how, before electricity came to his small rural town, he had worked to support his family. He would charge a fee to collect people's electronic devices (cell phones, laptops, etc.) and take them on his bike to the nearest town with electricity, around 10 km away. He would charge and return them hours later. With the arrival of electricity to his town (as a result of one of our projects), his father has become more productive at work, which immediately increased his household income. The father doesn't need the help of his little boy anymore. The boy now dedicates his time to studying in a newly-opened school and invests his energy into his own future."

Read main mission article: Roads and renewables: The OPEC Fund and Nicaragua
Operations in Nicaragua
Focus Area
Transportation
Country
Guatemala, Honduras, Nicaragua