"I wish I could fly a kite"
"I wish I could fly a kite"
Yousef from Rafah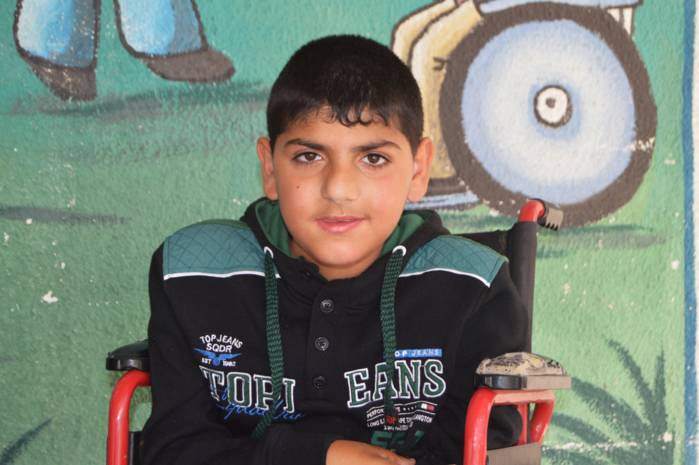 Yousef Al-Bouji hails from Rafah in Palestine. ©Sharaf Faqawi, Handicap International
Yousef Al-Bouji hails from Rafah in Palestine. He is 11 years-old and has a physical disability. He's one of the many children supported by an OFID co-financed project that has improved access to services such as education, physical therapy and psychosocial support. The project has helped thousands of children and adults with disabilities living in marginalized areas of the West Bank and Gaza Strip.
Yousef likes the library section of his school best: "We always go to the library to read beautiful and interesting stories with my classmates." His favorite subject is science: "Our teacher Khaleel teaches us a lot of things about animals and plants." At break time, he enjoys time with his friends in the playground, unless he is revising for exams.
The OFID co-funded funded project provided Yousef with the opportunity to participate in drama and animated film production workshops with other children, with and without disabilities. Through these workshops, he contributed to the production of the 'Green Blue' animation.
The film responds to Yousef's yearning to fly a kite: "I wish I could fly a kite. I sat at the window to see the neighbor boy flying his kite. I want to fly a kite as he does. One day he was flying the kite and the tail of the kite fell on the windowsill. I took it in my hands. I was so happy."
"Today, in the workshop, I made film pictures of the kite flying," he continues. "It was so nice to see how the kite was flying and flying. I made many film-pictures. I know that I made many more film shots than needed!"
Yousef dreams of becoming a dentist when he grows up. He doesn't like toothaches at all, so he wants to help people who have them. In the meantime, he has a plan for this summer vacation. He intends to go to the sea with his family. His father has promised him a beautiful kite to fly with his brothers.
View Yousef's video here
Related Stories
OFID 2018 Scholar Amayaa Wijesinghe from Sri Lanka
Vanessa Williams-Rodriguez from Guyana