Development day at the OPEC Fund
Development day at the OPEC Fund
Young professionals get a first taste of the many balancing acts facing development finance and achievement of the global Sustainable Development Goals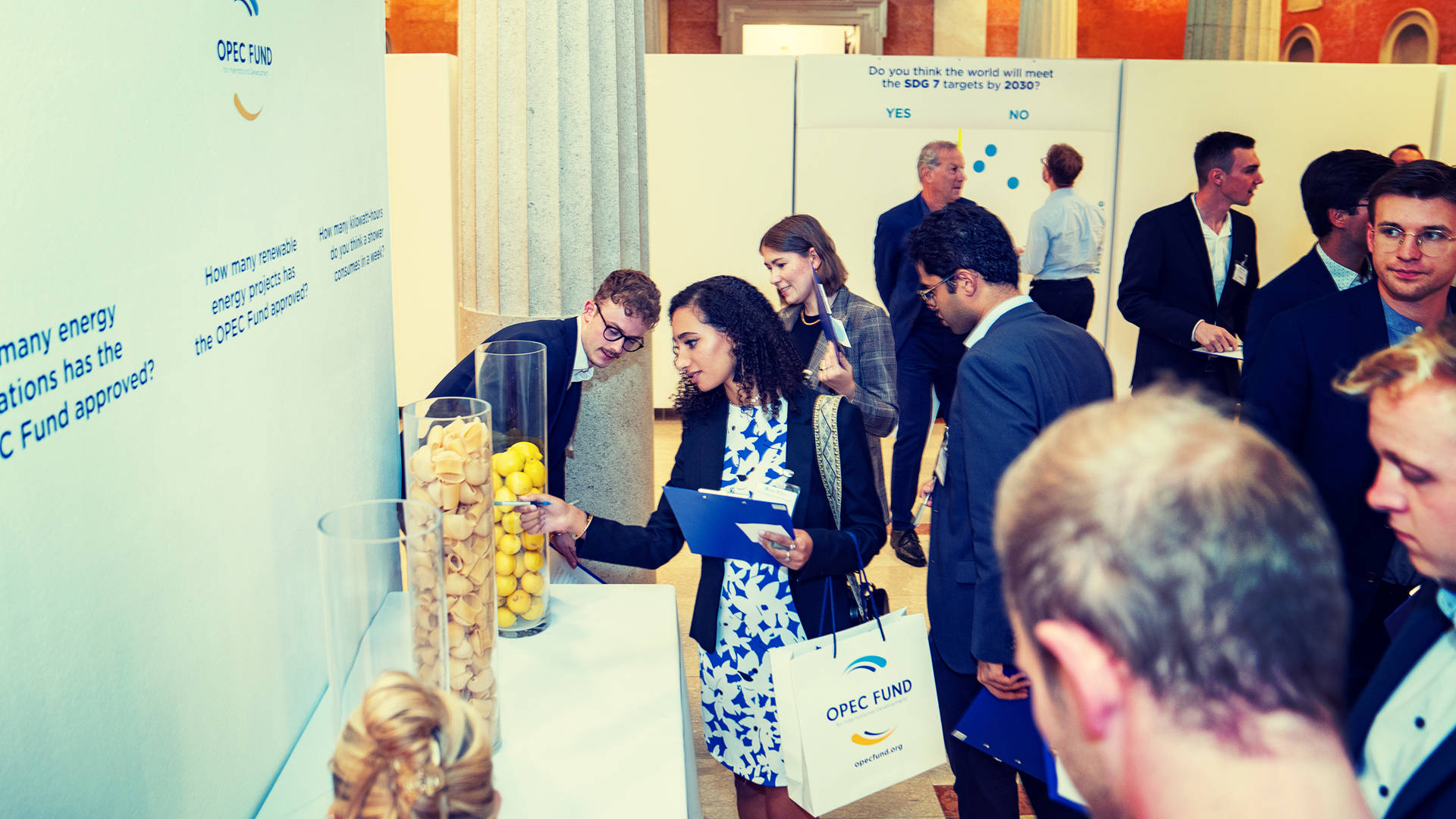 In what is already becoming a time-honored tradition, the OPEC Fund hosted a group of young professionals from the third annual Vienna Energy Scholar Program (VESP) in September at its Headquarters in Vienna. VESP is a knowledge and networking platform focused on energy access, security and transition as well as environmental challenges. The OPEC Fund is joined in the initiative by OPEC and the City of Vienna.
One of the participants, the energy scholar Paul Toeppmann said: "We're young, but many of us already have a lot of international experience. We're going to be the generation in charge in the next few years, so I think it's a great opportunity not only for us but also very important for different stakeholders to invest in the young people today who are going to be taking the decisions tomorrow."
OPEC Fund Head of Institutional & Administrative-Legal Services Hanno Scheuch delivered the formal welcome, before Senior Communication Officer Başak Pamir presented an overview of our mission, mandate and development activities. This set the stage for case studies from public and private sector teams, presented respectively by Senior Country Manager Lewnis Boudaoui, who shared the Fund's clean cooking program in Madagascar, and Director of Portfolio Management Said Taufik Ridha, who focused on work for securing universal electricity access.
Energy scholar on the VESP program Mariam Rashwan commented: "It's good that we as young people get the chance to talk with the people in charge, who may be developing new approaches and technologies to help with the climate crisis. It was also very important for me to see what goes on behind the façade in important institutions — to know what so many people are working on and what is really happening — and to share our ideas and perspectives."
Further sessions were led by OPEC Fund Head of Development Effectiveness Ulrike Haarsager and Senior Environmental Specialist Gerardo Parco, who focused on cost-benefit analyses and broader issues related to international good governance.
Thomas Resch, in charge of European and international affairs at the Vienna municipality, summed it up: "Vienna sees herself as an international city of diplomacy and peace. Seeing all these international organizations dedicate themselves to this work is really of very high importance to us. In your case we heard so much about the wonderful projects you are doing. I admire the dedication of the staff to all their important projects."