OPEC Fund signs development loans with Pakistan and Uzbekistan
OPEC Fund signs development loans with Pakistan and Uzbekistan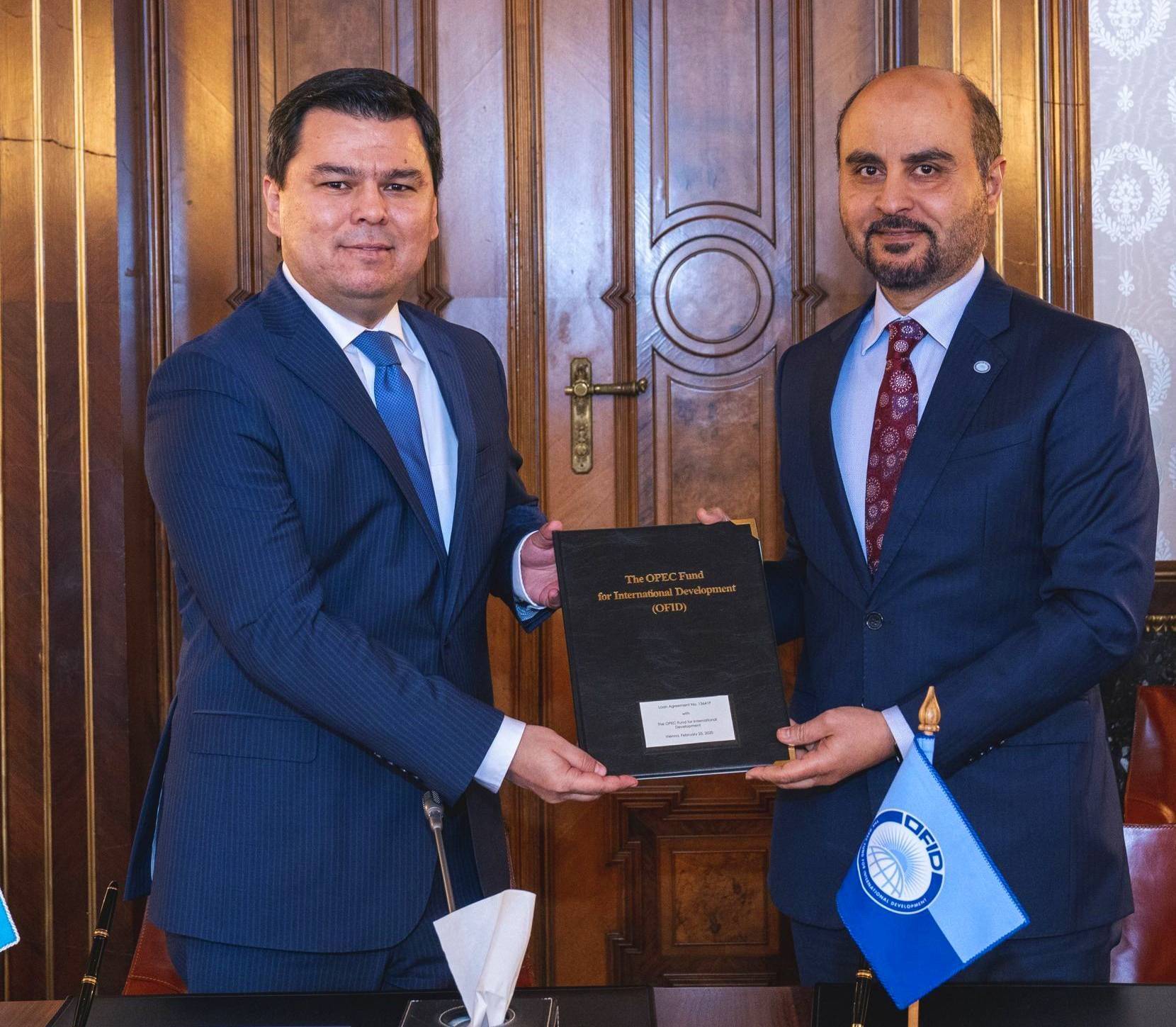 OPEC Fund Director-General Dr Abdulhamid Alkhalifa (right) with Ambassador of Uzbekistan Sherzod Asadov.
Vienna, Austria, February 25, 2020. The OPEC Fund for International Development (the OPEC Fund) has signed separate public sector loan agreements with Pakistan and Uzbekistan to help strengthen the countries' energy and water and sanitation sectors, respectively.
The US$72 million to Pakistan will help fund the 'Jamshoro Power Project', which involves the construction of two 600 MW-capacity power plants to help alleviate energy shortages and diversify the energy mix in Pakistan's Sindh Province – populated by nearly 48 million people. Co-financiers include the Asian Development Bank, the Islamic Development Bank, the Kuwait Fund for Arab Economic Development, the Saudi Fund for Development and the government of Pakistan.
Uzbekistan's US$53.96 million loan will co-finance the 'Improvement of Water Supply in Yangikurgan District and the City of Namangan Project'. Works will include the replacement and rebuilding of water supply infrastructure for approximately 185,000 people. The project is co-financed by the government of Uzbekistan.
OPEC Fund Director-General Dr Abdulhamid Alkhalifa signed both agreements, totaling close to US$126 million, on behalf of the organization. Mansoor Ahmad Khan, Ambassador of Pakistan, and Sherzod Asadov, Ambassador of Uzbekistan, countersigned for their respective countries.
Commenting on the loans, Dr Alkhalifa said: "We are dedicated to improving people's lives by providing public, private, and trade sector financing, as well as grants, to support sustainable social and economic advancement. Our efforts strengthen infrastructure and human capacity across essential fields such as energy and water and sanitation in developing countries like Pakistan and Uzbekistan – as well as inter-related sectors such as transportation, health and education.
"Ultimately, the OPEC Fund's work supports our partner countries in achieving their development priorities. I would like to thank Pakistan and Uzbekistan – and all our developing country partners – for the strong relationships we have built over the years in the name of socioeconomic progress."
The partnership between the OPEC Fund and Pakistan dates back to the institution's establishment in 1976. The country has benefited from all of the OPEC Fund's finance windows (public sector, private sector and trade finance, and grants). The OPEC Fund's 20-year partnership with Uzbekistan has included public and private sector financing for a variety of development operations across various sectors.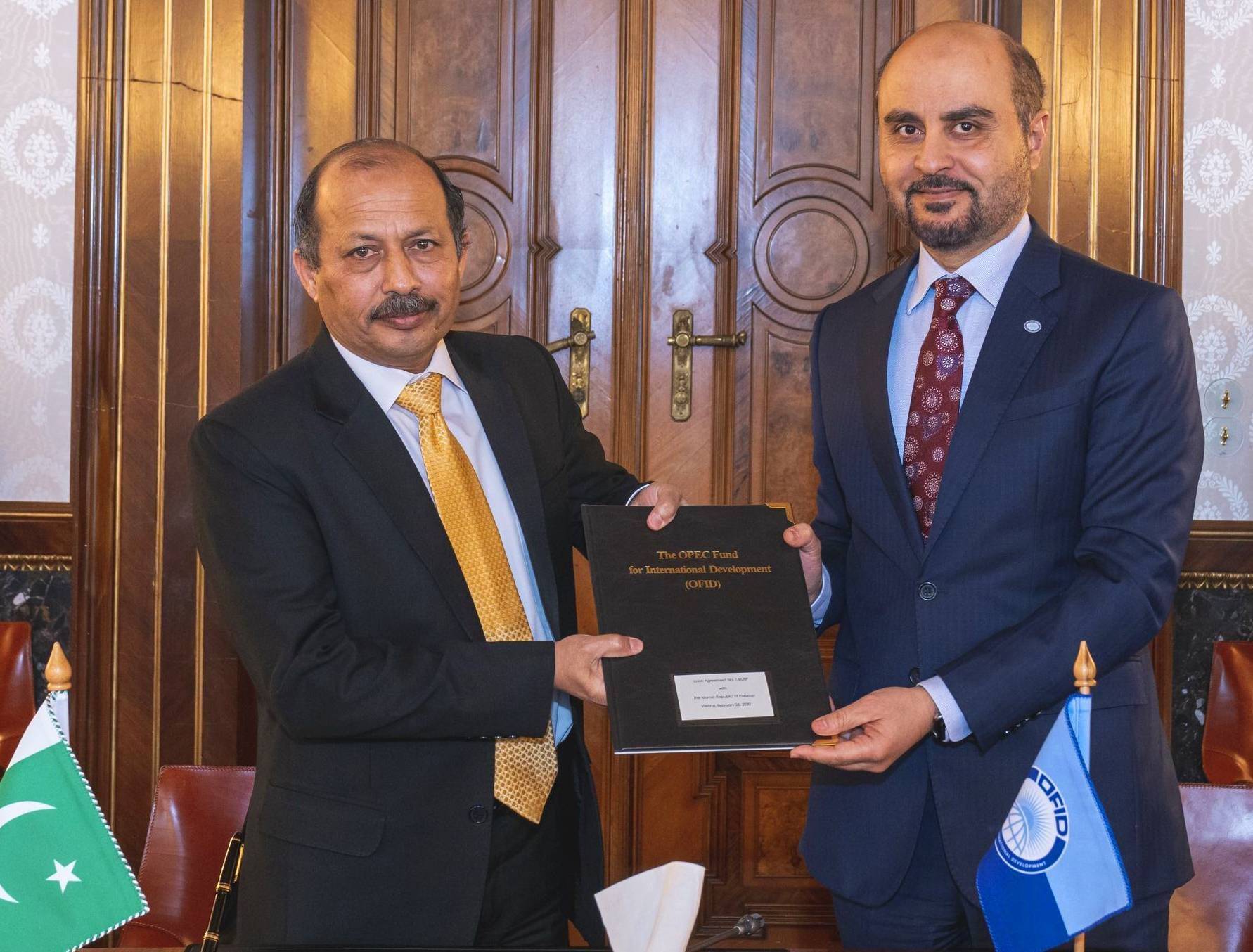 OPEC Fund Director-General Dr Abdulhamid Alkhalifa (right) with Ambassador of Pakistan Mansoor Ahmad Khan.