Arab Coordination Group calls for closer cooperation to meet changing development needs
Arab Coordination Group calls for closer cooperation to meet changing development needs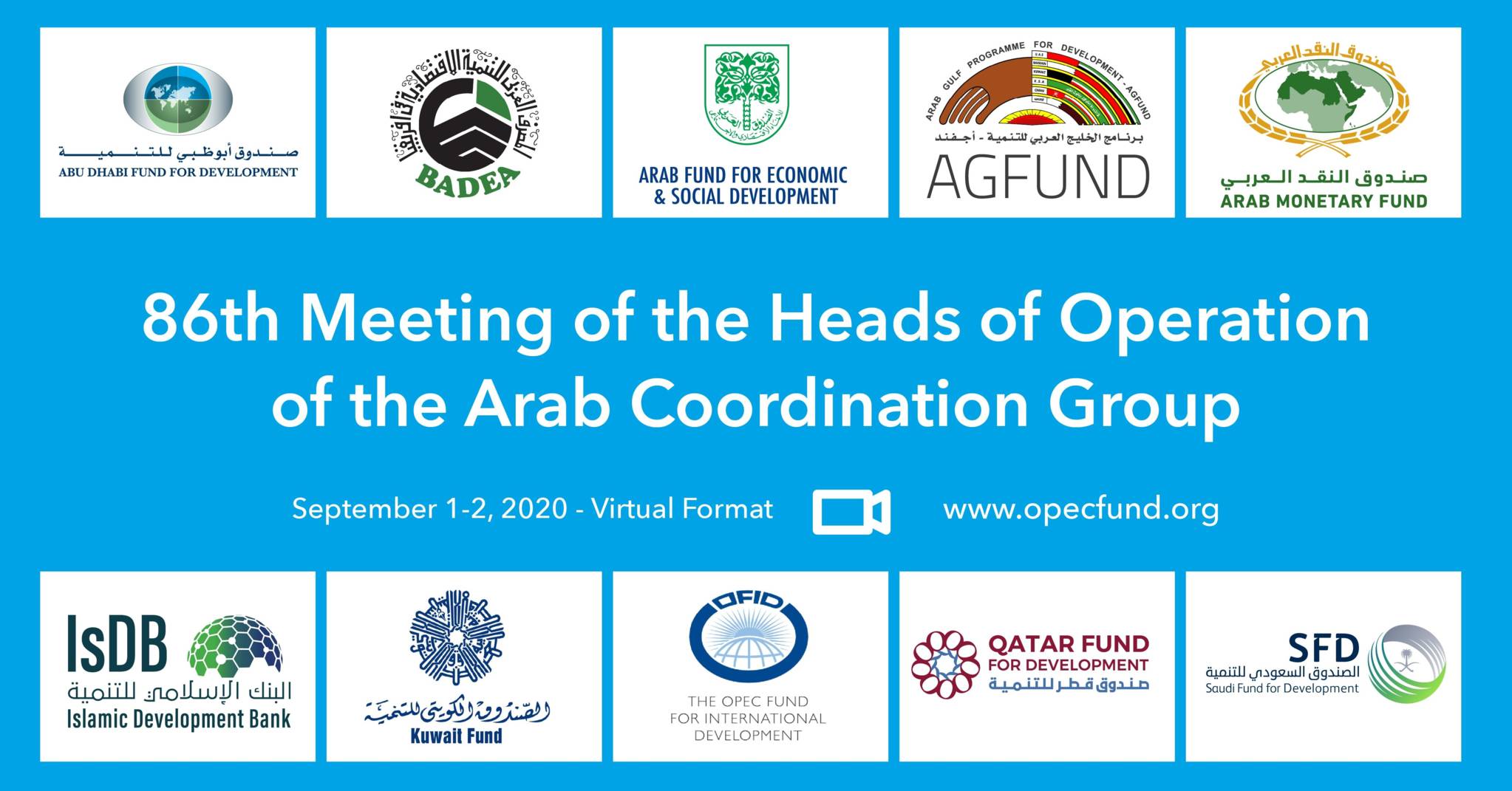 Vienna, Austria, 03 September, 2020. The 86th Meeting of the Coordination Group's Heads of Operations, hosted by the OPEC Fund for International Development (the OPEC Fund), concluded yesterday.
The two-day virtual event enabled participants to exchange knowledge on issues including improving development cooperation and effectiveness, the Arab Development Portal – which promotes open data, access to information, and informed decision-making in the Arab region – and the response to COVID-19 in developing countries. Earlier this year, the Coordination Group allocated US$10 billion to support COVID-19 responses in developing countries.
OPEC Fund Director-General Dr Abdulhamid Alkhalifa said: "Since its establishment more than forty years ago, the Coordination Group has made far-reaching steps in the field of joint development work. This is a source of pride for all of us. Nevertheless, we must not be content with what we have achieved, but instead strive for more cooperation and adapt effectively to the changing environment."
Dr Alkhalifa explained that the Coordination Group and other international development institutions have intensified efforts to help developing countries respond to the "unprecedented situation" and called for a "strengthening and deepening" of the partnership among Coordination Group institutions and between the Coordination Group and other development finance institutions worldwide.
Also participating in the virtual meeting to discuss cooperation were representatives of the World Bank and the International Fund for Agriculture Development.
About the Coordination Group
The Coordination Group comprises: the Abu Dhabi Fund for Development, the Arab Bank for Economic Development in Africa, the Arab Fund for Economic and Social Development, the Arab Gulf Programme for Development, the Arab Monetary Fund, the Islamic Development Bank, the Kuwait Fund for Arab Economic Development, the OPEC Fund, the Qatar Development Fund and the Saudi Fund for Development.
About the Arab Development Portal
The Arab Development Portal is an online knowledge platform to support development progress in the Arab region. Coordination Group initiative in collaboration with the United Nations Development Programme (UNDP). Available in English and Arabic language versions, it promotes open data, access to information, informed decision-making and analysis. See arabdevelopmentportal.com
About the OPEC Fund
The OPEC Fund is the development finance institution established by the Member States of OPEC in 1976 as a channel of aid to developing countries. The OPEC Fund works in cooperation with developing country partners and the international donor community to stimulate economic growth and alleviate poverty in all disadvantaged regions of the world. It does this by providing financing to build essential infrastructure, strengthen social services and promote productivity, competitiveness, and trade. The OPEC Fund's work is people-centered, focusing on projects that meet basic needs – such as food, energy, infrastructure, employment (particularly relating to MSMEs), clean water and sanitation, healthcare, and education. The OPEC Fund aims to encourage self-reliance and inspire hope for the future.