OPEC Fund signs US$50m loan agreement to expand healthcare for the elderly in China
OPEC Fund signs US$50m loan agreement to expand healthcare for the elderly in China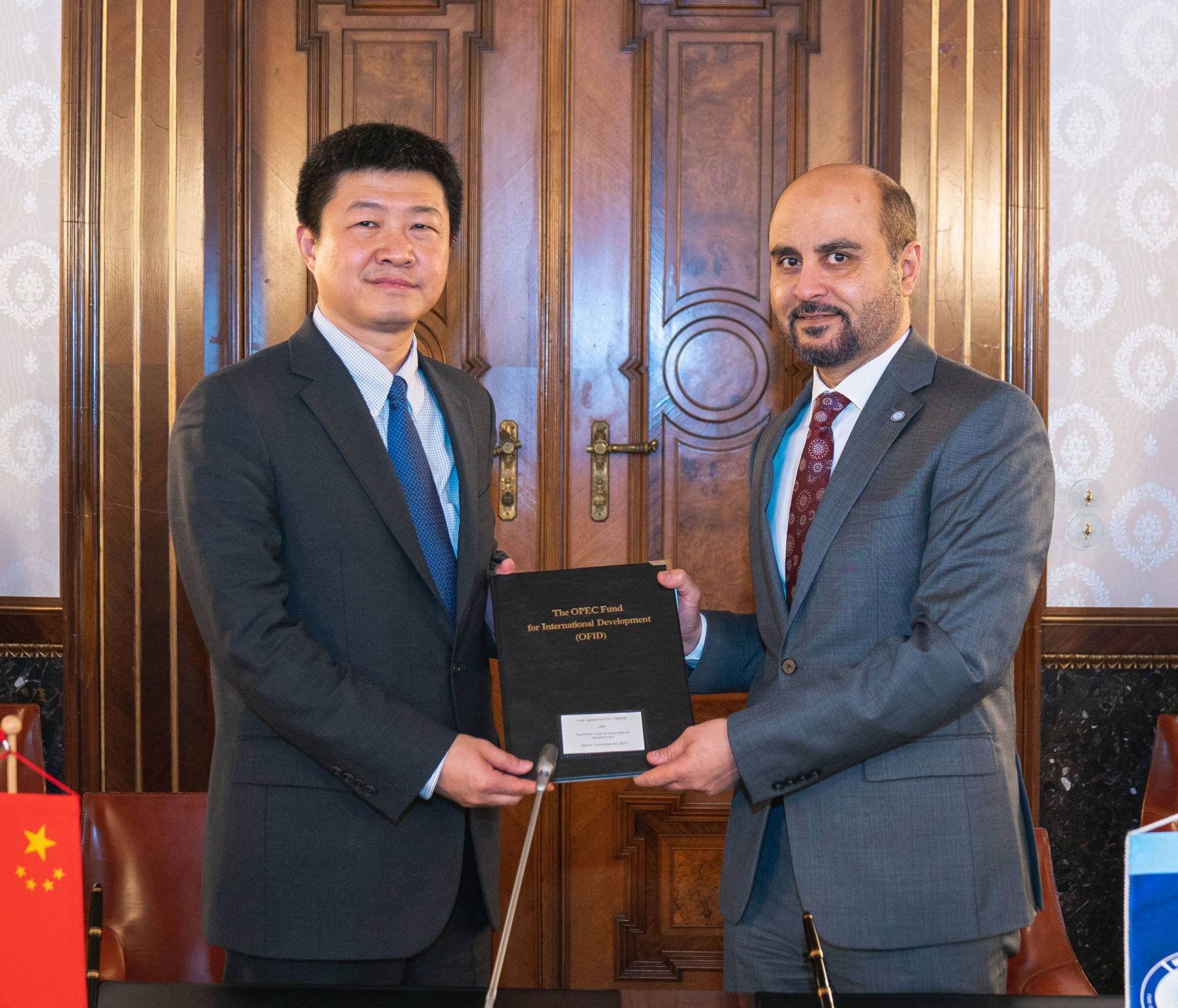 OPEC Fund Director-General Dr Abdulhamid Alkhalifa and Deputy Director-General of PRC Ministry of Finance Han Bin.
Vienna, Austria, November 25, 2019. The OPEC Fund for International Development (the OPEC Fund) has signed a US$50 million loan agreement with China (PRC) in support of the government's efforts to provide comprehensive elderly health care services in the Guangxi Zhuang Autonomous Region (GZAR), which has identified the importance of developing a services system for its ageing population.
The loan was signed by the OPEC Fund Director-General Dr Abdulhamid Alkhalifa and Deputy Director-General of PRC Ministry of Finance, Department of International Economic and Financial Cooperation, Han Bin. The project will finance the Hezhou Healthcare Project, which will be co-financed by the Chinese government.
At the signing, Dr Alkhalifa said "This loan reflects the OPEC Fund's commitment to helping China meet Sustainable Development Goal 3, ensuring healthy lives and promoting wellbeing for all at all ages. Our commitment to health is clear: as of December 31, 2018, our cumulative approvals to development projects in the health sector were well over US$100 million in China, and over US$1 billion worldwide. The OPEC Fund looks forward to maintaining its strong ties with China and cooperating with other high-priority development projects."
The project will involve the construction of a medical and elderly care center that will assist in alleviating the shortage of medical and elderly care services, as well as improve access to quality healthcare services for senior citizens in Hezhou city and neighboring cities and provinces. The new facility will accommodate around 50,000 patient visits per year.
Providing specialized medical care for the elderly has been a key priority for the Chinese government.Recent estimates indicate that the over-65s demographic is set to rise from 142 million in 2016 (nearly 11 percent of the population) to 289 million, or 20 percent of the population, by 2034 (Source: ADB Briefs, 2018).
The OPEC Fund also approved a US$41.6 million loan in 2018 to finance the Hohhot Mongolian Hospital of Traditional Chinese Medicine, which will comprise a 700-bed medical care center for the elderly and provide outpatient services for over 510,000 individuals per year. Once completed, this project will provide significant employment opportunities for approximately 1,365 medical and administrative staff (an increase of 51 percent or an additional 460 employees from current levels).
The first development operation in China was approved by the OPEC Fund in 2007. Since then, the partnership has continuously expanded and as of today, the OPEC Fund has approved more than US$292 million in support of education, health, water and sanitation, and energy sector projects.