OFID supports food security in Egypt, Prime Minister Dr Madbouly attends signing ceremony
OFID supports food security in Egypt, Prime Minister Dr Madbouly attends signing ceremony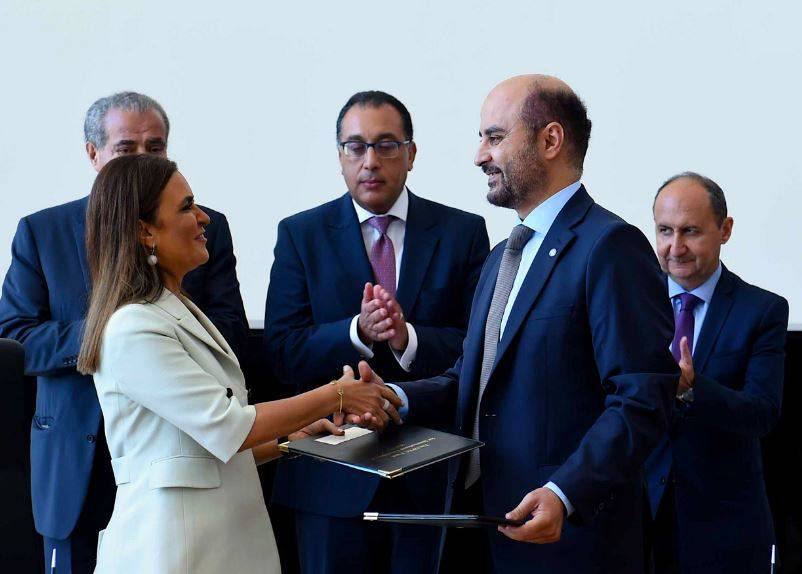 Vienna, Austria, July 25, 2019. The Director-General of the OPEC Fund for International Development (OFID), Dr Abdulhamid Alkhalifa, has signed a US$14 million loan agreement with Egypt's Minister of Investment and International Cooperation, Dr Sahar Nasr. The agreement was signed in the presence of Egypt's Prime Minister Dr Mostafa Kemal Madbouly, Minister of Supply and Internal Trade, Dr Ali Elmoselhy, and Minister of Trade and Industry, Amr Nassar.
The loan from OFID will finance the Port Said Grain Storage Facilities Project, an important agricultural sector development initiative in Egypt. The project will boost food security in the country and reduce agricultural losses by building and equipping two major storage facilities.
OFID's high-level delegation to Egypt included Assistant Director-General, Public Sector Operations Fuad Albassam, Country Officer Khaled Al-Zayer and Protocol's Mamdouh Abdel Gawwad, in addition to OFID's Director-General. The delegation will also visit the project sites of other OFID-funded operations in Egypt.
The relationship between OFID and Egypt dates back to 1976. OFID has approved 28 public sector loans for development operations in Egypt. These loans have financed projects in the health, agriculture, transport, education and electricity sectors. OFID has also supported private sector and trade finance operations in the country, as well as providing a number of national grants.

About OFID
OFID works in cooperation with developing country partners and the international donor community to stimulate economic growth and alleviate poverty in all disadvantaged regions of the world. It does this by providing financing to build essential infrastructure, strengthen social services and promote productivity, competitiveness and trade. OFID's work is people-centered, focusing on projects that meet basic needs – such as food, energy, clean water and sanitation, healthcare and education – with the aim of encouraging self-reliance and inspiring hope for the future.