Libya's Head of State co-hosts OFID exhibition to help celebrate organization's 43rd anniversary
Libya's Head of State co-hosts OFID exhibition to help celebrate organization's 43rd anniversary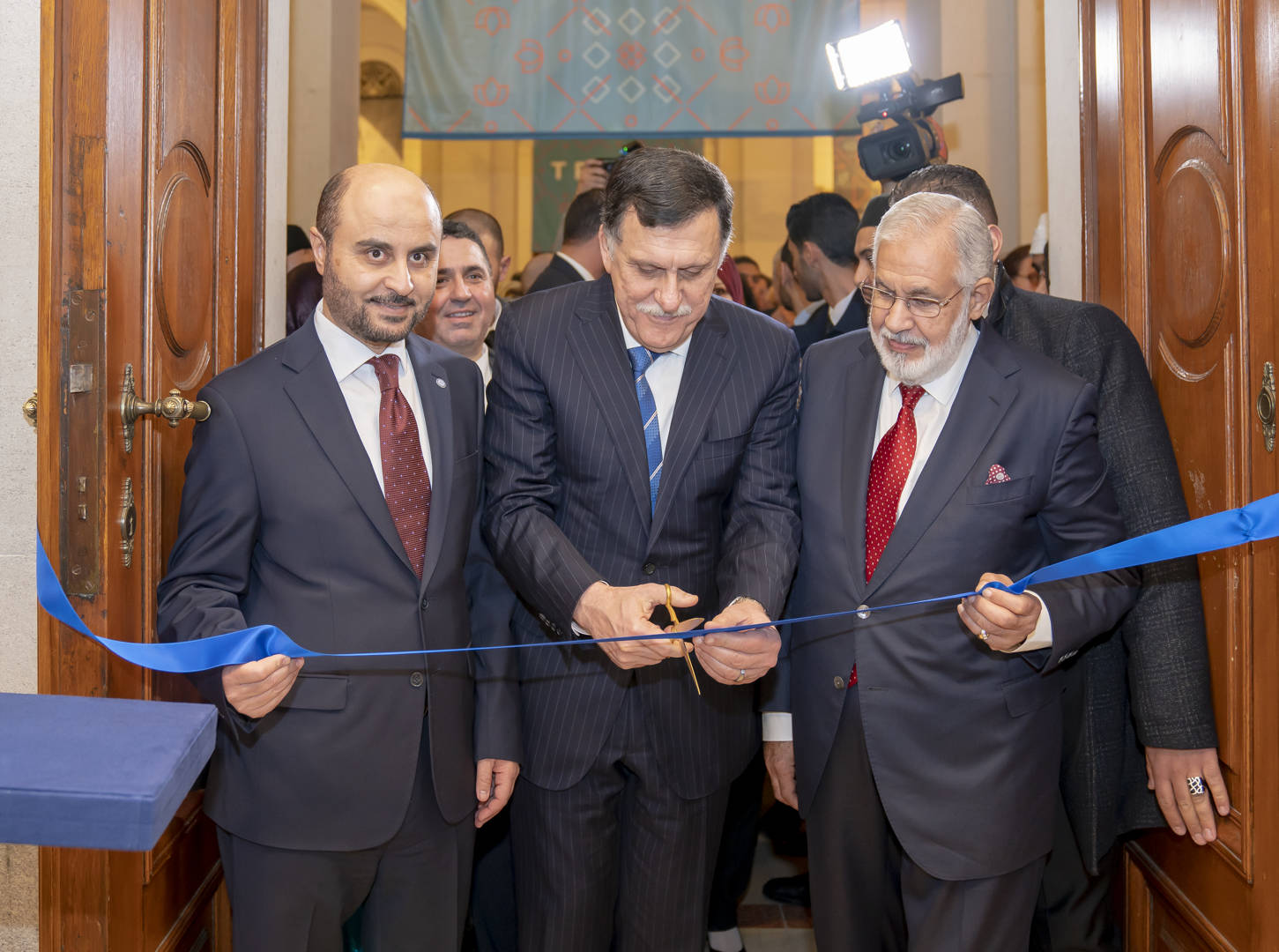 OFID Director-General Dr. Abdulhamid Alkhalifa, Libyan President Faiez Serrag (center) and Libya's Minister of Foreign Affairs Mohamed Al-Taher Syala.
Vienna, Austria, January 29, 2019. Libya's Head of State and President of the Presidential Council of the Libyan Government of National Accord, Faiez Serrag, and OFID Director-General Dr Abdulhamid Alkhalifa opened yesterday a Libyan-themed exhibition at OFID's Vienna headquarters.
Libya's Minister of Foreign Affairs Mohamed Al-Taher Syala was also in attendance and provided welcoming remarks outlining OFID's long history of providing development support across the globe. This was followed by an emotive and varied performance of traditional music and dance.
The exhibition, titled Tripoli: Mermaid of the Mediterranean, marks the 43rd anniversary of OFID – the OPEC Fund for International Development – and showcases the history and culture of OFID member country Libya.
Dr Alkhalifa welcomed guests and expressed OFID's honor in receiving a member country Head of State. "We are delighted by the importance placed on this event by our member country and by the cooperation with Libya that has made this exhibition possible," Dr Alkhalifa said. "It is precisely this type of member country support and guidance that enables OFID to make such an impact on sustainable development across the globe. We look forward to welcoming more of our member country Heads of State to further strengthen the excellent working relations we have enjoyed over the past 43 years."
Via OFID, Libya has helped to support economic growth and alleviate poverty in many disadvantaged regions of the world. "This beautiful and culturally rich North African country – the fourth largest on the African continent – is one of the longest members of OPEC and an integral and active member of our own organization," Dr Alkhalifa said.
Tripoli: Mermaid of the Mediterranean
Overlooking the Mediterranean Sea, Tripoli is considered the ancient center and modern capital of Libya. The city is affectionately referred to as the 'Mermaid of the Mediterranean' or Arusat-el-bahr al-metawasat – 'Bride of the Mediterranean Sea' – owing to its turquoise waters and whitewashed buildings.
The exhibition highlights the city's cultural heritage and features photographic works, including those from Adam Styp-Rekowski and Sasi Harib (courtesy of Noon Arts Projects) as well as images from two young Libyan photographers Nader El-Gadi and Nada Harib. The exhibition also features artworks by Najla Shawkat El Fitouri and Yousef Fouad Ftess.
This is the latest in a long line of OFID-hosted exhibitions showcasing the cultures of its member and partner countries. The exhibition launch was held in coordination with the State of Libya, represented by its embassy in Austria, and is open to the public from January 29 to February 8, 2019.