Smallholder irrigation project in Zimbabwe supported with OFID loan
Smallholder irrigation project in Zimbabwe supported with OFID loan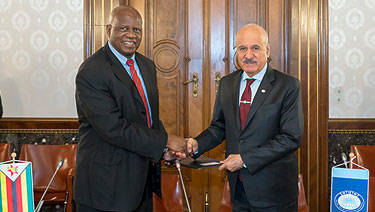 OFID Director-General Al-Herbish and Patrick Anthony Chinamasa, Minister of Finance and Economic Development of Zimbabwe.
Vienna, Austria, March 8, 2018. OFID (The OPEC Fund for International Development) has signed a public sector loan agreement with Zimbabwe to support the Smallholder Irrigation Revitalization Project, which aims to reduce rural poverty and enhance food security for around 25,000 small-scale, low-income farming households in four rural regions.
The US$15 million loan agreement was signed by OFID Director-General Suleiman J Al-Herbish and Patrick Anthony Chinamasa, Minister of Finance and Economic Development of Zimbabwe.
Zimbabwe's abundant arable land and water supplies, along with its diverse climate, enables the cultivation of a wide variety of food and cash crops. However, the agricultural sector faces a number of constraints, including inadequate investment in infrastructure.
The Smallholder Irrigation Revitalization Project, which is being co-financed by the government and the International Fund for Agricultural Development (IFAD), will rehabilitate irrigation schemes in Manicaland, Masvingo, Matabeleland South and the Midlands regions. Additional works include the repair and construction of roads, culverts and bridges and pilot schemes that will convert fuel / electricity-driven pumping systems to solar power. Also planned is a training and workshop component.
At the signing ceremony, Al-Herbish spoke of OFID's longstanding cooperation with Zimbabwe and approvals made under the institution's public sector lending window that were deemed national priority by the government. He also mentioned two ongoing projects relating to education and poverty reduction that are being successfully implemented. The Director-General assured the Minister of OFID's continuing cooperation with his country.
Chinamasa thanked OFID "for supporting us in our quest to raise agricultural productivity in Zimbabwe through a number of interventions such as irrigation, agriculture development, credit and financial services, as well as research, extension and training targeting the rural people." He also explained how the cooperation would help "transform the livelihoods of our rural Zimbabwean population, and promote inclusive development and food security in the country."
Zimbabwe and OFID began cooperating in 1981. Since then, OFID has approved public sector loans in support of the country's agriculture, education, energy, health, industry and transportation sectors. OFID has also extended regional and national grants that covered food distribution, the establishment of a fertilizer center and the construction of a secondary school for the disabled, as well as in the areas of HIV/AIDS mitigation, agriculture and solar energy systems training.