OFID supports water and sanitation project in Rwanda
OFID supports water and sanitation project in Rwanda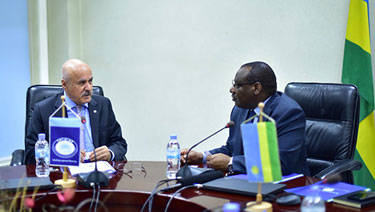 OFID Director-General Al-Herbish (left) and Rwanda's Minister of Finance and Economic Planning Claver Gatete.
Vienna, Austria, March 16, 2018. The Director-General of OFID (the OPEC Fund for International Development) Suleiman J Al-Herbish has signed a US$20 million loan agreement with Rwanda's Minister of Finance and Economic Planning, Claver Gatete, for a water and sanitation program. The agreement was signed at the Rwandan Ministry in the capital city Kigali.
The Rwanda Sustainable Water Supply and Sanitation Program will improve water and sanitation infrastructure in Kigali and six satellite cities. This will reduce waterborne diseases and related healthcare costs, improving living standards for nearly 1.6 million people.
Al-Herbish said the project was consistent with OFID's commitment of supporting Rwanda's economic development and poverty reduction strategy, which places a strong emphasis on scaling-up investments in reliable, affordable and environmentally sustainable infrastructure. He also praised the country for its "truly remarkable" success in meeting nearly all of its targets under the Millennium Development Goals by 2015, and for being selected to share with the global community experiences and lessons learned regarding good governance and rule of law – 'essential priorities' for future development.
Minister Gatete noted: "The project will ensure equitable provision of adequate, reliable and sustainable water and sanitation services for the population in the target areas, thereby contributing to an improved quality of life. Cooperation with OFID is strategic and in line with Rwanda's vision. We look forward to our continued cooperation."
OFID has approved over US$182 million in public sector lending to Rwanda across a wide range of sectors and initiatives including energy, transport and agriculture. Private sector funding of US$25 million was also extended to the Bank of Kigali to expand lending to small and medium-sized businesses. The country has also benefited from OFID's regional and national grants for emergency assistance, agricultural research, HIV/AIDS programs and polio eradication.
Other co-financiers of the current water and sanitation project include the African Development Bank, the European Investment Bank and the Rwandan government.