OFID loan to help build solar power plants in Cuba
OFID loan to help build solar power plants in Cuba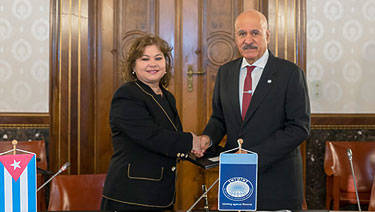 OFID Director-General Al-Herbish and Cuban Сhargé d'affaires Marieta García Jordán.
Vienna, Austria, March 1, 2018. The Director-General of OFID (The OPEC Fund for International Development) Suleiman J Al-Herbish has signed a public sector loan agreement with partner country Cuba for a project aimed at improving access to renewable energy sources.
The US$45 million loan will co-finance – along with government support – the Solar Energy Development project. The project includes the construction of two solar photovoltaic power plants in the country's eastern region and aims to enhance power systems and energy efficiency through the increased use of solar powered appliances.
Co-signing the agreement was Marieta García Jordán, Chargé d'affaires of the Embassy of the Republic of Cuba in Vienna. García Jordán thanked the Director-General for OFID's support which began in 2002 and comprises a total of US$228.5 million in public sector lending, of which US$77 million has been directed to the energy sector. García Jordán also referenced an OFID grant used to support Cuban medical brigades that was used to fight Ebola in West Africa.
Al-Herbish said: "Improved access to energy is critical for development, and the alleviation of energy poverty underpins the achievement of Agenda 2030 and the Sustainable Development Goals. Our energy-water-food nexus approach to development recognizes the complex interlinkages between and within sectors. This project fits with our strategic priorities and we are proud to help improve living standards for the people of Cuba."