OFID grants support renewable energy youth program and Bibliotheca Alexandrina in Egypt
OFID grants support renewable energy youth program and Bibliotheca Alexandrina in Egypt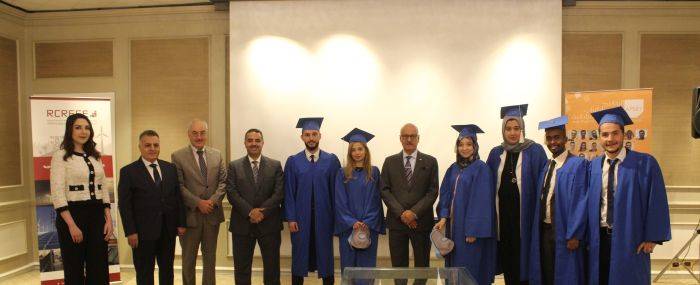 Vienna, Austria, September 17, 2018. OFID – the OPEC Fund for International Development – has extended grants in support of the Regional Centre for Renewable Energy and Energy Efficiency (RCREEE) and Bibliotheca Alexandrina. OFID Director-General Suleiman J Al-Herbish signed both grant agreements in Egypt.
In Cairo, Al-Herbish attended the graduation ceremony of RCREEE's 10th Arab Program for Sustainable Energy Youth (APSEY) as a guest of honour, signing a US$180,000 grant agreement with Dr Ahmed Badr, RCREEE Director-General, in support of the upcoming 11th round of students. "The eradication of energy poverty requires effective synergies and partnerships, while capacity building is key to achieving development in any sector. This grant is an important milestone as it supports a much needed intervention in the Arab Region," Al-Herbish said.
APSEY is a regional sustainable energy internship program targeting young professionals and post graduate engineering, economy and law students from the Arab region. OFID supported the 9th and 10th rounds of RCREEE's APSEY program with two grants totaling US$250,000.
Al-Herbish also signed a US$200,000 grant agreement with the Director of Egypt's Bibliotheca Alexandrina, Dr Mostafa el Feki. OFID's funding will support a project titled 'The Arabs'Memory', which documents, preserves and digitizes Arab heritage. Inaugurated in 2002, Bibliotheca Alexandrina is a major library complex and cultural center in Alexandria, Egypt, housing books in Arabic, English and French. OFID has previously extended two grants to Bibliotheca Alexandrina totaling US$250,000.