OFID funding supports development in three African countries
OFID funding supports development in three African countries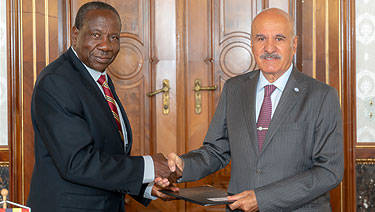 OFID's Al-Herbish (right) and Uganda's Minister of Finance, Planning and Economic Development, Matia Kasaija.
Vienna, Austria, August 28, 2018. OFID – the OPEC Fund for International Development - has signed public sector loan agreements totaling US$37.5 million with Guinea Bissau, Burundi and Uganda to support socio-economic development and living standards in the African continent.
OFID's US$20 million loan to the Republic of Burundi will help fund the 'Rumonge-Nyanza Lac Road Rehabilitation Project'. Improvements to the 52 km stretch of road will promote development in Burundi's southwest region and strengthen regional integration with Tanzania. Some 340,000 people will benefit.
At the signing ceremony, OFID Director-General Suleiman J Al-Herbish emphasized the crucial role of transport infrastructure in socio-economic development. Burundi's Minister of Finance, Budget and Economic Development, Dr Domitien Ndihokubwayo, signed the agreement on behalf of his country.
The Arab Bank for Economic Development in Africa (BADEA), the Kuwait Fund for Arab Economic Development (KFAED) and the Saudi Fund for Development are also supporting this project, which represents OFID's 29th loan (totaling US$212 million) to Burundi since 1977. The country has also benefited from OFID's Technical Assistance grants at both national and regional levels.
OFID also extended a US$11.5 million loan to the Republic of Uganda to co-finance the 'Luwero-Butalangu Road Project'. The road, when completed, will improve access to markets, social and health services, and employment opportunities. Primary beneficiaries – estimated to be in the region of 677,000 people – will be farmers and businesses in Luwero, Butalangu and other communities in central Uganda.
OFID's Al-Herbish commended the government of Uganda for the great strides it has made in social and economic development. Uganda's Minister of Finance, Planning and Economic Development, Matia Kasaija, signed the loan agreement on behalf of his country and thanked OFID for its support.
Cooperation between OFID and Uganda began in 1976. Since then, OFID has approved sixteen public sector loans totaling US$163 million and grant funding exceeding US$3.3 million to support the nation's development priorities. Currently, OFID is co-financing five ongoing projects in the energy, transport, health and education sectors.
OFID's Al-Herbish and the Ambassador of Guinea Bissau to Germany, Rui Domingos Baticã, signed a US$6 million loan agreement that sees OFID support the 'Economic Development Project for the Southern Regions of Guinea Bissau', also referred to as PADES.
PADES is financed in partnership with the International Fund for Agricultural Development (IFAD) and the government of Guinea Bissau. It aims to alleviate poverty and enhance food security in the rural communities of Tombali, Quinara and Bolama-Bijagos by increasing rice production and modernizing 33 km of rural roads. The project will also encourage the participation of young adults and women in the processing and marketing of crop and livestock production.
Al-Herbish said this agreement represented the tenth public sector loan extended by OFID to Guinea Bissau to date, amounting to US$19.9 million of development funding. Previously, the country has also benefited from the proceeds of two national grants (totaling US$1.5 million) and eight regional grants (amounting to US$14.1 million) to support rural electrification, health and education, as well as food security programs.