OFID Director-General places energy poverty in the spotlight at 7th AGFUND Symposium
OFID Director-General places energy poverty in the spotlight at 7th AGFUND Symposium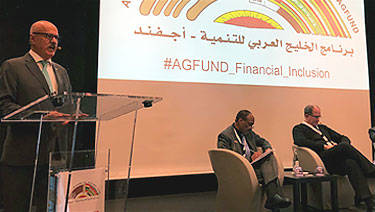 OFID Director-General Suleiman J Al-Herbish emphasized the importance of 'access to energy for all' at the AGFUND symposium.
Vienna, Austria, October 18, 2018. The Director-General of OFID – the OPEC Fund for International Development – has emphasized the importance of 'access to energy for all' in supporting the Sustainable Development Goals (SDGs) and highlighted his organization's efforts to alleviate energy poverty.
In a speech at the 7th Arab Gulf Programme for Development (AGFUND) Symposium, Suleiman J Al-Herbish explained the key role OFID has played in bringing energy poverty to the forefront of the development agenda.
"One of the shortfalls of the Millennium Development Goals (MDGs) is that they were written from the top down," said Al-Herbish. "The SDGs were more inclusive. OFID was an integral part from the very beginning, mandating ourselves with the task of eradicating energy poverty. We started working toward this initiative via three approaches: campaigning for energy poverty as the missing MDG; supporting sustainable development projects on the ground; and working with partners in the international development arena."
Al-Herbish stressed that: "Energy is the centrepiece of development. Without energy, none of the SDGs can be achieved." In line with this, Nasser Alkahtani, AGFUND Executive Director, spoke about the important partnership between OFID and AGFUND and noted OFID's integral role in the Energy for the Poor Initiative.
Al-Herbish was participating in the 7th AGFUND Development Forum Symposium on 'Achieving SDGs in Western and Central Africa through Financial Inclusion' in Geneva, Switzerland. The AGFUND uses its annual award ceremony (for its International Prize) as a gathering for development experts to discuss the most critical development issues. The AGFUND International Prize celebrates innovative solutions to economic and social problems.
The 2017 AGFUND International Prize was jointly presented to the awardees by Her Majesty, Queen Sofia of Spain (a member of the AGFUND Prize Committee), and by HRH Prince Abdul Aziz bin Talal, on behalf of HRH Prince Talal bin Abdul Aziz Al Saud (President of AGFUND). This year, the prize was awarded under different categories to three NGOs, namely: Brajwala, Jeevan Bikas Samaj and BRAC – based in India, Nepal and Bangladesh, respectively – for their contribution to ensuring inclusive and quality education for all and for promoting lifelong learning.
For more information, see Agfundforum.org