OFID appoints new Director-General
OFID appoints new Director-General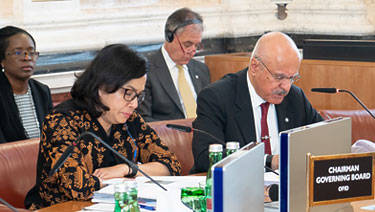 OFID Director-General Suleiman J Al-Herbish delivers his farewell speech at the 39th Session of OFID's Ministerial Council. On the left is newly-elected Chairperson HE Sri Mulyani Indrawati, Indonesian Minister of Finance.
Vienna, Austria, June 25, 2018. OFID's Ministerial Council, the highest policy making body of the Vienna-based international development organization, has elected a new Director-General for the first time in 15 years.
Dr Abdulhamid Alkhalifa, a Saudi Arabian national, will join OFID before the end of 2018 and lead the organization as it continues to support sustainable development in some of the world's most vulnerable communities. Since 2014, Dr Alkhalifa has been Deputy Secretary General of the Saudi Arabian Public Investment Fund. He is an accomplished and experienced professional who has previously held a number of leadership positions at the World Bank Group.
Outgoing Director-General Suleiman J Al-Herbish was appointed in November 2003 and has served three five-year terms. Throughout his 15 years at the helm of OFID, Al-Herbish has made the organization's work significantly more relevant and visible, broadening the way that development funding is provided and strengthening cooperation with other development organizations.
Central to OFID's achievements under his leadership has been its campaign for the eradication of energy poverty, helping to make the world sit up and take notice of the one billion people still living without electricity, and the three billion people who do not have access to clean cooking fuels or technologies.
"In what is one of the best and most inspiring demonstrations of South-South cooperation, our efforts – along with those of our friends in the international arena – have culminated in something remarkable; something that will underpin the entire sustainable development agenda to 2030 and beyond," Al-Herbish said.
"Access to energy for all is recognized as Sustainable Development Goal 7 (SDG 7); a stand-alone goal in the United Nations Agenda 2030 for Sustainable Development," he added. "OFID is far more than a lending institution. Our organization now helps set the global development agenda and I am very proud of what we have achieved."