Bolivian President Evo Morales recognizes OFID support, Director-General honored
Bolivian President Evo Morales recognizes OFID support, Director-General honored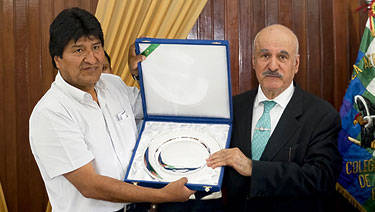 Bolivian President Morales with OFID Director-General Al-Herbish.
Vienna, Austria, February 13, 2018. The Director-General of OFID (the OPEC Fund for International Development), Suleiman J Al-Herbish, has concluded a mission to Argentina and Bolivia, where he was conferred an honorary doctorate from a Bolivian university in recognition of development financing supplied by OFID. The Director-General also signed loan agreements with the two countries to help boost socioeconomic development in the water and sanitation, and transportation sectors, and met with Bolivian President Evo Morales.
During the Bolivian mission, Al-Herbish and Bolivia's Minister of Planning for Development Mariana Prado Noya signed a US$30 million loan agreement in the presence of Bolivian President Evo Morales. The loan will help fund the Santa Cruz – Las Cruces – Buena Vista Road project that will provide around 1.75 million people with a shorter, faster and safer connection between the eastern and southern regions of the country.;
Commenting on the project, President Morales said: "We will be isolating Bolivia from other countries if we don't offer paved roads. To accomplish this, the Santa Cruz region requires more investment." Meanwhile, Minister Prado Noya noted that the project would support one of the most important roads of the Santa Cruz region: "This is important not only for local production, but also to help ease congestion caused by high tonnage traffic in some municipalities."
The project is co-financed by the Bolivian government and the Andean Development Corporation (CAF) – who also signed their loan agreement at the same time – and demonstrates OFID's "relentless support for Bolivia's socioeconomic development," said Al-Herbish. This support is evidenced, he explained, by the 21 public sector loans OFID has extended to Bolivia directed towards food security, access to sustainable energy services and safe drinking water, as well as improved transport and social infrastructure. Al-Herbish praised the government for its "substantial economic and social progress" during the past 10 years and reiterated OFID's commitment to the country across all of its lending windows.
Also during the mission, Al-Herbish was conferred an honorary doctorate by the Universidad Amazónica de Pando in recognition of OFID's funding for modernizing universities in Bolivia. In his acceptance speech, Al-Herbish thanked the Executive Committee of the Bolivian Universities and said: "This honor will remain close to my heart since it recognizes the central role education plays in alleviating poverty and improving opportunities for the world's most vulnerable people."
Al-Herbish explained that despite more children receiving an education than ever before, inequalities still persist, particularly among the world's poor. This is why, he asserted, OFID will remain a staunch supporter of the United Nations Agenda 2030 and the Sustainable Development Goals (SDGs), particularly SDG4 that aims to guarantee the global community "does everything possible to ensure inclusive and quality education for all…and promote lifelong learning."
Al-Herbish noted that more than US$1 billion of OFID's total commitments have been allocated to education-related initiatives. He explained how OFID's US$10 million loan for Bolivia's National Universities Rehabilitation and Modernization Project helped upgrade and equip a total of five national universities, benefiting "thousands of students and lecturers – and the neighboring community at large."
In Argentina, an OFID loan in the amount of US$50 million will co-finance – with the government and OFID's sister institution, the Kuwait Fund for Arab Economic Development – the Gran Tulum Water Supply project. On completion, the project will help meet the current and future demands of around 520,000 people in the Province of San Juan. The loan agreement was signed by the province's governor Sergio Uñac and OFID's Director-General.
During the signature ceremony, Al-Herbish spoke of OFID's energy-water-food nexus approach to development and the institution's recent participation in the 5th International Water Association Development Congress and Exhibition 2017 in Buenos Aires. The event afforded OFID the opportunity to share ideas about critical issues facing the water supply sector with leaders and policy-makers and the organization's belief that energy, water and food cannot be considered in isolation from one another. Al-Herbish has long argued that policies across these sectors must be aligned to achieve sustainable development and energy access for all.
At the ceremony, Al-Herbish also outlined OFID's cooperation with Argentina, which began in 2010 with private sector funding and has now reached total approvals of US$120 million, including two public sector loans to help improve potable water supply. At the ceremony's conclusion, Al-Herbish assured Governor Uñac of OFID's "genuine and unconditional willingness" to maintain its strong partnership.
Governor Uñac said: "Given the (dry) weather and geography of San Juan Province, this project will contribute to the development of our people and our cities and will expand the potential of economic activity in our province. Alone, we would have never been able to start this project. Because of that our gratitude goes to the Director-General of OFID and the Argentinian National Government."
OFID's delegation was also received by Argentina's Foreign Minister Jorge Marcelo Faurie. Al-Herbish and the Foreign Minister discussed the relationship between OFID and Argentina and exchanged shared views on the importance of investments in critical infrastructure. The Foreign Minister expressed his country's gratitude for OFID's recent support, as well as his government's desire for further support for infrastructure development projects in the near future.