11th Arab Energy Conference: OFID Director-General stresses importance of energy and partnerships in pursuit of SDGs
11th Arab Energy Conference: OFID Director-General stresses importance of energy and partnerships in pursuit of SDGs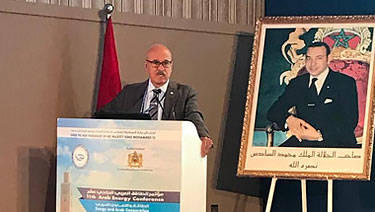 Vienna, Austria, October 2, 2018. A high level delegation from OFID – the OPEC Fund for International Development – is attending the 11th Arab Energy Conference in Marrakech, Morocco, on the theme of 'Energy and Arab Cooperation'.
OFID Director-General Suleiman J Al-Herbish, attending the Conference on the invitation of the Secretary-General of the Organization of Arab Petroleum Exporting Countries (OAPEC), Abbas Al-Naqi, was a panellist on the session 'Energy security as a global partnership'. OFID's delegation also includes Director of Strategic Planning and Economic Services Faris Hasan, Consultant Dr Namat Alsoof and Senior Officer Iman Alshammari.
Al-Herbish said that energy is the engine of economic growth and social progress and noted that the priority given by OFID to eradicating energy poverty in developing countries was inspired by OFID member countries themselves. That priority, he said, stems from the Riyadh Declaration – issued at the conclusion of the 3rd OPEC Summit in November 2007 – which established the eradication of energy poverty as an objective. "Our Ministerial Council has approved the allocation of a renewed US$1 billion to this end," Al-Herbish added.
Since 2007, OFID has advocated tirelessly for energy poverty to be given the priority it deserves in the post-2015 Development Agenda. These efforts – alongside those of OFID's friends in the international development arena – have culminated in access to energy for all being recognized as Sustainable Development Goal 7 (SDG 7); a stand-alone goal in the United Nations Agenda 2030 for Sustainable Development.
Al-Herbish also said that supporting development operations in the energy sector lies at the heart of OFID's strategic plan to 2025. He stressed, however, that energy poverty remains a challenge that can only be overcome through strategic partnerships, noting that OFID has built strong and diverse partnership networks to expand geographic coverage and operational activities.
Al-Herbish reaffirmed OFID's commitment to supporting sustainable development plans in Arab countries, particularly energy projects, and outlined various operation supported by OFID in the region, which include US$1.6 billion to finance 14 traditional and 15 renewable energy projects in a number of Arab countries.
Chaired by Aziz Rabah, Minister of Energy, Minerals and Sustainable Development of the Kingdom of Morocco, the 11th Arab Energy Conference brings together experts from the energy industry, led by ministers of Arab countries, as well as directors of Arab and other organizations such as the Organization of Petroleum Exporting Countries, the International Energy Agency, the World Energy Council, the Oxford Institute for Energy Studies, and international development organizations including OFID.