OFID loan supports key transportation infrastructure in Tanzania
OFID loan supports key transportation infrastructure in Tanzania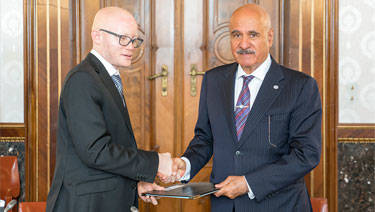 OFID Director-General Suleiman J Al-Herbish (right) and HE Abdallah Saleh Possi, Ambassador of Tanzania in Germany.
August 4, 2017, Vienna, Austria. Suleiman J Al-Herbish, Director-General of the OPEC Fund for International Development (OFID) and Abdallah Saleh Possi, Ambassador of Tanzania in Germany, have signed a US$18 million public sector loan agreement for the Uvinza–Malagarasi Road Project.
The project, which is also being co-financed by the Abu Dhabi Fund for Development, will pave a 51km gravel road that serves around two million people in the Kigoma region in western Tanzania; an area that borders Burundi and DR Congo.
Commenting on the newly-signed agreement, Al-Herbish spoke of the long and fruitful cooperation between OFID and Tanzania, which dates back to 1976 and comprises over US$300 million in public sector approvals. The approvals cover a wide range of sectors such as transport, energy, education, water and sanitation, industry and agriculture. Al-Herbish also noted that OFID had extended regional and national grants for health, agricultural research and energy purposes, among others.
Possi thanked OFID on behalf of the government of Tanzania and said the agreement demonstrated the important relationship that prevails between OFID and his country. "The government appreciates this timely support which will improve transport mobility, accessibility, safety and quality of service delivery," he said. Possi also explained how the road sector continues to face considerable challenges, due to Tanzania's large size and widely dispersed settlement patterns. "Huge capital investment" was needed, he added.
Agriculture, livestock-keeping and fishing are the mainstays of the economy in the Kigoma region and thus reliable roads are crucial for the movement of inputs and produce to marketplaces and neighboring areas. The present condition of the Uvinza–Malagarasi road, however, hinders this owing to sections becoming easily flooded during the rainy season.
On completion, the upgraded road will not only enable year-round transport but also boost access to social services and popular tourist attractions that provide a good source of revenue.