OFID concludes high-level mission to Washington, DC: DG Al-Herbish signs loan agreements with partner countries
OFID concludes high-level mission to Washington, DC: DG Al-Herbish signs loan agreements with partner countries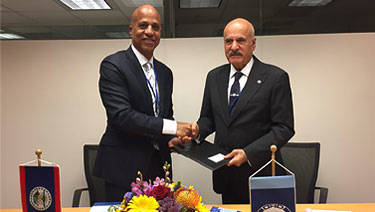 Al-Herbish (right) with HE Dean Oliver Barrow, Prime Minister and Minister of Finance of Belize.
Vienna, Austria, October 16, 2017. A delegation from the OPEC Fund for International Development (OFID) headed by Director-General Suleiman J Al-Herbish has concluded a high-level mission to Washington, DC to attend the 2017 Fall Meetings of the World Bank and the International Monetary Fund (IMF), as well as a number of other important meetings.
Highlights of the mission included the signing of public sector loan agreements totaling over US$116 million with seven partner countries to support a number of sustainable development projects (see below). Also signed was an Agreement for the Encouragement and Protection of Investment (AEPI) with Antigua and Barbuda, which sets the framework for OFID to begin private sector operations in the country.
Belize. US$12m. Haulover Bridge Replacement. To construct a 147m bridge west of Belize City in the economically important Belize District, benefiting around 70,000 people.
China. US$30m. Xingyi University. To improve access to quality education in Guizhou Province by constructing additional infrastructure at the university. The project is expected to accommodate an additional 3,800 students.
Lesotho. US$14m. Greater Maseru Water Supply. To build new water transmission lines and other infrastructure in the peri-urban areas of the capital Maseru for the city's growing population. Clean drinking water will be provided to an estimated 120,000 people.
Mauritania. US$18m. Boulanour Wind Farm. To provide an efficient and cheaper means of producing energy by building a 102MW 39-turbine wind farm, thus helping Mauritania meet its growing domestic demand and producing a surplus for export.
Nicaragua. US$10.5m. Caribbean Coast Rural Electrification, Phase II. To provide modern energy services to off-grid, remote communities in high-poverty areas. This will boost development, enhance living standards and promote income–generation for over 33,000 people.
Sri Lanka. US$18m. Kalu Ganga Development (additional loan). To construct a reservoir to expand available water supplies for household consumption and irrigation, which will in turn boost agricultural yields, improve health indicators and enhance socioeconomic development.
Swaziland. US$14m. National Referral Hospital. To enhance the efficiency and quality of healthcare services by constructing and equipping a 250-bed hospital, an outpatient clinic and staff housing. The new facility will serve around 1.3 million people.

Total: US$116.5m
In addition to co-signing the loan agreements, OFID Director-General Al-Herbish met with Indonesia's Minister of Finance Sri Mulyani Indrawati. Al-Herbish updated the Minister on OFID's latest activities and discussed her present role as Vice-Chair of OFID's Ministerial Council. She confirmed her attendance at next year's meeting as Chair of the Council. The Director-General also met with Abul Maal Abdul Muhith, Minister of Finance of Bangladesh, to discuss his upcoming mission to Dhaka, where he will sign a US$30 million public sector loan agreement for the Paira Bridge Project and take part in a number of high-level meetings.
The OFID delegation also attended meetings of the G-24 Ministers and the Development Committee. Several bilateral meetings were held to review the status of OFID's cooperation with other international finance institutions and partner countries, and to identify potential private sector and trade finance transactions.
A Memorandum of Understanding (MoU) on the Deep Dive Initiative was also signed between the Arab Coordination Group and World Bank President Jim Yong Kim. The MoU aims to support cooperation to achieve the 2030 Agenda for Sustainable Development and the 17 Sustainable Development Goals by providing analytical and financial resources.