Children's Cancer Hospital (CCHE) receives OFID 2015 Annual Award for Development
Children's Cancer Hospital (CCHE) receives OFID 2015 Annual Award for Development
Vienna, Austria, July 22, 2015. The OPEC Fund for International Development (OFID) is honored to announce that the Children's Cancer Hospital Egypt (CCHE), widely known as Hospital 57357, has been selected to receive the OFID 2015 Annual Award for Development. The hospital was selected in recognition of its work in alleviating the suffering of children and its dedication in fighting cancer and achieving adequate treatment facilities. The Award, which comes with a US$100,000 prize, was presented by the Chairman of OFID's 36th session of the Ministerial Council, meeting in Vienna, Austria, to the Ambassador of Egypt to Austria, Khaled Shamaa, on behalf of the 57357 Group.
CCHE exemplifies excellence, not only within the region, but globally. Located in the historic El Sayeda Zeinab district of Cairo, it was founded through a private initiative, and is one of the largest children's cancer hospitals in the world. CCHE is charged with caring for paediatric cancer patients free of charge. The hospital is using high-tech solutions to help clinicians provide state-of-the-art care for an estimated 1,500 new paediatric cancer patients each year, with the mission of improving childhood cancer survival rates in Egypt. According to the World Health Organization in their Global Action Against Cancer Report, on a yearly basis there are over 160,000 children diagnosed with cancer globally. Of the 90,000 children who lose their lives to the disease, 80 percent live in developing countries. The hospital aims at helping these children who are unable to fight their battle due to the lack of adequate treatment facilities or financial resources. CCHE was created as a centre of excellence and a hub for not only Egypt, but also the Middle-East and Africa.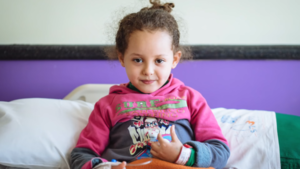 During the Award ceremony, Mr Suleiman J Al-Herbish, Director-General of OFID stated: "CCHE is one of the most inspiring stories in recent times about how the dream of a few dedicated citizens to alleviate the suffering of Egyptian children with cancer became a reality. OFID strongly believes that the Center has directly contributed to health initiatives directly related to our mandate, which focuses particularly on children."
Upon receiving news of the Award, Professor Amro Ezzat Salama expressed: "We are humbled by this recognition and honored to be partners with OFID in alleviating the suffering of the most disadvantaged in our developing societies."
Receiving the Award on behalf of CCHE, Khaled Shamaa, Ambassador of Egypt to Austria, said: "OFID's work aims at encouraging self-reliance in developing countries in such a way as to inspire hope for the future. This is exactly what Hospital 57357 is pursuing to achieve through smart education and research; and the provision of free, excellent quality care to all children with cancer to maximize their opportunity for a cure and their hope in a better future."
OFID's partnership with Egypt began in 1977; one year after OFID was established. Since then, the organization has provided over 24 public sector loans, 28 grants, as well as private sector and trade finance funding, to support development activities in a variety of sectors, including energy, health, education, transport and agriculture. OFID is a committed supporter of Egypt's development policies and initiatives, and considers CCHE to be a valuable contributor to the attainment of this vision.
The OFID Annual Award was instituted in 2006. Past winners of the award include: Kakenya Center for Excellence; Ashesi University; Malala Yousafzai, in appreciation of her fearless struggle to uphold the right of girls and women in the Swat Valley of Pakistan to receive an education; Dr Mazen Al-Hajri, a renowned ear, nose and throat surgeon and philanthropist, who has performed countless operations on Palestinian children; and, Bartolina Sisa National Confederation of Peasant Indigenous Native Women of Bolivia, among other distinguished personalities and institutions.