"We call it a camp, but it's really a city"
"We call it a camp, but it's really a city"
Kakuma Camp: Redefining the refugee experience in Africa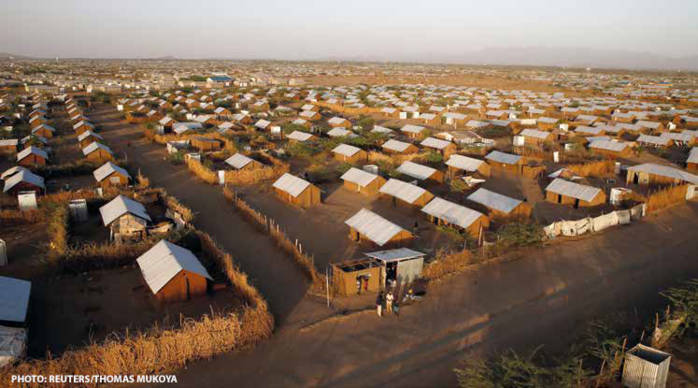 At the Kakuma Refugee Camp in rural Kenya, inhabitants are redefining what it means to be a refugee. Situated in Turkana County, The camp is home to over 150,000 refugees – primarily from South Sudan and Somalia – making it one of the seven largest refugee camps in the world. The success stories of Kakuma refugees are a tribute to the progressive nature of the camp, and those living in it.
In 26 years of existence, Kakuma has transitioned from a place of temporary asylum to an 'urban center', complete with its own market. Referred to by many as 'Hong Kong', the market is home to over 1,200 refugee-run businesses, which offer a variety of products and services to both the camp's residents as well as the host community. Among these is the small business of Safi Kisasa, who earns her daily income through bread-baking. Known by her friends as Mama Safi, she employs over a dozen people in the camp and bakes more than 1,000 loaves of bread per week.
"We call it a camp, but it's really a city," Tayyar Sukru Cansizoglu, the UN Refugee Agency (UNHCR) Head of Sub-Office Kakuma, told the OFID Quarterly. "It is providing a place with opportunities for refugees that can't be found anywhere else in Kenya."
The environment in the camp, Cansizoglu explains, has allowed refugees to rebuild their lives and search for solutions – to become more self-reliant. "This does not mean that refugees here are no longer in need of humanitarian aid," Cansizoglu clarifies. "Rather, it represents Kakuma's environment which provides opportunities for refugees to make the most out of their resources."
M H Mohamud, a Somalian refugee living in the camp, adds: "In the last couple of years, there has been a shift in the mindset of refugees in Kakuma. We have gone from seeing ourselves as hopeless victims who rely on food aid and NGO assistance to viewing the camp as ours, and becoming active and productive members of society."
Development institutions including the World Bank are committed to furthering this shift by supporting refugees and host communities in ways that complement, rather than replace, the work of humanitarian partners. "Including refugees in development planning and national systems is a key part of this approach," says Franck Bousquet, Senior Director of the World Bank Fragility, Conflict and Violence Group (FCV). In this way, the World Bank believes refugees can become active recipients of aid and capitalize on its impact by developing their own skills.
A recent report by the International Finance Corporation (IFC) supports this claim and illustrates a unique dynamic between Turkana locals and Kakuma refugees. The report finds that the refugee entrepreneurs in Kakuma have not only been able to support themselves, but also members of their host countries. In Kakuma, the report notes, refugees have employed locals in camp jobs and town residents sell resources to refugees.
"That Kakuma refugees and Kenyans are able to attend school, work and trade together both in camp and in Kalobeyei (a nearby settlement) illustrates the positive social and economic potential of refugee integration," Cansizoglu adds. M H Mohamud and Mama Safi are just two of many people creating positive change in Kakuma Camp. During June, in an event organized by TEDx, a non-profit organization with the aim of spreading empowering messages, many more stories were told by the camp's current and former inhabitants. Under the theme of Thrive, they highlighted their stories of success despite difficult circumstances. The environment in Kakuma Camp, however, no doubt fosters many more untold stories.
OFID keeps migration in the spotlight
OFID works hard to keep migration and all its related issues in the spotlight, not least dedicating the whole of 2016 – the organization's 40th anniversary – to raising awareness of the plight of refugees. One of many projects related to refugees (in Africa) was the humanitarian aid of US$500,000 OFID extended in support of providing food and nutrition to vulnerable refugees in Uganda, Ethiopia, Sudan and Kenya in 2014. This project was conducted in partnership with the World Food Program (WFP).

As published in the Oct 2018 issue of the OFID Quarterly