"We are Building Bridges to Facilitate Technology, Knowledge and Investment Transfer"
"We are Building Bridges to Facilitate Technology, Knowledge and Investment Transfer"
Gerd Müller, Director General of the United Nations Industrial Development Organization (UNIDO), shares his views on the global food security challenge and on how technology, innovations and investments are key to address the issue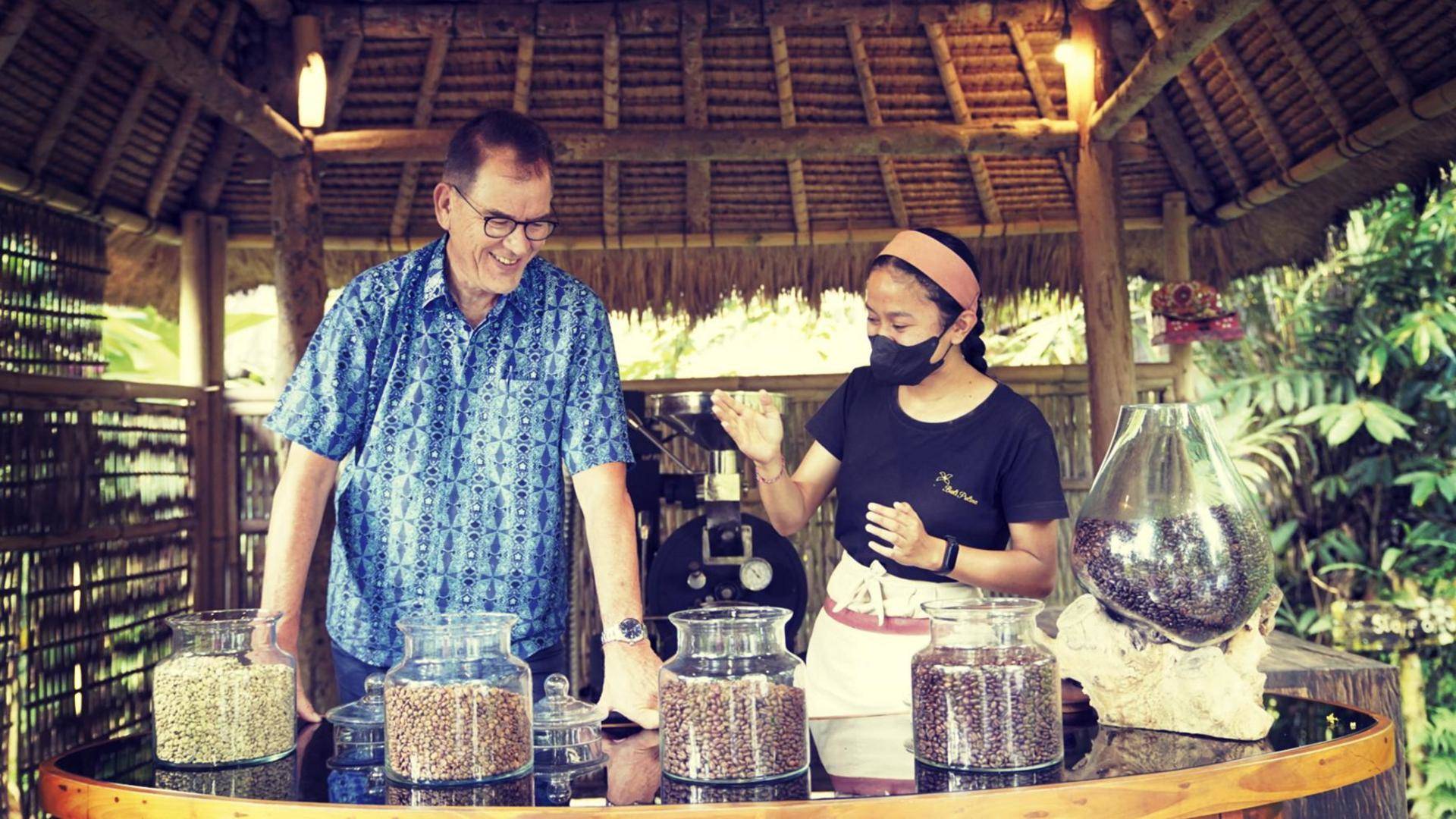 OPEC Fund Quarterly: What are the most pressing challenges facing global food security, and how is UNIDO addressing these challenges?
Gerd Müller: The economic impact of the COVID-19 pandemic drove up inflation, while the Russia-Ukraine conflict has increased the prices of basic grains. Climate change and extreme weather events are fueling hunger.
Almost 830 million people are unsure where their next meal is coming from. But a world without hunger is possible – through sustainable industrialization, technology and knowledge transfer and investment in agribusiness.
UNIDO works to achieve food security so that all people, at all times, have physical, social and economic access to sufficient, safe and nutritious food. We see agribusiness and sustainable food supply chains playing a crucial role. Every year over 30 percent of all food produced globally is lost before it reaches the consumer. One way to reduce post-harvest losses is preservation, the processing of agricultural products. The result is that less food is lost, and food costs less – thus increasing food security, while generating job opportunities in rural communities.
To tackle the challenge, it is imperative to join forces and UNIDO's interventions with a focus on post-harvest processing complement the activities of UN organizations such as the World Food Programme (WFP) and the Food and Agriculture Organization (FAO).
I would also stress that the processing of agricultural products in developing countries not only has huge potential to create jobs, it also increases export revenues and boosts economies. It addresses the challenge of food security but also makes an important contribution to the well-being of societies as a whole.
OFQ: Which regions of the world are most at risk when it comes to food security and what specific strategies can help?
GM: The conflict between the Russian Federation and Ukraine is having a serious impact on food security. These two countries are among the most important producers and exporters of agricultural commodities and products in the world. Many countries relied on Russian and Ukrainian supplies of foodstuffs and fertilizers. Worldwide, 36 countries imported more than half of their wheat from those two countries.
The consequences for developing countries are severe, especially as increases in food prices hurt the poorest households the most. Food typically makes up one third to half of their spending. Higher global food prices and scarcity make developing countries' food imports so expensive that they risk increasing rates of hunger and undernourishment.
Even before this war, the situation in Africa was bad. Nearly a third of the population in sub-Saharan Africa is undernourished. Many countries in the region experience chronic food insecurity due to factors like droughts, desertification, poor agricultural practices, political instability and economic challenges.
Africa has one of the fastest-growing populations in the world. It is expected to double by 2050 and demand for food will dramatically increase.
We need to intensify our efforts to increase the productivity of agriculture in African countries and to provide food security. The daunting task of feeding a growing population will require innovation and increased investments in agricultural infrastructure, research, and development, including irrigation systems, transportation networks and modern farming techniques.
We have the technology and the knowledge, and we have the money to invest in agriculture. What's missing is the political will to face up to this responsibility. My central message as Director General of UNIDO is that we are building bridges to facilitate technology, knowledge and investment transfer in order to help Africa eliminate hunger.
OFQ: What can be done to mitigate the impact of climate change on agriculture? How do you support countries to adapt?
GM: Nearly half the world's population is highly vulnerable to climate impacts and severe water shortages. Agriculture and food security face great difficulties. Thirty percent of the population is exposed to deadly heat stress, rising to 50-70 percent by the year 2100. The world is facing a climate catastrophe and the window to avert it is rapidly closing.
Here, the role of industry in the climate change context is threefold. One, industry is one of the largest emitters of greenhouse gases. Two, industry it itself is adversely affected by the changing climate and resource depletion. And three, industry has the potential to become a leading provider of technological solutions, business models and green jobs.
The guiding principle of UNIDO's activities is low-emission, climate-resilient development. This means promoting policies, technologies and practices so that countries can take climate action and, in doing so, create millions of new, decent jobs.
UNIDO's strategy in response to climate breakdown is maximizing synergies with priority areas such as clean energy, agribusiness development and food security, circular economy and biodiversity.
UNIDO sees innovation as key to mitigating and adapting to climate change. Technological options for avoiding and reducing greenhouse gas emissions must be further developed. At the same time, new schemes and approaches to climate adaptation must be adopted in agricultural production. UNIDO provides a platform for technology transfer, investment mobilization and climate partnerships to accelerate this process.
OFQ: What are these innovations and technologies to create sustainable practices and improve agriculture systems?
GM: There are an estimated 450 million people working in global supply chains. Approximately 190 million of them are women. These jobs, working in the factories, farms and packing houses that supply the world's clothing, goods and food, offer a promise of economic independence. But the reality for millions of workers is excessive hours, often in difficult and unsafe working conditions, and wages that are not enough to make ends meet.
We need fair global business practices and this requires companies to comply with human rights and environmental standards. Companies must identify, bring to an end, prevent and mitigate negative human rights and environmental impacts in the company's own operations, those of their subsidiaries and their supply chains.
With clean energy, we can power agro-industrial parks which are a vehicle for the structural transformation of the economy through the commercialization of the agricultural sector. In Africa, UNIDO supports governments in the establishment of agro-industrial parks. We analyze the value chain, and deploy specialized services to target the weaker links of the chain including agricultural mechanization, modern processing technologies and the packaging of perishable products.
As I said, we have the technologies. For example, digital technologies are making a difference. Traceability technologies and digital logistics services can streamline agri-food supply chains, and enable the necessary transparency for ensuring compliance with international standards.
We have recently launched the Agrifood Systems Transformation Accelerator (ASTA), a global program – co-led by UNIDO and FAO – that works with countries to transform their agri-food systems through partnerships and SDG-linked investments into high-potential value chains that connect producers to processing and added value to end markets. This year, UNIDO and FAO will be jointly working in 10 African countries to develop a staple crops value chain to increase food security and showcase best practices.
Profile: Gerd Müller
Gerd Müller has been Director General of the United Nations Industrial Development Organization (UNIDO) since December 2021. A German citizen, he has previously held numerous national and international positions, among them Federal Minister for Economic Cooperation and Development in the government of Germany. He has named the implementation of the 2030 Agenda and the Paris Agreement as priorities for UNIDO under his leadership.
UNIDO and the OPEC Fund
UNIDO is a specialized agency of the United Nations with a mandate to promote, dynamize and accelerate industrial development. The agency provides support to its 171 member states through four functions: technical cooperation; action-oriented research and policy-advisory services; normative standards-related activities; and fostering partnerships for knowledge and technology transfer. OPEC Fund Director-General Abdulhamid Alkhalifa (left) and UNIDO Director General Gerd Müller (right) signed a joint declaration in April 2023 to deepen their partnership in securing energy access and promoting energy transition. They also signed a US$1.5 million technical assistance grant agreement in support of the National Clean Cooking Transition Program in Madagascar.