"Water is now closer and cheaper"
"Water is now closer and cheaper"
Monica from Kenya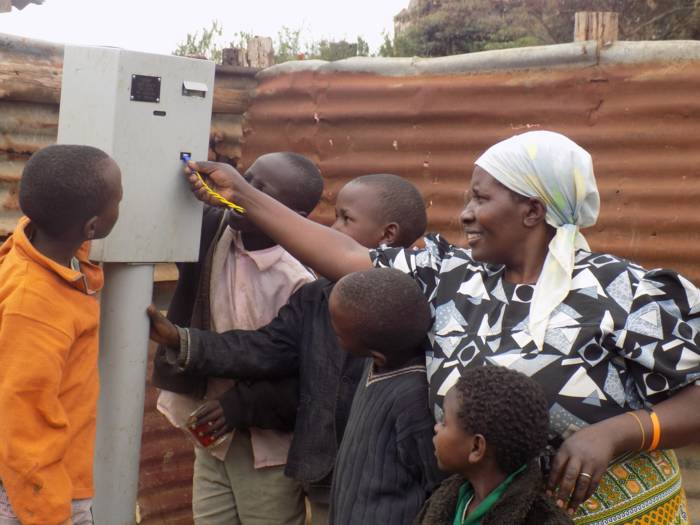 Monica Wanjiru and children using water dispenser.
A new water network, co-financed by OFID is enabling a community in Nairobi, Kenya, to have safe, legal access to water for the first time.
Kahawa Soweto is home to 8,000 people and the entire settlement has never had a legal water supply. Residents have been dependent on water vendors, who would connect illegally to the water network managed by the city utility, and sell the water on.
Some parts of the community, such as the area where the Mwamko Children's Centre is based, did not even have access to illegal water. On a typical day Monica Wanjiru, who helps out at the centre, could be seen walking around the community, surrounded by children, looking for water to buy.
If she couldn't find any, she and the children would have to keep walking until they found what they needed. It was a daily struggle to get enough water – around 20 jerrycans – to keep the centre operating.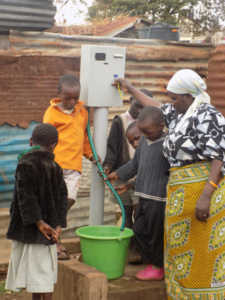 To address this issue, OFID, together with Water & Sanitation for the Urban Poor (WSUP) – which coordinated the project – Borealis & Borouge, the UK Government's Department for International Development (DfID) and the Nairobi City Water and Sewerage Company (NCWSC) worked to build a new water network for Kahawa Soweto.
The network has now been handed over to NCWSC who will operate it; customers can access water by putting credit on tokens and then using the pre-paid dispensers.
There is now a water dispenser near to the children's centre, reducing the workload for the volunteers, and freeing them up to do more tasks like cooking and cleaning – or even working on their own businesses, like Monica, who runs a vegetable kiosk when she has time. "Water is now closer and cheaper," says Monica. "We no longer have to pile our laundry for two or three days, we can wash daily."
Monica concludes: "The project has really helped us. You cannot run such a centre without enough water. Our lives are now so much easier."

Related Stories
Bonita Sharma from Nepal, 25, formed a network of young health workers dedicated to improving maternal and child health in disaster-affected areas.
2018 OFID Scholar Alazar Woldeyohannes from Ethiopia