"Urban air sets you free" (but it needs filters)
"Urban air sets you free" (but it needs filters)
City solutions to climate change are taking centerstage as metropoles around the world keep growing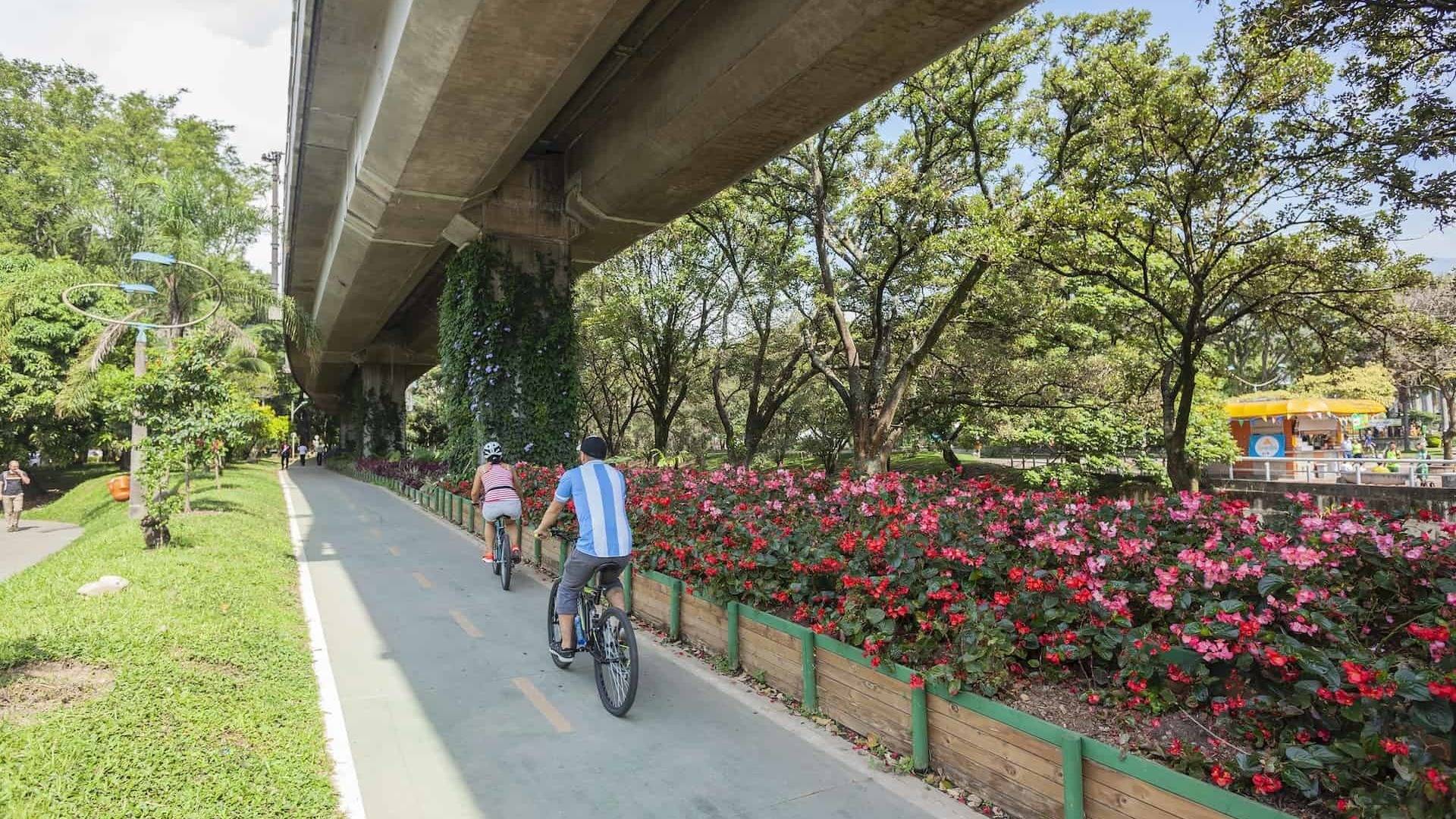 Photo: C40 knowledge hub
For the third time in five years the Economist Intelligence Unit, a sister company of The Economist, has ranked Vienna, the host city of the OPEC Fund for International Development, as no 1 in the world for quality of life.
What makes a city livable? The Economist says it is "stability and good infrastructure, supported by good health care and plenty of opportunities for culture and entertainment".
Today, the discussion about cities and urban planning is greatly focusing on sustainability, rebuilding and preparing ourselves for the increasingly unpredictable future, and turning them from major contributors to climate change to forces for good.
While just over half of the world's population is urban today, more than two-thirds will live in cities by 2050. Simultaneously, cities are responsible for 75 percent of global CO2 emissions, with transport and buildings being among the largest contributors, the United Nations Environment Programme says.
But despite all challenges and problems cities are facing, and especially mega cities in the Global South, the trend towards urbanization continues unabated: Today, there are more than 80 cities in the world with a population over five million, compared to only one at the beginning of the 20th century. Cities generate more than 80 percent of global GDP, but they also consume two-thirds of the world's energy.
The onset of COVID-19 lockdowns in 2020 temporarily eroded the appeal of large metropoles as the pandemic ruthlessly exposed shortcomings and unpreparedness. Residents, who were able to do so, fled metropolitan areas in search of more space, affordable housing and greener, cleaner environments.
However, according to economists at UBS, a Swiss bank, this trend is reversing and cities are bouncing back. The UN Habitat's World Cities Report 2022: Envisaging the Future of Cities (above) verifies that as well. A key finding of the report suggests that "cities are here to stay, and the future of humanity is undoubtedly urban".
In the middle ages, a principle of law was widely established in Europe that granted liberated serfs and other members of the Third Estate freedom after one year and one day living in cities. The dictum "Stadtluft macht frei" ("urban air sets you free") provided that after this period a former serf could no longer be reclaimed by his employer and thus became bound to the city. Serfs could flee the feudal lands and gain freedom in this way, making cities a territory outside the feudal system to a certain extent.
This spirit of freedom, opportunity and development has always been at the heart of what cities stand for. With novels like "A Tale of Two Cities" Charles Dickens became their ultimate chronicler in the 19th century. But today pollution and climate change are threatening the very foundations on which cities are built: Air pollution causes 1.8 million deaths in cities worldwide every year, two studies published last year by the medical journal The Lancet Planetary Health estimated. In addition, nearly two million asthma cases among children globally are linked with exposure to nitrogen dioxide pollution from motor vehicle emissions annually, with two in three occurring in urban areas, the data showed. Meanwhile, heatwaves are making cities barely inhabitable even in the northern hemisphere.
The COP21 climate conference in Paris in December 2015 took the conversation about cities to the centerstage and lead to the adaptation on the New Urban Agenda and the UN Habitat III Summit the following year. These developments sharpened the focus on partnerships and collaboration across global and local institutions to offer support for cities to become problem-solvers for a better quality of life for citizens.
The New Urban Agenda sets a new global standard for sustainable urban development. It is a roadmap for building cities, which serve as engines of economic development and centers of social and cultural well-being, while protecting the environment.
The Agenda commits leaders to:
Provide basic services for all citizens,
Ensure that all citizens have access to equal opportunities and face no discrimination,
Promote measures that support cleaner cities,
Strengthen resilience in cities to reduce the risk and the impact of disasters,
Take action to address climate change by reducing their greenhouse gas emissions,
Fully respect the rights of refugees, migrants and internally displaced persons regardless of their migration status,
Improve connectivity and support innovative and green initiatives, and
Promote safe, accessible and green public spaces.
Public and private investments are needed
As the pandemic made us rethink how we can build back our cities better, mayors around the globe have been stepping up efforts, partnerships and civil society engagements to find solutions to the problems that keep them awake at night: migration, security challenges and climate change impacts.
Developing sustainable cities requires huge investments. Public budgets alone cannot meet the scale of investment required to address urban development needs, so unlocking private sector financing is crucial. Multilateral development finance institutions are prioritizing the challenge and are expanding their collaboration with both governments and cities around the world to facilitate more investments. The International Finance Corporation (IFC), a member of the World Bank Group, has been a long-time pioneer in unlocking private sector financing for cities. The institution is closely collaborating with municipal leaders around the world for problem-solving to address challenges related not only to climate change but to many other issues, including traffic congestion, ageing infrastructure, and safety and security of citizens.
In its Climate Investment Opportunities in Cities report, the IFC estimates a cumulative climate investment opportunity of nearly US$30 trillion in six urban sectors in cities in emerging market economies by 2030. The bulk of these opportunities, nearly US$25 trillion, rests with green buildings, which covers both new construction and retrofits. But the report also identifies trillion-dollar opportunities in public transport infrastructure, electric vehicles, improved management of water resources, renewable energy, and better handling of waste.
Innovation will shape future cities
Medellín's Green Corridors: In Colombia, the country's second biggest city, Medellín, has created a network of 30 shaded routes across the city known as "green corridors" to fight heatwaves. Thousands of native trees, palms, bamboo and tropical plants have been planted around sidewalks, parks and busy traffic routes, providing shaded places for people to travel and gather.
Saudi Arabia's The Line: Saudi Arabia recently unveiled plans for "The Line", a linear city part of the futuristic NEOM project, which is a proposed one-building city near the Red Sea, that will stretch for 170 km and consists of tall mirrored skyscrapers. Its residents will use a high-speed train that travels between the two ends of the city in 20 minutes, and within 5 minutes they will have access to all city facilities and services.
China's trackless trams: With advances in battery and charging technologies, trackless trams operate without overhead wires and get a booster charge at dedicated stations while passengers board. The technology has been operational in China since 2018, first in Zhuzhou, before expanding to Yibin and Harbin, with planning and construction of new systems underway in five other cities. There is strong interest globally in this technology, with proposals for routes in Malaysia, Israel, Zimbabwe, Australia and elsewhere.
Amsterdam's smart rooftops: Amsterdam launched the RESILIO project in 2018 with financial support from the EU's Urban Innovative Actions initiative, which focuses on repurposing the rooftops of climate vulnerable neighborhoods in the city. The project will install 10,000 m2 of innovative smart blue-green roofs with enhanced water retention technology, including 8,000 m2 installed on social housing rooftops. These roofs will increase the rainwater resilience of the city and reduce the urban heat effect and energy consumption at the building level.
The OPEC Fund and Kosovo
The OPEC Fund recently extended a US$40 million loan to Kosovo to support the Public Finances and Economic Growth Program. This comprehensive plan will improve fiscal transparency, promote private sector development and enable environmental reforms in the energy and waste management sectors. It was developed with the World Bank, which is also providing €50.6 million (US$56.4 million equivalent) for its implementation.

As published in the OPEC Fund Quarterly issue: Climate challenge solutions