UNDP solar power project in Libya helps save lives
UNDP solar power project in Libya helps save lives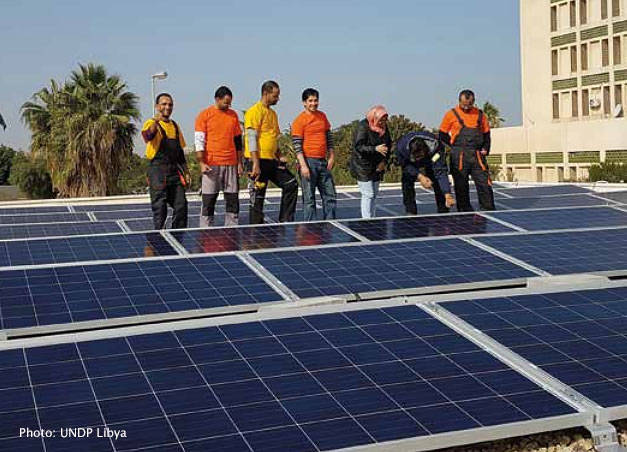 Solar panels provide a stable, clean and reliable energy supply.
Solar energy systems installed by the United Nations Development Program (UNDP) in Libya are providing nine hospitals in Tripoli, Sebha and Benghazi with an uninterrupted power supply for critical health services.
Delivery of basic services has been an ongoing challenge in the country with power cuts lasting as long as 48 hours in recent years.
"In the middle of a surgical procedure, the power used to go off and the doctor had to stop the operation until the generator was turned on, putting the patient's life at risk," said Dr Said Al-Megrahi, Head of Medical Affairs at Al-Kwayfia Hospital in Benghazi. "The irregular electrical currents also damaged our machines and really affected our ability to help our patients."
UNDP Libya's new solar power installations consist of two main sub-systems – solar rooftop panels to produce electricity, and high capacity batteries to store the energy and ensure a stable supply.
"The solar power system means a stable electricity supply; just what we need to continue our work," said Al-Megrahi. "Doctors won't have to stop an operation because the power won't go off. Equipment such as the ventilators and the anaesthetic machine won't be damaged."
Al-Kwayfia Hospital Director Dr Anas Albargathi pointed out additional benefits. "We were thrilled to have this new energy system installed in our hospital," he said. "It will not only provide us with a long-term energy solution, but will also help us financially in the short-term by reducing our annual electricity bill."
UNDP Libya is currently supporting the installation of solar systems for five additional hospitals, as well as innovative solar street lights for the main airport road in Benghazi, according to UNDP Country Director Noura Hamladji.
The initiative is part of a broader UNDP Stabilization Facility for Libya. Launched in 2016, it aims to fill key gaps between humanitarian relief and sustainable, democratic development.