Ukraine Crisis could Push Millions into Poverty and Hunger
Ukraine Crisis could Push Millions into Poverty and Hunger
The UN Food and Agriculture Organization (FAO) is anxiously monitoring the fallout from the war in Ukraine.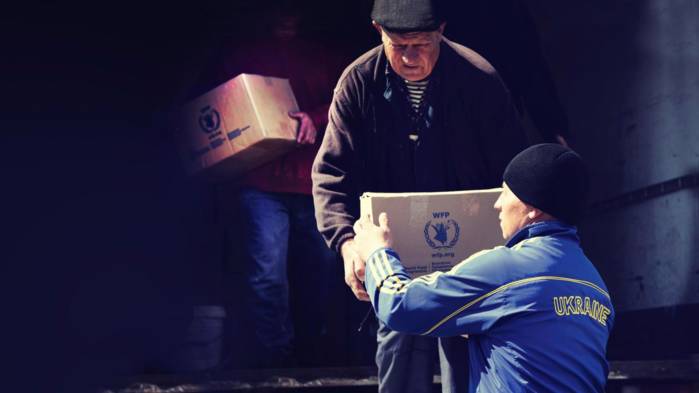 WFP/Deborah Nguyen
The crisis in Ukraine is having a severe impact on the global supply of foodstuffs and fertilizers. International food and feed prices, already at historically high levels, are expected to increase by between eight and 22 percent, says FAO in a new policy note.
Meanwhile, the number of undernourished people is foreseen to rise next year by between eight and 13 million worldwide, most notably in the Asia-Pacific region, followed by sub-Saharan Africa, then Middle East and North Africa.
Before the conflict, Ukraine and the Russian Federation were ranked among the world's biggest producers of agricultural commodities. Ukraine was among the top three global exporters of maize, rapeseed, wheat, sunflower oil and sunflower seeds, while the Russian Federation was the world's second largest exporter of potassic and phosphorous fertilizers and the top exporter of nitrogen fertilizers.
The crisis is impacting Ukraine in terms of damage to agricultural infrastructure such as farmland, processing and storage facilities. An early FAO assessment suggests that between 20 and 30 percent of farmland dedicated to winter cereals, maize and sunflower seed will either not be planted or remain unharvested during the current biennium. Meanwhile, disruption to processing and storage facilities has already led to the suspension of oilseed crushing operations for existing stock.
Restrictions on transport and export facilities are also taking a toll. Roads and railways are heavily disrupted, while airports and seaports are either fully or partially closed. New export license requirements have been introduced for certain crops, while insurance premiums have skyrocketed for ships entering the Black Sea, compounding the already high cost of fuel for maritime transportation – all costs eventually passed on to importers.
The ripple effects are likely to be felt strongest in least developed countries and low-income food-deficit countries, which rely heavily on imports and had already been struggling with high commodity prices before the war. Last year the price of rapeseed oil rose by 65 percent (further squeezed by the price of biodiesel), while the price of wheat rose by more than 30 percent. Which countries are most exposed? In 2021, Eritrea received 100 percent of its wheat supplies from Ukraine and the Russian Federation, Somalia more than 90 percent, and Lebanon almost 75 percent.
Many fertilizer benchmark prices reached all-time highs in late 2021, and some more than trebled in price over the past 12 months. In terms of fertilizer imports, Mongolia's dependency on the Russian Federation stood at almost 100 percent, Honduras just over 50 percent and Cameroon just under 50 percent. Meanwhile, Benin draws almost 30 percent of its fertilizer imports in roughly equal proportions from Ukraine and the Russian Federation.
Feedback loops also extend through the energy sector. Agriculture directly requires large amounts of energy via gas and electricity use, as well as indirectly via fertilizers and pesticides – and the Russian Federation is a major player in the global energy market. When energy prices hit a certain level, food products (e.g. rapeseed) start to compete with energy products (e.g. biodiesel). But given the larger size of the energy market compared to the food market, a ratchet effect pulls food prices up rather than energy prices down.
FAO Recommendations Include:
Keeping supply chains and international trade in food and fertilizers open to meet domestic and global demand.
Diversifying sources of food supplies by relying on other exporting countries or on existing food stocks.
Avoiding export restrictions, which exacerbate price volatility and limit the buffer capacity of the global market.
Strengthening market transparency and policy dialogue to maintain trade in food and agricultural products.