Trade finance in tumultuous times
Trade finance in tumultuous times
Karin Oszuszky speaks at the EBRD TFP Trade Finance Forum in Istanbul and discusses the impact of current challenges on global trade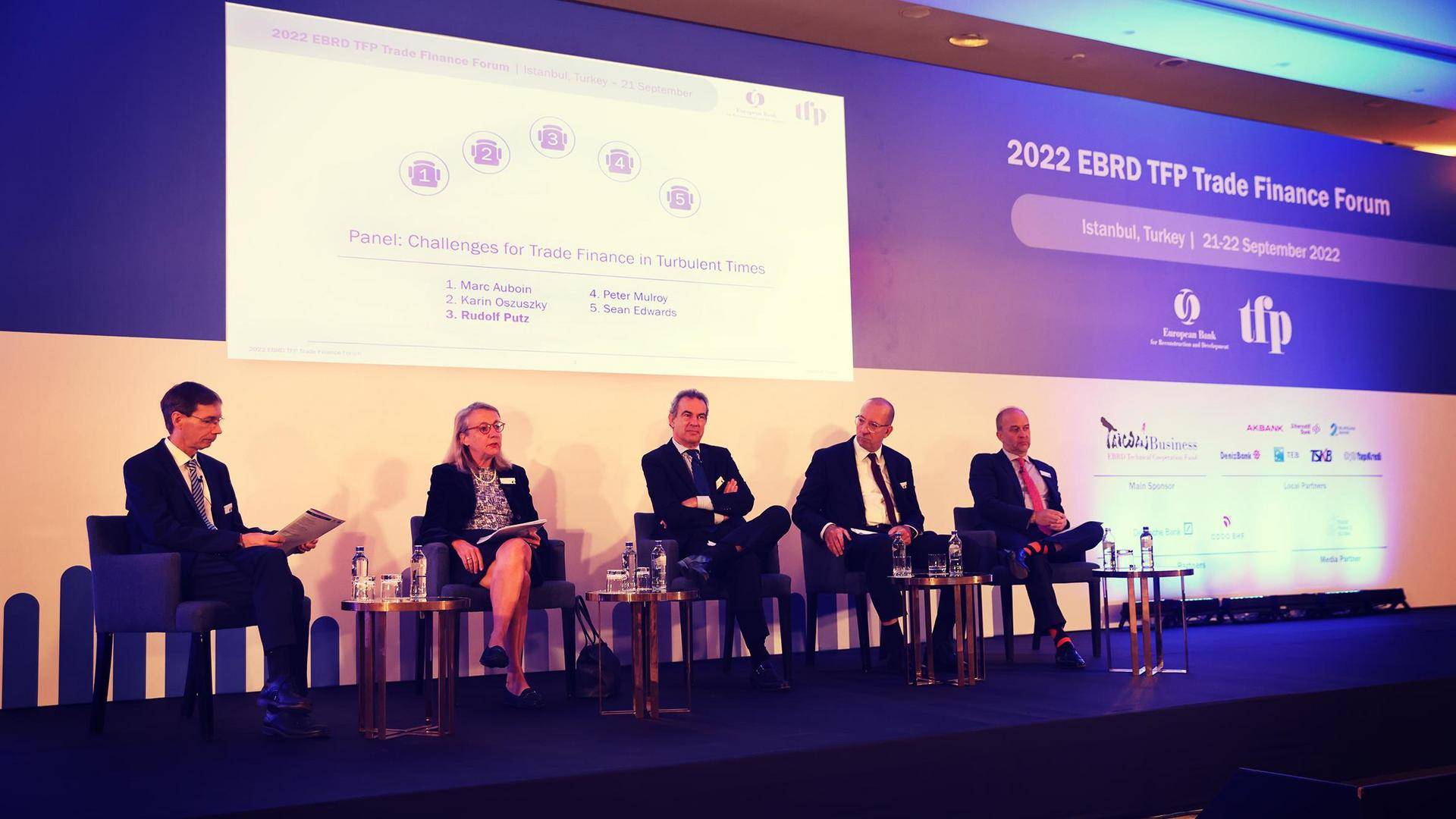 For decades the doctrine of "change through trade" was regarded as a useful and mutually beneficial strategy of co-existence between nations which do not necessarily share the same political system and philosophy. Recent events have cast serious doubts about the validity and practicability of this approach. As a leading player in trade finance the European Bank for Reconstruction and Development (EBRD) invited industry practitioners and experts to its traditional Trade Finance Forum in mid-September to Istanbul to discuss key challenges for global trade.
Karin Oszuszky, Acting Senior Investment Manager in the Private Sector and Trade Finance Operations team, represented the OPEC Fund at the forum. Among many other engagements she participated in a panel on "Challenges for Trade Finance in Turbulent Times" together with Clarine Stenfert, Multilateral Investment Guarantee Agency (MIGA), Marc Auboin, Counsellor, World Trade Organisation (WTO), Marck Wengrzik, Managing Director, AKA Ausfuhrkredit-Gesellschaft mbH, Peter Mulroy, Secretary General, FCI, and Sean Edwards, Chairman, International Trade & Forfaiting Association (ITFA).
In her remarks Ms. Oszuszky elaborated how the OPEC Fund responded to the COVID-19 pandemic with an action plan adopted and implemented at unprecedented speed: "We saw a lot of uncertainty in the market", she said and therefore it was crucial for multilateral organizations to step in when supply chain disruptions threatened the global economy. We continued to support our traditional partners as well as attracted new counterparties and stepped up our cooperation with our trade financing partners." The picture of the Ever Given container ship stuck in the Suez Canal in March 2021 and effectively acting like a global plug became one of the defining images of our times.
The mammoth ship was eventually set back on track, but the global economy was soon to face new challenges. After the Russian invasion of Ukraine in February this year essential shipments of foodstuff and fertilizers via the Black Sea came to a halt for many months. The impacts were not evenly felt: "Many African countries suffered due to the disrupted supply chains. The most affected countries are the agro importing countries. Meanwhile, in Asia we have seen a rise in the oil import bills of our main TFP partner countries," Ms. Oszuszky said.
The OPEC Fund again responded swiftly and as a forerunner: A US$1 billion food security action plan launched in early June served as the yeast that produced a US$10 billion aid package by the Arab Coordination Group late the same month. First projects under the facility have already been signed. Strengthening its position as a multilateral development institution which is prepared and able to address long-term challenges as well as sudden emergencies, the OPEC Fund has now announced its first Climate Action Plan.
The OPEC Fund started its trade finance operations in 2007, just before the economic crisis of 2008/09. The Fund offers a wide range of trade finance products, both on a funded and unfunded basis. The OPEC Fund supports corporates, governments, government agencies as well as financial institutions in their trade finance needs.