"The First Step Is To Turn To Your Neighbor"
"The First Step Is To Turn To Your Neighbor"
UNFCCC expert Koko Warner says that concrete climate action can no longer wait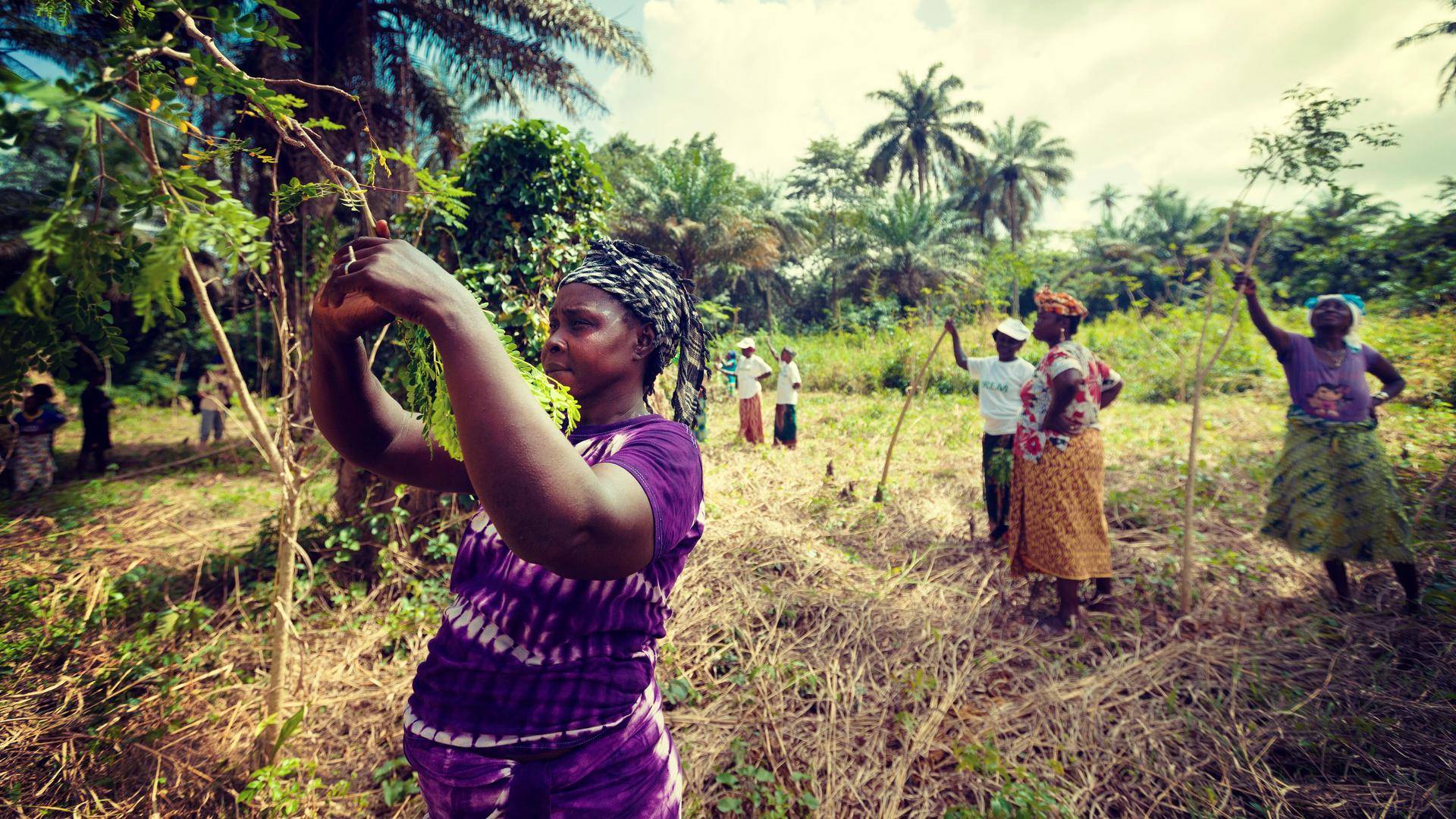 Photo: UN Women/Joe Saade
As the international community feels the heat, it is finally delivering a broader and sharper range of climate action tools. Front and center, the United Nations Framework Convention on Climate Change (UNFCCC) is exploring more and more innovative approaches to the existential threat posed to our planet, moving from mitigation (e.g. renewables) to adaptation (e.g. resilience) and from intergovernmental agreements to increasingly "bankable" public-private projects.
The UNFCCC is a framework for action with a long pedigree: established in 1992, it became the "guardian" of the Kyoto Protocol in 1997 and the Paris Agreement in 2015. First and foremost a legal convention, it also works with people and projects in the field – international experts as well as local communities of indigenous people. People with intimate traditional knowledge of ecosystems, who know what works best for preserving ancestral lands.
Listening to local "experts" – custodians of centuries of knowledge based on constant adaptation for survival – is one of the latest lessons learned from international discussions. When able to join forces with financial and technological innovators, they make a potent team at a critical moment for humanity – as stressed by the environmental expert Dr. Koko Warner of the UNFCCC's Adaptation Programme in our interview.
OPEC Fund Quarterly: As a lead author of the Intergovernmental Panel on Climate Change's (IPCC) Sixth Assessment Report, what would you like to see development banks focusing more on?
Koko Warner: Science reviewed by the IPCC since 1992 has unveiled so many existential earth systems that depend on achieving the objective to stabilize greenhouse gas emissions, but the problem right now is that we're not doing this at all – on the contrary, we're accelerating them.
Some of the adverse impacts of that change are already being felt around the world. Since 2015, it has become a feature every year that daytime temperatures are now above 50°C over extremely large land areas. In the summer of 2021 there was a heatwave stretching from the southwest of Mexico, north through the USA and deep into Canada. This year the Indian subcontinent is on the frontline, and close to a billion people are enduring life-threatening heat linked to anthropogenic greenhouse gas emissions.
Multilateral Development Banks (MDBs) are right on the lever of helping countries meet a variety of objectives: sustainable livelihoods, burgeoning cities, as well as food and water security. These are the global challenges of our time; challenges we are facing right now. It is not something we can postpone. Adaptation to climate change needs to happen right now, and all over the world.
So yes, adaptation needs to happen urgently and MDBs are crucial in transforming a lofty ambition into commercially viable, "bankable", projects. For example, countries may have legal obligations or multi-year procurement agreements, meaning they are legally bound to purchase some kind of energy that is related to fossil fuel. The challenge then becomes how should countries manage that transition.
OFQ: Introducing the latest IPCC report, UN Secretary-General António Guterres said: "We need to see 50 percent of climate finance going to adaptation, and also to reformed eligibility systems so vulnerable communities can access it." How should these eligibility systems be reformed?
KW: The question is how do you best help institutions, which are channeling climate finance and which are trying to get resources to the places where people need them the most. Least Developed Countries often struggle with capacity, so they are now seeking fast-track climate finance. There are institutions in our climate finance mechanism that have taken note and set aside funding that can be accessed via a fast-track, provided that countries perform their environmental and social due diligence.
The next question is what should the rules look like for fast-track funding. On the one hand, these are public funds, so efficiency and accountability are important; on the other hand, access must be commensurate to the challenges of the 21st century – including climate change, as stressed by Guterres.
We're living at a time when people are literally rebuilding worlds. Entire cities will be built to house a growing world population, so there will be many investment opportunities. Ultimately, it's about creating a new framework that incorporates some of the long-run principles that are important to finance, alongside a "safe and effective" fast track to finance.
OFQ: How can we ensure resilience doesn't become a double-edged sword, where people simply adapt and endure without tackling root causes?
KW: Let me draw an analogy from COVID-19. Many of us were astounded at how quickly people adjusted to lockdown. There were all kinds of challenges: mental health issues, people isolated, tremendous grief where people were not able to be there for key life moments, including losing loved ones, all of which is really heartbreaking.
What quickly became clear was the importance of investments in public health infrastructure and coherent, healthy communities. A healthy community is of inestimable worth: it's often those resources that pull individuals and groups through difficult times.
From another angle, there are ways to bolster development cooperation. We've seen really innovative work on long-term livelihood sustainability in the United Arab Emirates. The UAE is already experiencing the impact of climate change, so they're investing in technology for food stability and aquaculture systems.
Meanwhile countries like Pakistan and India are investing heavily in social security programs, statistics and digitization of identity papers. That information infrastructure allows your average beneficiary – perhaps a very poor woman without a bank account – to benefit from social safety nets. She gets an identity card, which is recognized by an institution that can then make disbursements. Against the backdrop of climate change or sustainable development, investments like that have a systemic benefit, which will make a big difference.
OFQ: How can we amplify the voices of the most vulnerable people on the frontline of climate change? People from small island developing states and other countries from across the Global South?
KW: Part of my job is to work with local communities and indigenous people. Sometimes these groups are framed as marginal or vulnerable because they've endured terrible things. Yet there are so many examples where these groups have already adapted to crises and are happy to share their traditional knowledge. For example in Australia, where aboriginal communities shared fire management skills with local governments during the recent wildfires.
Another example is multi-cropping: the idea of planting many crops in a field to help the soil stay fertile and robust. Indigenous people from many parts of the world retain knowledge of these practices, which can be highly beneficial to governments and other stakeholders. So at the UNFCCC we try to foster an ethical exchange of best practices and results, which helps to change the framing – so "vulnerable groups" rightfully become seen as "experts". We just need to speak with them, understand their practices and what results we can expect.
There's a lot to learn from many conversations going on in lots of different parts of the world. We will need those multiple perspectives to navigate a way forward because human beings as a species have never really experienced some of the environments that we're headed into. The first step is to turn to our neighbor and say: "How do you see this? What are you doing? What results are you getting?". Only then can we have that accelerated learning, which will be critical for saving humanity as we know it.
Factfile: Koko Warner
Koko Warner is an expert on climate change risks, impacts and resilience at the UNFCCC secretariat. She manages the Vulnerability Subdivision, where she guides the global adaptation knowledge-to-action hub and the Local Communities and Indigenous Peoples Platform. Warner is a lead author for the IPCC Assessment Reports, including the Special Report on Climate Change and Land. Before joining the UNFCCC, Warner was founder and Executive Director of the Munich Climate Insurance Initiative, and scientific director of environmental migration and social resilience at UN University in Bonn. The International Council of Science named Warner among the top 20 women in the climate change debate. She holds a PhD in Economics.