The Asymmetry Of Migration
The Asymmetry Of Migration
Wars drive famines and migrations. But hunger also leads to conflicts over dwindling resources. Either way, those least able to flee rarely go far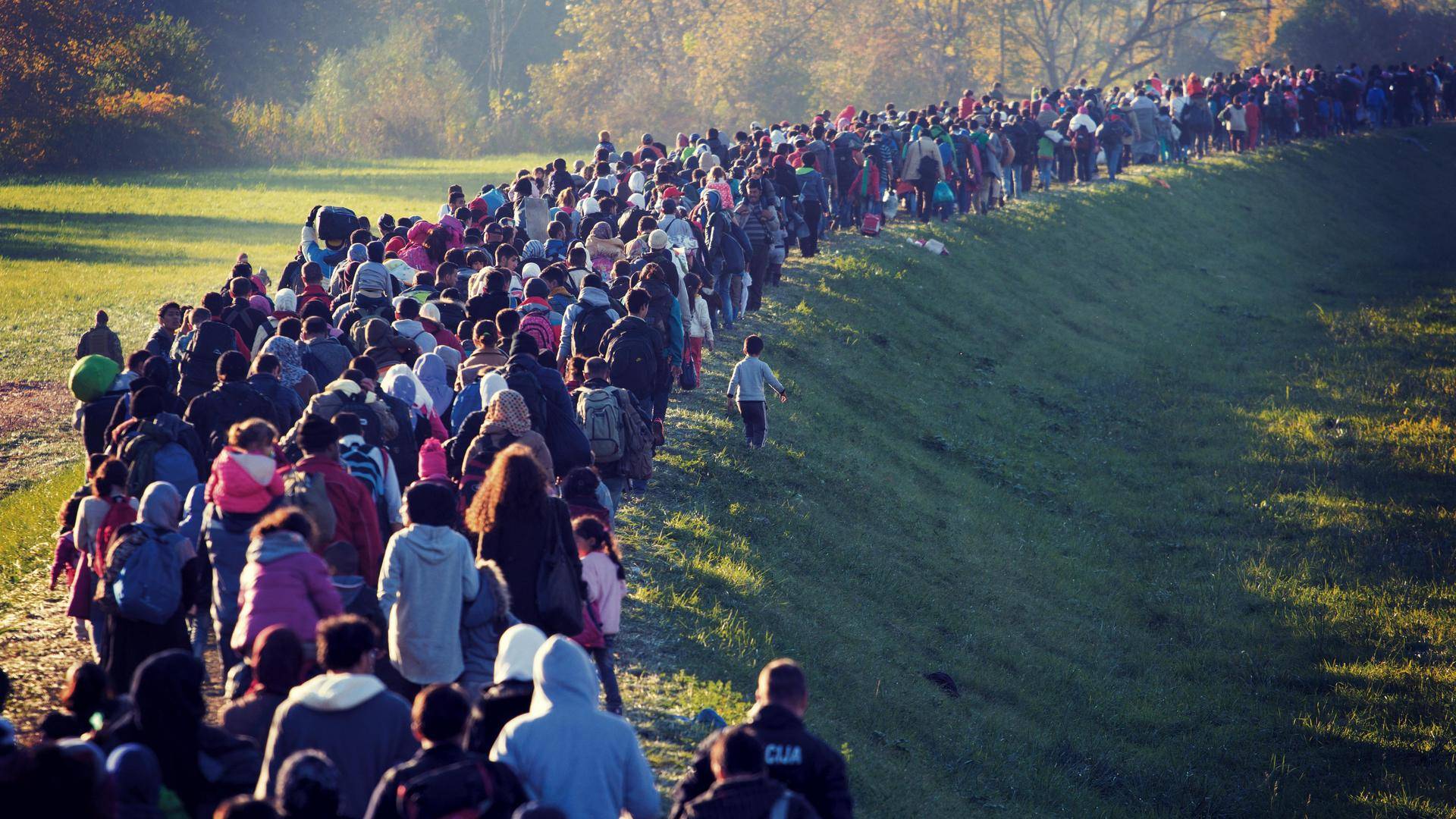 Restless humans have been on the move for millennia. Since our early ancestors left the savannahs of Africa, there have always been push and pull factors at play – from conflict to curiosity, opportunity to oppression. Take our interviewee, Melissa Siegel, whose forebears migrated from Europe to the USA in the 19th and 20th centuries, partly for economic opportunities but also in part to escape persecution. Coming from countries in the north and east of Europe, what they all had in common were incentives, networks, resources and determination.
Climate and environmental changes figure high up on the drivers of migration because food and water are fundamental to human survival. The difference now, however, is that for the first time in human history our problems are truly global. Climate change is already affecting every continent and even advanced societies are struggling to deal with extreme weather. Once-in-a-century floods and droughts are now occurring far more frequently, in a strange "new normal".
What people in the West have in common are resources, safety nets and, if pushed, the ability to migrate with relative ease. That is far from the case for the rest of humanity. According to the World Bank, 685 million people worldwide – equivalent to the combined populations of Brazil, Nigeria and Pakistan – were living in extreme poverty in 2022. Of those, around 80 percent live in subsistence farming households in rural areas.
And because the agriculture sector is so sensitive to climate change, when crops fail the poorest can lose their lives as well as their livelihoods. The question then becomes: How many will want to migrate? And how many will be able to migrate safely and sustainably?
To better understand the dynamics at play, we spoke with Melissa Siegel, a migration and development expert at the United Nations University (UNU-MERIT), Maastricht, the Netherlands.
OPEC Fund Quarterly: Are failed harvests and hunger already driving mass migration?
Melissa Siegel: Conflict, climate change and inflation are all driving a global food crisis – that much is clear. The World Food Programme (WFP) has even called the current situation the largest food crisis in modern history. But whether failing harvests and hunger are actually driving migration, that's a different matter. When we talk about migration and what induces people to migrate, we need to consider two things: why people want to migrate, and then their ability to actually do so.
What we see is that for countries or regions with very low levels of development – most of the places where severe hunger and famine are happening – that's where actually you see the lowest numbers emigrating. So, I would not say that as people get hungrier we're going to see a lot more migration, because these are the people who are least able to migrate. And even if they do manage to migrate, it's going to be within the same country or just over the nearest border.
OFQ: What are the geographic hotspots for hunger-induced migration? Are there "famine refugees" crossing continents?
MS: If you look at the countries flagged last year by the WFP – Afghanistan, Ethiopia, Nigeria, South Sudan, Somalia and Yemen – these are essentially trapped populations. Many would like to leave, but are generally unable to do so. Take Afghanistan: Since the Taliban took over, many neighboring countries have simply closed their borders. Take South Sudan: Anyone emigrating from there will at best spill over the border into an established refugee camp. So, people's aspirations to migrate might increase in line with hunger, but that doesn't mean their ability to migrate will have increased. In fact, their ability to migrate has often gotten worse.
One of my PhD students is researching how climate change affects internal migration in India. What she has found is that extreme heat and lack of rainfall is adversely affecting crops, which in turn is impacting livelihoods. For that reason we're seeing a reduction in internal migration, because people don't have the resources to migrate in the first place. It's reducing male migration to cities for day labor, but also reducing female migration because households simply don't have the money to pay for dowries or weddings.
It's usually not the poorest of the poor who are migrating, but one step above the poorest – because people need resources, networks and knowledge to be able to migrate. So, that's why we see that the lowest rates of migration are often in the least developed countries.
OFQ: Is there a tipping point for having the means and motivation to migrate? Or does it always depend on the circumstances?
MS: There are tipping points, but if you look at war zones or regions affected by famine, not every single person migrates. The tipping point is not the same for everyone and not usually about one thing. It's usually when enough things stack up. But of course that depends on your family and your personal characteristics. Things including: What kind of wealth does your family have? What is your level of education? Do you have children? The latter is a particular catalyst, as parents are generally concerned about their children's education and future opportunities.
I've done a lot of work in long-term refugee camps in Kenya, which are home to many people from Sudan, South Sudan and Somalia. And it's clear that many refugees in those camps have fled their countries for multiple overlapping factors, including conflict and famine. But it's also a vicious circle. Conflicts can drive famines, but also hunger can lead to conflicts over dwindling resources.
Another important point to remember is that refugee camps are often in the worst possible areas with the least resources, in desert conditions or other infertile land. So, these camps are anything but sustainable. Take for example Kutupalong Camp in Cox's Bazar, Bangladesh, which is the world's largest refugee settlement, with over half a million Rohingya refugees living in water up to their knees. Or take Dadaab Camp in Garissa, Kenya, where a quarter of a million people are essentially living in a desert. So, yes, climate change and hunger do affect migration, but not in the sense of people going hungry and simply crossing borders and continents.
PROFILE: Melissa Siegel
Melissa Siegel is Professor of Migration Studies at the United Nations University (UNU-MERIT), Maastricht, the Netherlands, where she has led the Migration and Development research unit since 2010. She holds a PhD in Social Protection Policy from the University of Maastricht, the Netherlands.