Tajikistan and Afghanistan: Sustainable energy changes lives
Tajikistan and Afghanistan: Sustainable energy changes lives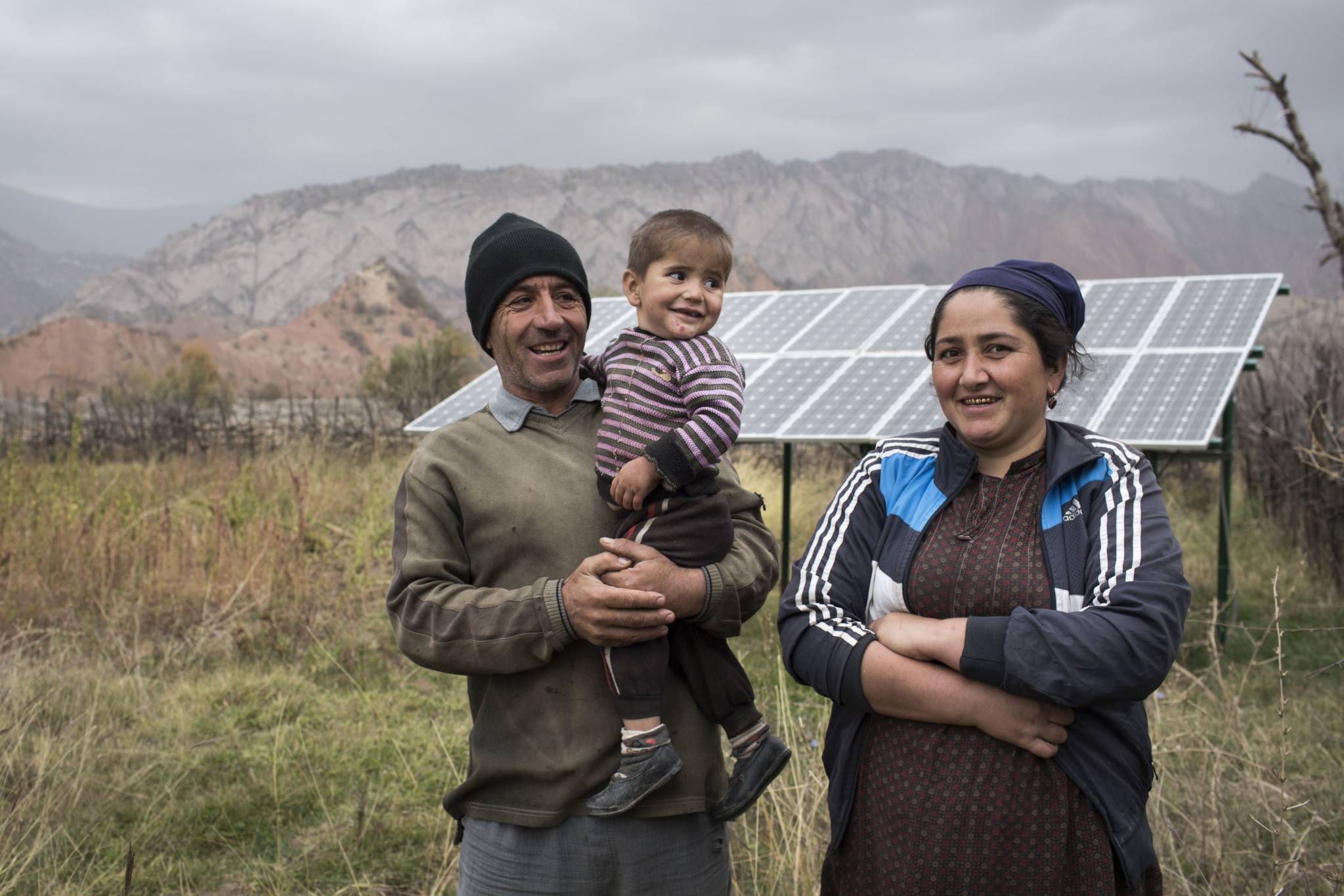 Electricity harnessed from solar panels has provided numerous families with clean water for drinking and irrigating crops. Photo WELTHUNGERHILFE
A recently completed project in Tajikistan and Afghanistan, supported by OFID, has changed the lives of residents by enabling them to enjoy an electricity supply— provided through renewable energy and energy efficient technology—for the first time. Using local resources and providing training will ensure the benefits are felt well into the future.
Darai Nolak is a hamlet in the district of Baljuvon, Tajikistan, about 150km to the east of the capital Dushanbe. Until recently, Darai Nolak residents were still part of the world's one billion plus people without access to electricity. To meet energy needs, they used traditional sources such as firewood and animal waste. But since early 2017, some Darai Nolak residents have entered a new era. Thanks to a communal micro-hydro system, daily life has been made far safer and easier.
Darai Nolak's hydropower unit serves about 50 households, two community mosques and one school, and means that lighting, television and radio sets and basic electronic appliances can now be used. Hydropower units with slightly different capacities have also been installed in two other villages. Aspiringon village, in the same Baljuvon district, was similarly lacking electricity but now has a plant with a 13kW capacity. Tens of houses, one school and one mosque enjoy electricity supplied by the plant. In Shibanai village, in the Temurmalik district, a 16kW hydropower unit supplies one school with 300 students, four business premises and a hospital. Previously, Shibanai only received a limited daily electricity supply from the government from just after twilight until 9pm.
The same OFID-funded project also installed 36 mid-sized solar panel systems. The resulting electricity supplies small businesses such as barber and coffee shops. It also supports community services, including clean water pumps for irrigation and drinking water. In one village, electricity from a solar panel pumps enough to meet the needs of some 20 families. Elsewhere, farmers' cooperatives use the water to irrigate previously unused fields. The project has clearly provided opportunities for improved income and local food security.
The project, which also extends to Afghanistan, has brought about similarly life-changing improvements in targeted communities there. Eight mini hydropower electricity plants and 11 solar panels have been installed to pump clean water. Nearly 400 solar panels were also made available for household use.
Projects implemented in Central Asia—including in Tajikistan—have sometimes used imported parts from Russia or China. But for this project, turbines were produced locally in Afghanistan. Such turbines are more resilient and fit for rural areas, and can be more quickly repaired by local technicians if they are damaged; thereby building a value chain in the region.
In mid-2016, two Tajikistani technicians were sent to help—and also to learn about—turbine production in Afghanistan for a project in Kabul. Following a two-week 'internship', the two technicians had learned the skills necessary to produce and repair turbines. Similar training was also organized in Tajikistan and dozens of electricians learned turbine production and repair skills.
In accordance with the prime objectives of the project, this use of local resources will ensure the results are sustainable and that progress can be made without continued external support.
Commenting on the project, Dr Walid Mehalaine, Head of OFID's Grants and Technical Assistance Unit, said: "This intervention is in line with OFID's flagship Energy for the Poor Initiative, which has been implemented through various financing windows including the Grants Program. The impact this project has had on the beneficiary population shows explicitly how access to modern, reliable and affordable energy can dramatically improve people's lives and spur development in other sectors."
From September 2014 to April 2017, OFID contributed US$800,000 to the project through its Grants and Technical Assistance Program. The Federal Ministry for Economic Cooperation and Development of Germany also supported the project, disbursing a total of US$720,000, while the Bonn-based non-governmental aid agency, Deutsche Welthungerhilfe (WHH), contributed US$72,000 and acted as the implementing partner.
WHH noted that in the Tajikistan target areas, thanks to the introduction of electricity, around 700 tonnes of trees that would otherwise have been cut down for fuel should be saved each year. Similarly, hundreds of tonnes of animal waste will no longer be burned and can instead be used as fertilizer. In this sense, the project has helped to prevent deforestation as well as to avoid the negative health effects associated with burning more traditional forms of energy.