Stepping Up To A New Level: The OPEC Fund's New Climate Action Plan
Stepping Up To A New Level: The OPEC Fund's New Climate Action Plan
The new approach will double the OPEC Fund's climate financing by 2030 and introduce systematic changes in the way the institution appraises its development projects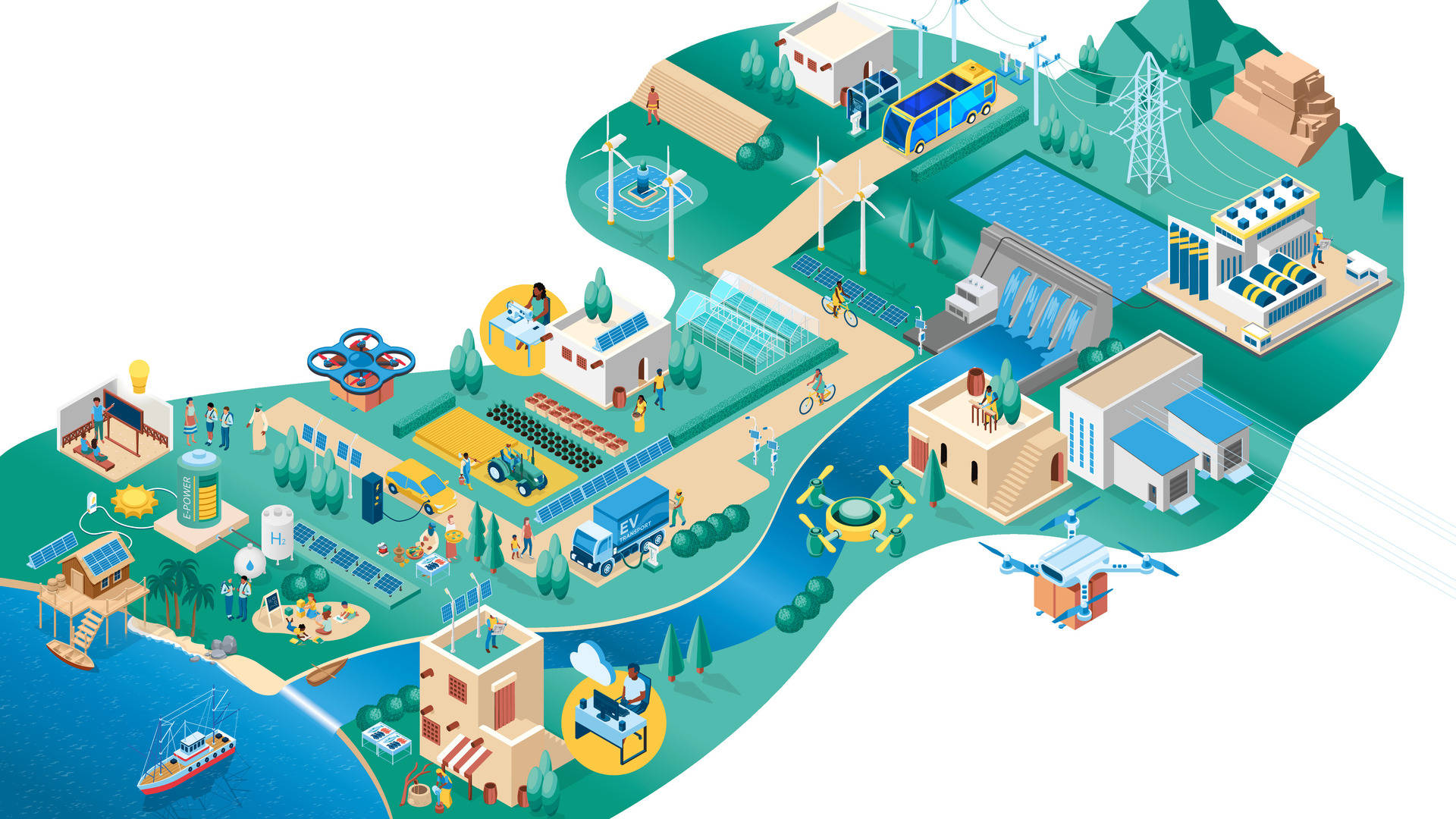 Climate change and energy are inextricably linked. Globally, the use of energy represents by far the largest source of greenhouse gas emissions from human activities. About two-thirds of global greenhouse gas emissions are linked to burning fossil fuels for energy used for heating, electricity, transport and industry.
However, energy is also an indispensable driver of development. As economies grow, energy demand increases. If energy is constrained, growth pulls back in turn. For the past two centuries, the amounts of energy that economies need have increased virtually in lockstep with the amounts of wealth that economies create. As a study by McKinsey, a management consultancy, put it: "To a remarkable degree wealth creation has depended on a society's proficiency at burning things".
Combating energy poverty in developing countries has always received special attention at the OPEC Fund for International Development since its inception in 1976 with the explicit mission to foster development in low- and middle-income countries around the world.
The OPEC Fund's new Climate Action Plan, approved by the Governing Board on September 15, 2022 represents the next logical step in fulfilling the organization's mandate, one that ensures that development efforts create an even larger positive impact.
The plan starts with a calculated increase of the OPEC Fund's climate financing from currently 20 percent to 25 percent by 2025. Having reached this milestone the plan gathers momentum and provides for an increase to 40 percent by 2030, doubling the minimum rate of climate-specific financing.
OPEC Fund Director-General Dr. Abdulhamid Alkhalifa called the adoption of the plan "a historical moment as it commits the OPEC Fund to dramatically increase its climate action." Putting things into perspective, he added: "When the OPEC Fund set out its operations almost 50 years ago, energy poverty was one of the defining issues of our work. Securing energy access remains indispensable, but today it has to be combined with climate action."
What makes the Climate Action Plan a significant venture for the OPEC Fund is not just the rate of financing, but starting in 2025 climate change will be specifically considered throughout the project cycle. In other words, climate impact will be measured not only in projects that are specifically targeted to address climate change, but in all projects submitted for approval.
To understand how this will boost progress, it helps to look at the increasingly important role energy plays in developing the world of tomorrow.
Energy as a driver
The importance of energy for development was acknowledged by the United Nations, when the Sustainable Development Goals (SDGs) were defined: "Access to affordable, reliable, sustainable and modern energy" was selected as SDG 7. Despite accelerated progress in recent years, the SDG target of universal access by 2030 appears "unlikely to be met", the World Bank said in June 2021. According to these estimates, more than 750 million people still live without electricity, with about half of them struggling in fragile and conflict-affected settings.
A rapidly-growing global population is adding to the pressure. By mid-century the global population is expected to reach ten billion, mostly due to significant increases in India, other parts of Asia, and, especially, Africa, where more than 50 percent of the world's projected population increases will occur through 2050.
This will put further strains on already scarce resources which are being exploited at a growing cost to the environment. The need to find alternative sources of energy had already been identified when SDG 7 was defined in 2015. The goal specifically mentions "sustainable" and "modern" sources of energy, explicitly addressing one of the main challenges of our times: the rapidly progressing changes of the global climate with massive repercussions on all aspects of our lives.
Action on climate
Human-induced climate change, including more frequent and intense extreme weather events, has caused widespread adverse impacts and related losses and damages to nature and people, beyond natural climate variability. Across sectors and regions, the most vulnerable people and systems are disproportionally affected. The rise in weather and climate extremes has led to some irreversible impacts and natural and human systems are pushed beyond their ability to adapt. Approximately 3.6 billion people live in circumstances that are highly vulnerable to climate change.
Impacts of a changing climate include rising sea levels, more extreme weather, flooding, droughts and storms. High temperatures make previously prospering regions uninhabitable, water resources are drying up and Nick Golledge, professor of glaciology at the Victoria University of Wellington, New Zealand, warns: "Past greenhouse gas emissions mean we are now committed to future ocean warming throughout this century. The rate of change depends on our future emissions, but the process itself is now irreversible on centennial to millennial time scales."
In the same year the SDGs were adopted, the international community also hammered out the Paris Agreement on climate change with the goal of limiting global warming to well below 2°C, preferably to 1.5°C, compared to pre-industrial levels. To achieve this long-term temperature goal, countries aim to reach the global peak of greenhouse gas emissions as soon as possible to achieve a climate neutral world by mid-century.
The Paris Agreement is a landmark in the multilateral climate change process because, for the first time, a legally-binding agreement brings all nations into a common cause to undertake ambitious efforts to combat climate change and adapt to its effects. The international treaty was adopted by 194 parties to date.
The accord requires all signatories to develop comprehensive plans for their economic and social transformation. These plans for climate action are known as the nationally determined contributions (NDCs) and cover a five-year cycle.
Financing for change
While agreeing on binding climate targets took two decades – the first so-called Conference of the Parties (COP) took place in Berlin in 1995, and Paris hosted what was already COP21 – mobilizing climate financing proved even more challenging. Estimates of global investments required to achieve the Paris Agreement's temperature and adaptation goals range between US$3-US$6 trillion per year until 2050, according to a new research paper from the IMF. Global climate finance currently amounts to about US$630 billion annually, mostly provided in the form of loans.
Although the Paris Agreement places demanding obligations on countries, by far the largest contributions to climate financing to date come from multilateral development banks. Development finance institutions continued to deliver the majority of public finance, contributing almost 70 percent of public climate finance to date.
Though total climate finance has steadily increased over the last decade, flows have slowed in recent years. External shocks like the COVID-19 pandemic or the war in Ukraine have taken their toll. Needs, however, remain urgent and pressing: An increase of at least 590 percent in annual climate finance is required to meet the internationally agreed climate objectives by 2030 and to avoid the most dangerous impacts of climate change, the Global Landscape of Climate Finance report says.
The need for more financing is all the more urgent as emissions are again rising: Following an unprecedented drop of 5.4 percent in 2020, global CO2 emissions are bouncing back to pre- COVID-19 levels and concentration of greenhouse gases in the atmosphere continue to rise. The emissions gap remains large: New NDC pledges for 2030 reduce projected emissions by only 7.5 percent, whereas 30 percent is needed to keep global warming below a 2°C increase relative to pre-industrial levels and 55 percent is needed to keep global warming below a 1°C increase. More support is necessary especially in countries and regions that are disproportionally affected by the impact of climate change: Africa accounts for the smallest share of global greenhouse gas emissions at just 3.8 percent, according to the global environmental disclosure system CDP. Yet, the continent is particularly exposed to increasing temperatures and sea levels, changing precipitation patterns and more extreme weather, threatening human health and safety, food and water security and socio-economic development, the UN climate change authority UNFCCC says.
The 2009 promise by rich nations to provide poor countries with at least US$100 billon annually by 2020 to cut greenhouse gas emissions and cope with the impacts of climate change is yet to be honored.
Addressing the gap
This is why the OPEC Fund's Climate Action Plan comes at a crucial time. By doubling its climate financing rate and putting environmental and social principles at the core of its project cycles, the OPEC Fund will leverage its impact and reach.
With total signed commitments of more than US$22 billion since inception, the OPEC Fund boasts a worldwide outreach with more than 125 partner countries especially in Africa, Asia and Latin America and the Caribbean. That amount has acted as a critical component worldwide with a total project value of close to US$190 billion.
Giving a greater focus to our warming world creates an ever-expanding ripple effect.
Starting next year, the OPEC Fund will subject all new projects to climate screening to identify climate action potential and systematically include low-carbon and climate resilience options in the project approval documentation.
The OPEC Fund's Climate Action Plan will focus on three key areas to promote new climate contributions:
Support climate diagnostics, planning and policies by offering assistance to partner countries through grant-funded technical assistance for the formulation of climate risk profiles, priority measures and implementation in partnership with other MDBs and development finance institutions.
Promote transformative climate investment through public and private investments in energy, transport, agriculture, food, water and smart cities. The OPEC Fund's climate contributions have historically been concentrated in the energy, water and agriculture sectors.
Drive innovative climate finance solutions for the private sector by financing low-carbon and climate resilient projects and facilitating on-lending, promoting the preparation of climate risk assessments and exploring investing in climate bonds issued by the private sector.
To maximize the impact of its climate financing the OPEC Fund will continue to work in partnership with other partner institutions and prioritize projects that seek to crowd-in the private sector. The OPEC Fund also commits to joining international climate finance initiatives such as, for instance, the MDB Climate Finance Working Group and from 2023 onwards to measure climate finance, greenhouse gas emissions and emission reductions based on agreed methodologies and best practices.
A review of the OPEC Fund's portfolio over the period 2018-2021 (excluding trade finance) shows that climate finance accounted for 20 percent of approved projects. Climate adaptation (investments to reduce the risk of vulnerabilities posed by climate change and to increase resilience) accounted for 27 percent of approved projects and climate mitigation (investments to reduce, limit or sequester greenhouse gas emissions to reduce climate change) accounted for 73 percent. Climate financing in the public sector was higher (66 percent) than in the private sector (34 percent). The majority of projects was in the energy sector (37 percent), followed by water (25 percent) and agriculture (23 percent).
"Our new strategy is ambitious in its target numbers, but also in its holistic approach," said OPEC Fund Director- General Alkhalifa. "It will allow us to demonstrate that tackling climate change and its consequences is development work. That they are not only compatible, but complement each other."
Partnerships for climate funding
Partnerships are at the core of the OPEC Fund's operations and business model.
Stronger partnerships for facilitating climate investments and crowding-in the private sector will support the implementation of the Fund's Climate Action Plan. In June 2022, at the OPEC Fund's inaugural Development Forum, the OPEC Fund and the International Renewable Energy Agency (IRENA) signed a Memorandum of Understanding ramping up their efforts to advance investment in renewable energy and support access to sustainable financing in emerging and developing economies, agreeing to mobilize finance, unlock investment and support project development on the ground. The institutions committed to provide technical assistance and capacity building to project developers with the aim of creating a pipeline of bankable projects ready to be financed and to attract potential investors.
A multipurpose dam in Pakistan
Flash floods triggered by record monsoon rains have devastated Pakistan this summer, leaving one-third of the country under floodwaters and affecting some 33 million people.
Natural disasters of this magnitude expose the increasing urgency to accelerate investments in multipurpose climate-friendly projects such as the Mohmand Dam, which the country is currently building on the Swat River. Against the backdrop of growing water and energy demands, concerns about food security and rapid urbanization, building new reservoirs can facilitate water regulation and help mitigate floods. A dam captures floodwaters and can release them under controlled circumstances preventing potential disasters and providing water for agriculture.
The OPEC Fund is supporting the Mohmand Multipurpose Dam Project with a US$72 million loan. It will contribute to Pakistan's energy security, increase sustainable water supply for agriculture and human consumption and improve resilience to floods. Upon completion the plant will add 800 MW capacity to Pakistan's installed hydropower capacity and generate nearly 2.8 GWh electricity per year.
Renewables on the rise amidst the global energy crisis
The war in Ukraine and the global energy crisis have fueled concerns that clean energy investments will come under pressure. Others argue that the current crisis is a wake-up call for an urgent diversification of energy supplies.
Recent figures show that the latter argument may prevail: The growth of the world's capacity to generate electricity from solar panels, wind turbines and other renewable technologies is on course to accelerate over the coming years, according to a new report by the International Energy Agency. Clean energy investment is expected to top US$1.4 trillion in 2022, a significant acceleration after many years of slow progress. It now accounts for almost three-quarters of the growth in overall energy investment and renewables are set to account for almost 95 percent of the increase in global power capacity through 2026, with solar photovoltaics alone providing more than half, the report says.
The OPEC Fund has been a longstanding supporter of renewable energy, investing in solar, wind, hydropower and geothermal projects in partner countries across the globe. To date, the Fund has committed nearly US$3.3 billion in support of projects in the energy sector, with renewables now accounting for nearly one-third of its public and private sector operations in energy.
One such project is the San Marcos Wind Farm in Honduras, which helped to transform lives for 100,000 households in the rural department of Choluteca. In Honduras, a majority of the rural population live far from urban centers and viable electrical grids. Because expanding the grids over long distances is more costly, producing sustainable, affordable and clean energy locally offered a good solution. The San Marcos Wind Farm project, owned by Vientos de Electrotecnia, consists of 25 wind turbine generators with an installed capacity of 50 MW and provides electricity to communities without prior access to power. The communities are also benefitting from the social and economic impacts of the project such as creation of jobs, new roads, reforestation and social and educational programs.
In Egypt, the new Kom Ombo solar plant, to be developed with international multi-lender support including the OPEC Fund, will be located less than 20 km from Africa's biggest solar park, the 1.8 GW Benban complex. Once operational, this new utility-scale plant will serve 130,000 households and increase the share of renewable energy in Egypt's energy mix and further promote private sector participation in the Egyptian power sector.
Agricultural resilience is key for global food security
Climate change will dramatically impact agricultural production all around the globe, reducing yields and productivity. This is why it is crucial to invest in projects which will help strengthen agricultural resilience and adopt sustainable land management practices.
Recently, the OPEC Fund extended a US$15 million loan to the Republic of Zimbabwe in support of the Smallholder Agriculture Cluster Project. Co-financed with the International Fund for Agricultural Development and private sector investors, the program will help to transform the small-scale farming sector and increase farmers' participation in market-oriented and climate-smart value chains. It will finance the construction of small-scale irrigation schemes to equip a total area of 1,780 ha with improved, climate-proof irrigation systems, the rehabilitation of 89 km of feeder roads, as well as providing 100 districts with water supply and sanitation facilities.